See What Education CEDIA has Planned for Expo 2022
In a special briefing for the media, new CEDIA Vice President of Education and Training Amanda Beckner revealed the organization's upcoming program for this year's CEDIA Expo coming this Fall. It was instantly clear that Beckner, formerly involved with AVIXA education, completely understands both the importance of and the unique demands of education in a technical association.
It was also clear that the Association is taking a fresh look at ways to elevate CEDIA's education to the next level. And that is a good thing.
See what Beckner shared about CEDIA education and show plans
This was my first opportunity to meet the fresh-faced Amanda Beckner and I had been looking forward to it. Part of CEO Daryl Friedman's new administration at the association, Beckner launched into our meeting with vigor as she described the successes from the recently completed ISE (CEDIA owns half of ISE with AVIXA), the plans for the upcoming CEDIA Expo, and who shared some of her thinking on how the administration would like to continue to elevate the association's educational initiatives.
An Energetic Presentation Hints at an Enthusiasm to Level Up CEDIA Education
I don't know if she had too much coffee that morning in mid-May, or if she was just enthusiastic about this briefing, but her presentation was fresh, energetic, and compelling. I struggled to keep up with her as she enthusiastically presented one concept after another. I suspect this energetic discussion is a reflection of her enthusiasm for her new role and the fact that she is more than ready to make her mark by shifting into high gear to elevate education at CEDIA.
By the way, you could clearly see how her experience at AVIXA well prepared her for this challenging role. The briefing was a densely packed 45 minutes, and in this post, I'll share with you some of the highlights.
Expo is Back in Dallas; Will Exhibitors Like the Education Schedule?
This year's CEDIA Expo returns to Dallas, TX, Beckner reminded me. Education begins in earnest a day before the show opens on September 28 with a full day of planned sessions. The education schedule after that continues on throughout the first two days of the event after the show floor opens, leaving everyone free to participate on the show floor on October 1st, the last day of the Expo.
I'm not sure how exhibitors will feel about that ongoing training during the show. In the past, exhibitors have complained about soft floor traffic as attendees are all away in classrooms receiving training instead of visiting booths and meeting with exhibitors/vendors.
Preparing Attendees for More Thoughtful Show Engagement
We start a day before the trade show floor opens so that we get a full day of dedicated professional development. This tends to be the day where we focus on things like certification preparation, and other long form versions of training… And, if we've done our job well, our attendees will be armed with better questions than the ones they originally came with. They'll be ready to engage very thoughtfully and meaningfully with our exposition partners and to form new partnerships along the way.

Amanda Beckner, CEDIA Vice President of Education and Training
Beckner pointed out that there will be lots of free content, including show floor stages with ongoing complimentary content for conference attendees running throughout the event. There will also be lots of manufacturer-based product training at the show, allowing integrators to take advantage of extensive team training all in one place.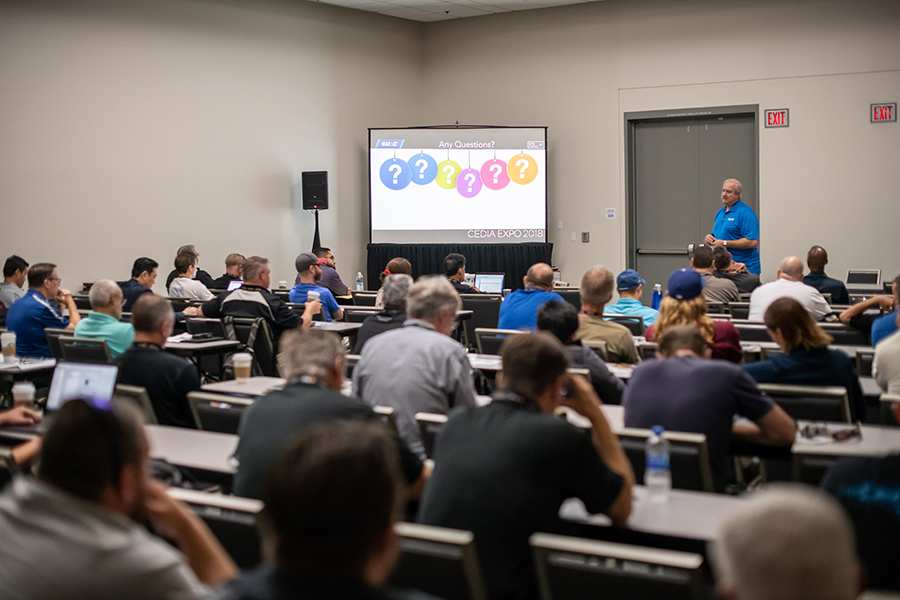 Beckner Advocates for Your Attendance at the CEDIA Advocacy Town Hall
Beckner especially wanted to highlight a particular new session added to the event. This session, which by the way includes a complimentary breakfast, is the CEDIA Advocacy Town Hall.
As you know from your last conversation with Darryl, he does not like it when things are a well kept secret – and our work in advocacy is really spectacular at CEDIA. It's something we do very well, and it's something that benefits all of the channel not just CEDIA members. So we wanted to take this opportunity to tout some of those successes. But not just to give an overview of our advocacy work over the past year – but to invite conversation and questions through a question-and-answer period…through open discussions…and through an interactive event. That is our intention with this CEDIA Advocacy Town Hall session. It's our first time doing it and we're very excited.

Beckner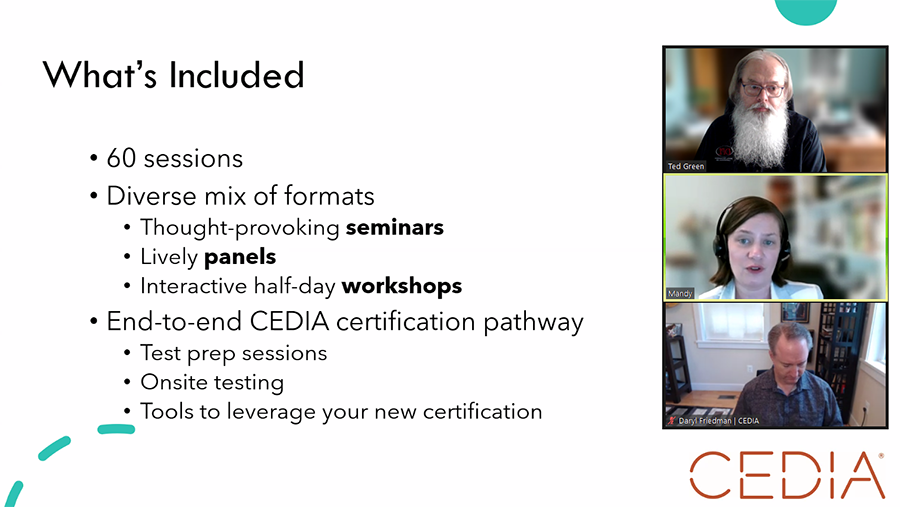 An Extensive Program of Some 60 Sessions of Education
The CEDIA Advocacy Town Hall actually kicks off the second day of the event – and the first day of the show floor opening. For the next two days, CEDIA has assembled an extensive program totaling 60 sessions (over all 3 days of education), including seminars, panels, and some in-depth workshops…or what Beckner likes to call "hands-on" or "project-based" kinds of "long form training."
CEDIA will be also offering what Beckner called an "end-to-end" solution for those seeking to level up their professional career with a CEDIA certification. "This is one of those 'rising tide lifts all boats' sort of situations when it comes to workforce maturity," Beckner said. "Certification should be a hallmark of our industry and we hope to have lots of new energy and faces around the CIT [Cabling and Infrastructure Technician] and IST [Integrated Systems Technician] certification programs that will be there. But as well for our design and networking certification options as well."
Ten Tracks of Training PLUS Two New Tracks This Year
Educational sessions will not only include test preparation and testing, Beckner says, "But also some sessions that train members on how they can use their new designation as a tool for partnership and marketing of their own work and their own professional brand."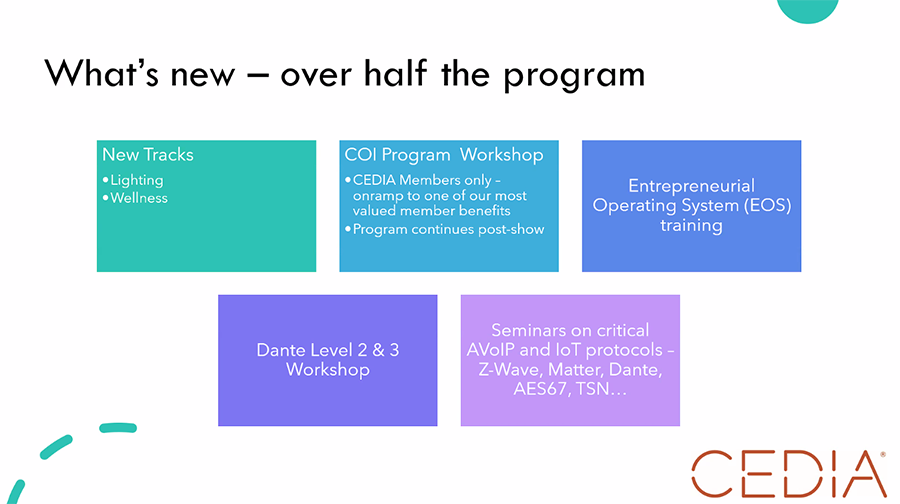 There are a total of ten "tracks" or categories of education and training. And this year there are two new tracks based on emerging technology trends – wellness and lighting. Beckner says the association is excited to bring a focus on these new product and design areas.
NEW TOPICS – Let's Not Be Coy about the COI Program; Do You Speak EOS?
There will also be sessions on a program specifically for CEDIA members known as COI or the CEDIA Outreach Instructor program. This program, Beckner tells me, is both a professional development program and a business development program, which she also referred to as a sales enablement opportunity. CEDIA wants to spread the word about this program and the tremendous benefit it offers participating members.
Also, new this year will be sessions introducing attendees to a well know business management program called the Entrepreneurial Operating System or EOS. Developed by author and speaker Gino Wickman, EOS provides a simple but powerful system for improving both the efficiency and the effectiveness of your company's management. I find it interesting that CEDIA is more than willing to bring this kind of outside education to its members, and perhaps it is another example of the new administration's out-of-the-box thinking.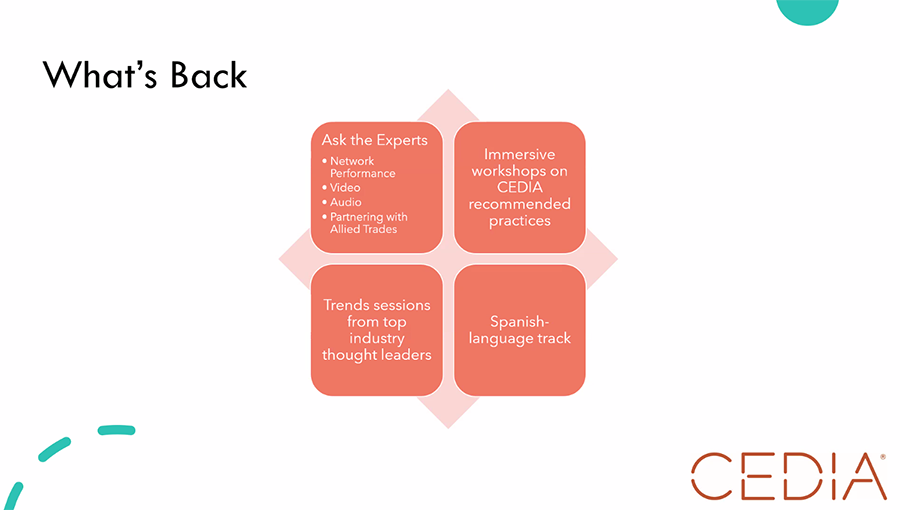 Other Educational Sessions Planned for CEDIA Expo 2022
Other new sessions include Dante Level 2 and Level 3 training. Those interested in the Dante training must first complete Dante Level 1 training online as a prerequisite.
AV over IP training
New sessions on the latest IoT protocols
Immersive workshops on CEDIA recommended practices, such as RP 22 (Immersive Audio) and RP 28 (HDMI System Design & Verification)
Multiple Top Trends sessions from industry thought leaders
A new Spanish language track created by CEDIA Latin America volunteers
CEDIA will also include this year what they say are the ever-popular "Ask the Expert" style sessions. Four such sessions are planned:
Network performance
Audio
Video
And a new one – partnering with allied trades.
One More Thing…
Finally rounding out her briefing, Beckner summed up the approaching CEDIA Conference.
The CEDIA Expo conference is the premier gathering spot for our industry. We have bright minds. We have cool tech. We need to bring those things together so that the attendees learn just as much from their peers' reactions to what's going on in the learning environment, as they are learning from the presentations themselves. It's all about connecting and networking…forging ideas with opportunities.

Beckner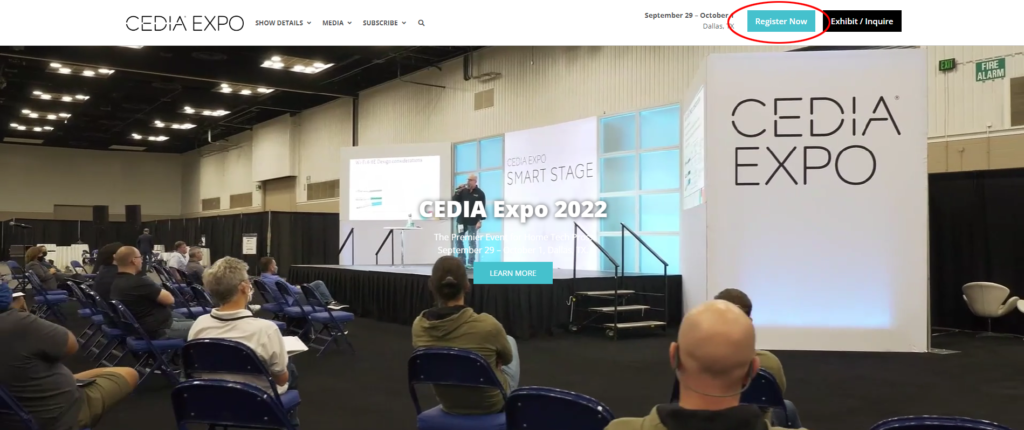 Register Today!
You can register to attend the CEDIA Expo – the custom integration industry's most important trade event of the year – right now. And while you are there, make sure to sign up for a full slate of education for you and your team. Simply go to cediaexpo.com and click on "Register Now" in the upper right-hand corner of the home page.
Note that there is early bird pricing that can save you a bundle while you level up your team's education and see all that the Tech industry has to offer.
Learn more about the CEDIA trade association by visiting: cedia.net.