At CEDIA 2017 CEDIA and Home Advisors partnered to present the results of a recent member survey on the Smart Home market that the two parties collaborated on recently. The results were interesting although not particularly surprising or earth shattering.
See what CEDIA and Home Adviser uncovered about Smart Homes…
Home Advisor is a mobile app and a website that connects homeowners and other consumers with qualified and pre-screened home service professionals. These include electricians, plumbers, designers and architects. Home Advisor has more than 164,000 service providers in their network reaching 45 million homeowners. The company achieved $500 million in revenue last year.
Home Advisor says they made a huge investment in the smart home space in the form of integrations with key companies like Amazon and Honeywell. Home Advisor believes they are best positioned to close the loop between notifications from smart devices and the services needed to clear them (using a leak detector requiring a plumber to resolve the situation, as an example.)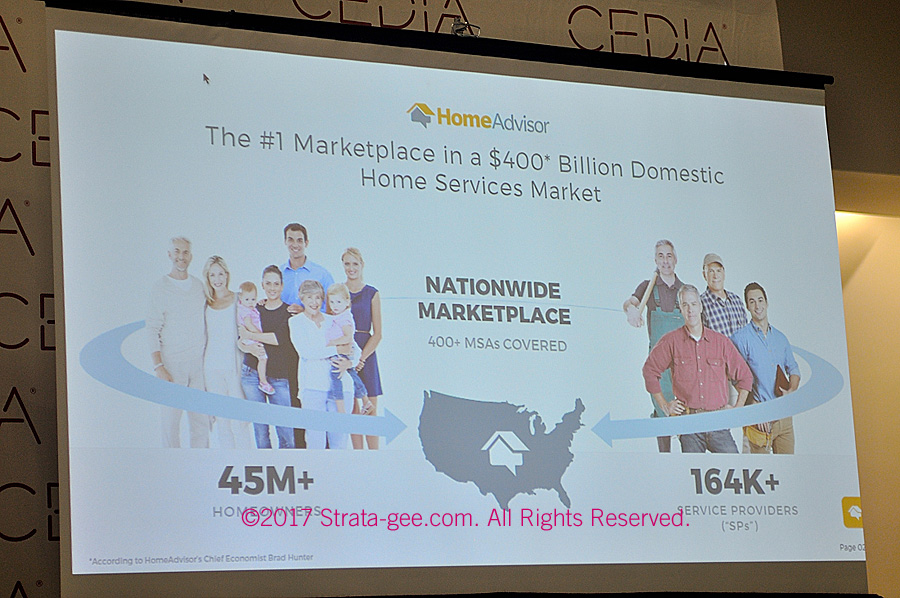 Huge Home Services Market, Less Huge Residential Technology Market
Home Advisor's Dan DiClerico, their resident Home Expert and Smart Home Strategist, kicked off the presentation, made in conjunction with Dave Pedigo of CEDIA, introducing the largely tech industry reporters to Home Advisor. Home Advisor, he tells us, has decades of experience in the home services space, a $400 billion market. By contrast, CEDIA says the residential technology space is a $14 billion market.
DiClerico called their presentation really a "State of the Union" for the smart home space, resulting from an online survey conducted this summer to every CEDIA and Home Advisor member who handles smart home installation and maintenance." The participants included everyone from high-end custom installers to "the tech savvy handyman."
The Big Business of Smart Homes
"We know," DiClerico said, "that about 30 million homes have at least one connected device in them – that nearly doubles the total of just a couple of years ago."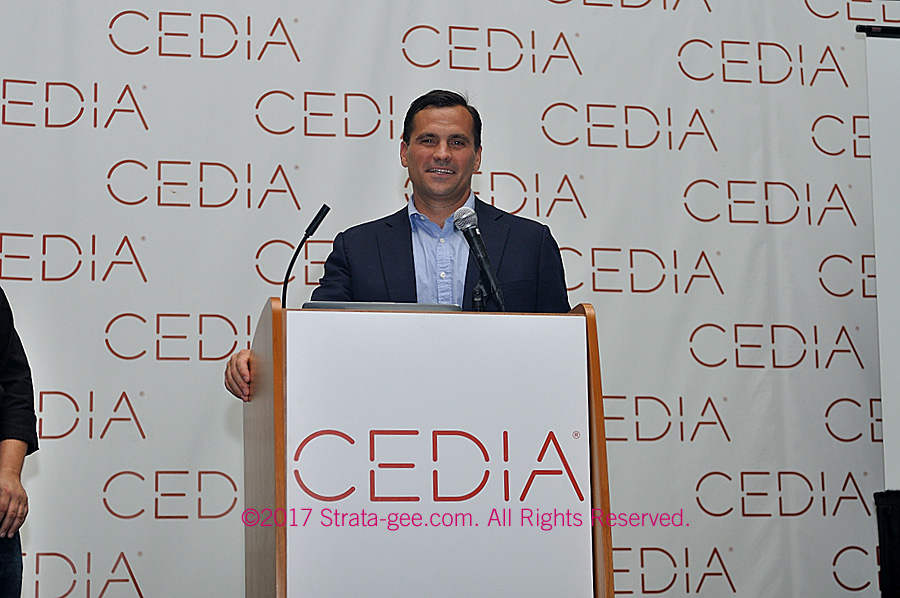 He also said that smart home hardware, from smart thermostats to security systems is "going to generate about $9 billion this year," DiClerico noted. "That's a big business for manufacturers and retailers of the smart home equipment."
Key Survey Highlights
DiClerico said the survey was sent to about 10,000 professionals and around 1,500 participated. The key highlights:
A wide range of tradespersons are coming into the smart home space
There is a "huge surge" in smart home requests
These requests are beyond simple thermostat or single device installs
Respondents to this smart home survey were asked to self-identify their businesses. CEDIA members generally described themselves as consumer electronics/audio visual installation providers. On the other hand, Home Adviser members described themselves in a wide assortment of categories including carpenters, contractors, electricians, handymen, plumbers (back to the leak detector example), and landscapers (smart sprinkler system), etc. This shows you, DiClerico said, just how big the smart home market really is. Later, in a Q&A session with reporters, he admitted even he was surprised by the participation of landscapers and other trades not typically associated with smart home technologies.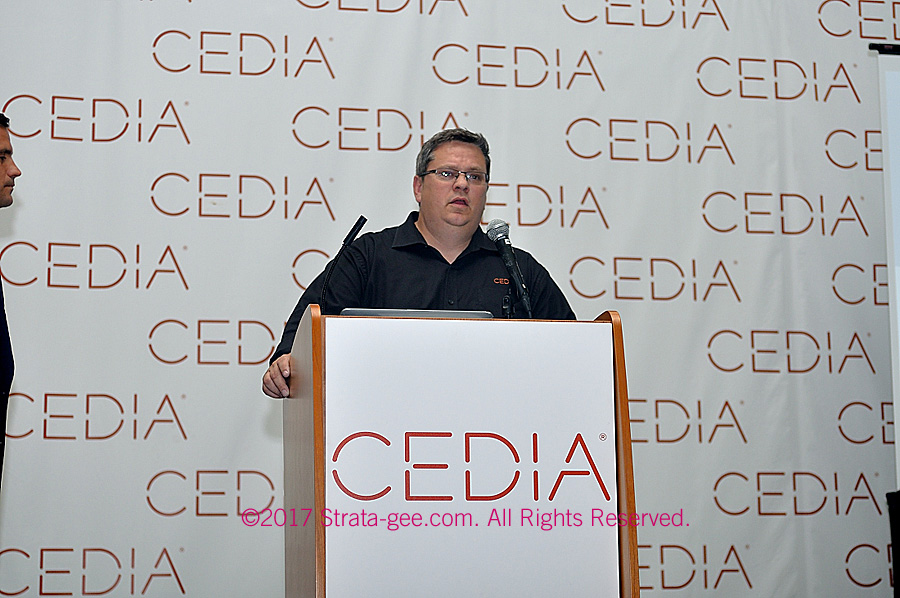 Comfort, Safety and Security are Main Motivators
CEDIA's Pedigo said about 8 out of 10 of the overall respondents (87% from just the CEDIA members) said they've seen an increase in requests for smart home device installation or maintenance in the past year. Pedigo noted that the makeup of the survey was almost a perfect 50/50 between CEDIA respondents and Home Advisor respondents.
Pedigo said that in multiple surveys, one thing comes through loud and clear: comfort, safety, and security are the biggest drivers of smart home demand. In this survey, thermostats came in as the most popular smart home device, followed by lighting, then smart TV/smart home theater.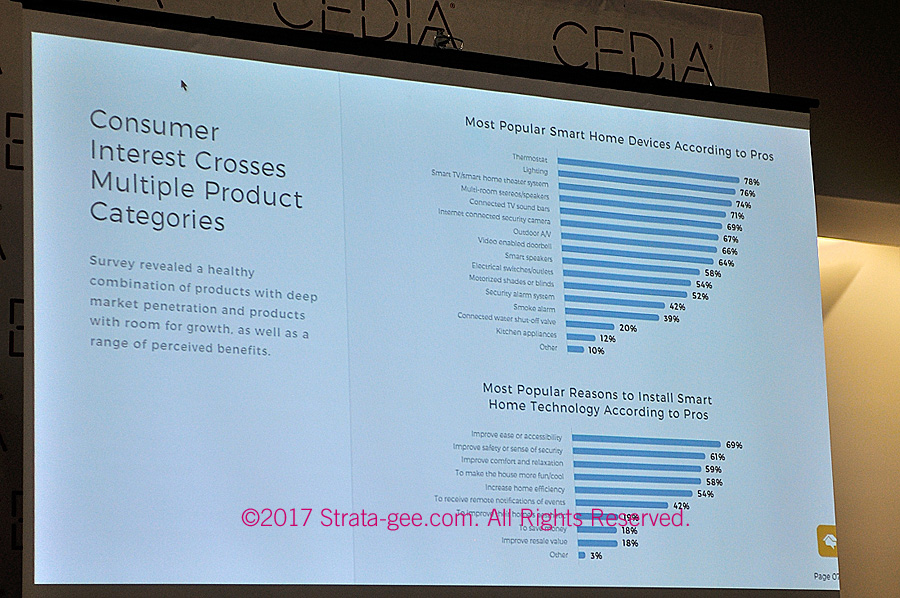 The top reasons to install smart home devices, as mentioned most often by survey respondents were: "Improve ease or accessibility," "Improve safety or sense of security," and "Improve comfort and relaxation."
Barriers to Smart Home Adoption
According to Pedigo, the survey identifies the greatest barrier to smart home adoption is "lack of homeowner awareness about smart home devices." This was identified by 75% of the responding pros. Another 43% say they "don't know how to market smart home systems."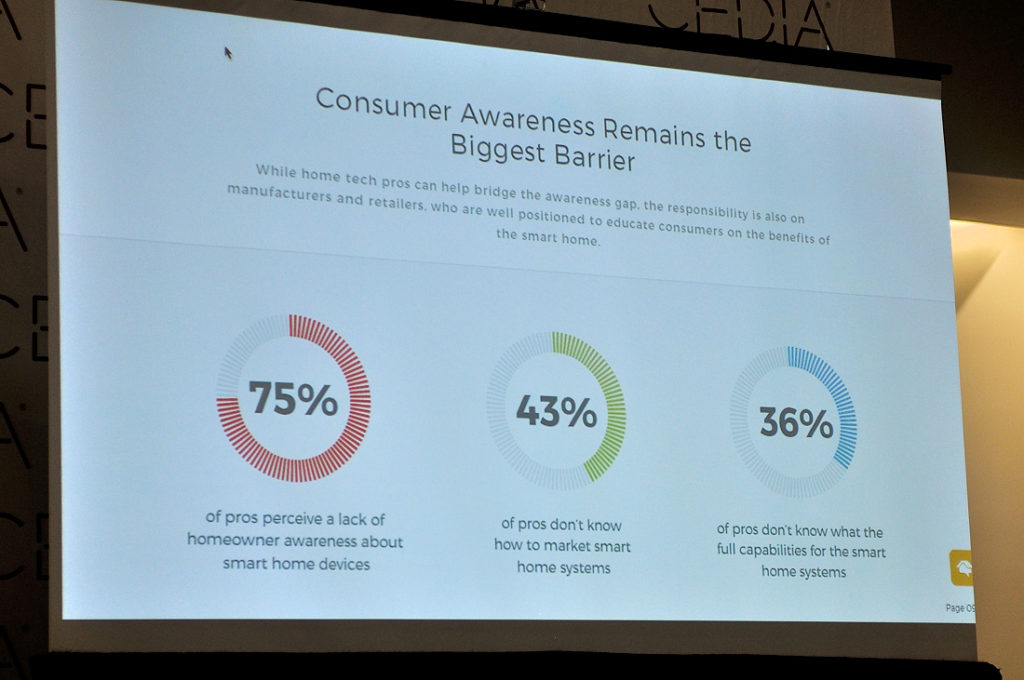 DiClerico says pros – especially the Home Advisor pros – need more training and education on smart home technologies. At least 8 out of 10 are interested in more education – 78% specifically mentioned online videos, followed by informational materials, and even classroom training.
The presentation wrapped up with six key findings:
Develop scalable business models
Be a digital-first company
Look for ways to attract skilled labor
Target all demographics
Always be learning and innovating
Stay the course
Learn more about CEDIA by visiting: www.cedia.net.
See more on Home Advisors at: www.homeadvisor.com.