CEDIA Expo opens this week, with education sessions starting today and the show floor opening tomorrow. As Strata-gee has been reporting, over the last three weeks literally hundreds of exhibitors have pulled out of the event over concerns surrounding the surge of infections due to the Delta variant of COVID-19. With Emerald expositions vowing to forge ahead with the event no matter what, attendees to the event – whether many or few – will find themselves at a very different CEDIA Expo.
See more on this very different CEDIA Expo
It was a stunning turn of events back on August 10th, when Savant suddenly announced that they would pull out of the CEDIA Expo over concerns for the health and safety of their employees, integrators, and partners. Within 48-hours of that singular announcement, others began to follow, first in a drip, then a stream, and then virtually a flood of exhibitors all pulling out. As Sonos put it, thanks to the resurgence of COVID, "it became clear that the risks of exhibiting at a large trade show at this time were simply too high."
The situation changed so rapidly, that I started tracking the list of exhibitors who have pulled out of CEDIA Expo 2021 and regularly updated it – sometimes nine or ten times a day.
---
SEE STRATA-GEE'S List of Exhibitors Pulling Out of CEDIA Expo 2021
---
More Than 136 Exhibitors Pull Out of CEDIA Expo 2021, Including Top 'Marquee' Brands
Eventually, Strata-gee's list documented at least 136 exhibitors pulling out of the event. The real number is likely even more than that, as I tried to hold strict standards of accuracy by obtaining copies of official announcements from the exhibitors, their executives, their employees, or company-connected agencies. This meant that I likely did not capture them all.
However, the exhibitors captured on Strata-gee's list include almost all of the major marquee exhibitors including Savant, Crestron, Sound United, Snap One, Sonos, Samsung, Sony, LG, Lutron and many more. These were not only big booths, but they are large brands that invest heavily in large numbers of new products, many of which are launched for the first time at CEDIA Expo.
For many integrators who attend this annual event, those marquee brands are a big reason that they go. With products that often represent the backbone of a typical installation – such as control systems, video systems, home theater solutions – these are key products crucial to the installation.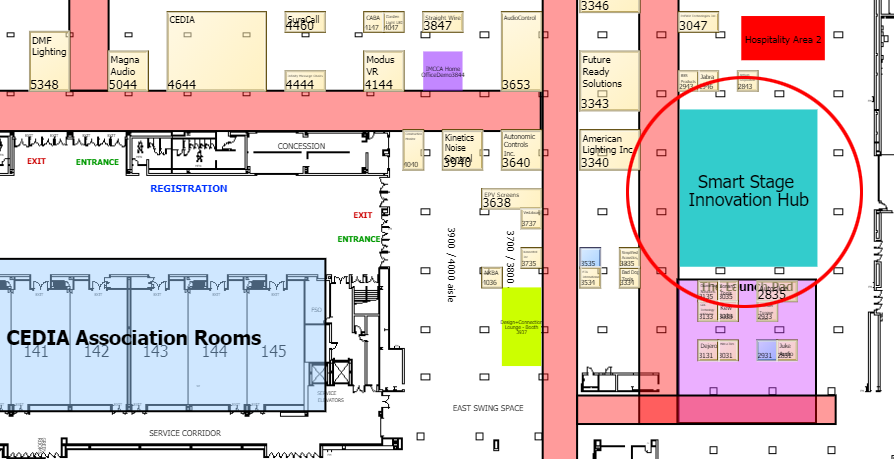 A Shocking 76 Booths This Year
As of the official List of Exhibitors shown today on the CEDIA Expo website, the list has continued to shrink from first six pages…to three pages…to now just two pages listing the remaining exhibitors. Perhaps even more enlightening is the redrawn floorplan map – which now shows only 76 booths on the floor.
This is a shocking number considering the typical CEDIA Expo has 500 exhibitors. At the beginning of this 2021 Expo event, Emerald's List of Exhibitors was already a truncated 242 names long. Their latest List of Exhibitors is only 92 names long. I have maintained records of the number of attendees and exhibitors at CEDIA Expo's all the way back to 2004 – that year there were 550 exhibitors.
More Like Just 71 Booths

So this year's CEDIA Expo is of a size and a composition of exhibitors that we haven't seen in many, many years – perhaps since the earliest days of the event when it was still owned by the Custom Electronic Design and Installation Association. At this year's event, the largest booths are – well honestly, the largest spaces on the floor are designated as a hospitality area and the Smart Stage. But the largest exhibitor booths are CEDIA (the trade association) and Origin Acoustics.
In fact, I would argue that 76 booths on the floorplan isn't even an accurate description of the number of exhibitors that integrators would be likely to visit. If you take out the various other trade associations at the event, such as the NKBA (National Kitchen and Bath Association), IMCCA (Interactive Multimedia & Collaborative Communications Alliance), and perhaps even CEDIA, you end up with more like 73 booths. Now from that number deduct the remaining media booths, such as CE Pro and Future…and we're down to more like 71 booths containing goods and services most likely to interest integrators.
So say what you will about CEDIA Expo, it is clear to me that, this year, CEDIA Expo is a very different experience…
Learn more about CEDIA Expo by visiting: cediaexpo.com.