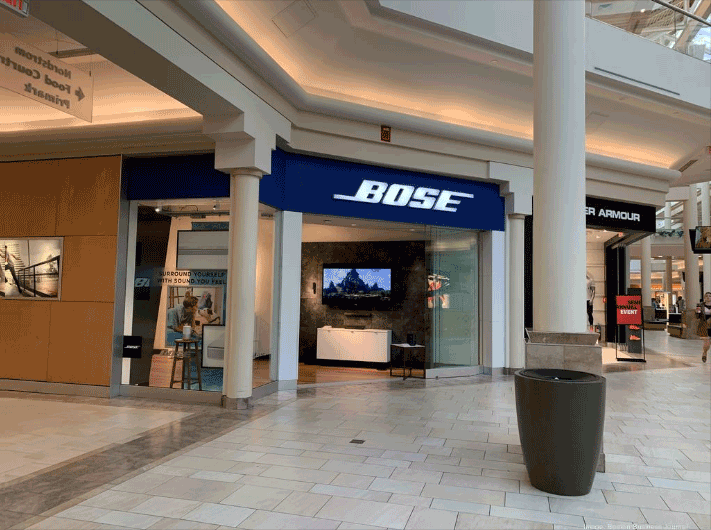 Bose Corp. announced earlier today that it will close a total of 119 Bose retail stores as a response to changing retail purchasing trends. The locations to be closed represents their entire retail footprint in North America, Europe, Japan, and Australia.
See more on this dramatic announcement from Bose…
Bose released a statement today that it will shutter a significant portion of their entire retail showroom footprint as a result of "the dramatic shift to online shopping in specific markets." The company's retail locations were largely positioned in urban areas, often upscale malls…although not exclusively so.
The privately-held, Framingham, Mass-based Bose is declining to reveal just how many employees will be impacted by this mass shutdown. However, the Verge is reporting that the move will result in "hundreds of employees being laid off."
Started in Retail in 1993
Bose opened their first retail location in 1993 in order to be able to provide in-person demonstrations of various music systems, such as their Wave system and Lifestyle home theater system. Slowly, the company expanded their retail footprint, ultimately developing a substantial global presence.
The company says that it will keep Bose stores open in other select areas that presumably are less susceptible to impact from online sales including approximately 130 stores in Greater China and the United Arab Emirates; and also locations in India, Southeast Asia and South Korea. As far as the 119 stores being closed as part of this announcement, the company says those closings will take several months to accomplish.
Retail Teams 'Set the Standard for Customer Service'
"Originally, our retail stores gave people a way to experience, test, and talk to us about multi-component, CD and DVD-based home entertainment systems. At the time, it was a radical idea, but we focused on what our customers needed, and where they needed it – and we're doing the same thing now. It's still difficult, because the decision impacts some of our amazing store teams who make us proud every day. They take care of every person who walks through our doors – whether that's helping with a problem, giving expert advice, or just letting someone take a break and listen to great music. Over the years, they've set the standard for customer service. And everyone at Bose is grateful."

Colette Burke, vice president of Global Sales, Bose Corporation
The company says that it will offer outplacement assistance and severance to those employees being laid off as a result of this decision.
Bose Product Available Through Many Other Locations
In addition to Bose products sold on their own website, they also offer their products for sale through major retailers such as Best Buy, Amazon, Target, and Apple stores. The also offer Bose products through other third-party retailers.
For more information on Bose, visit: www.bose.com.