Amazon Tests In-Home Installations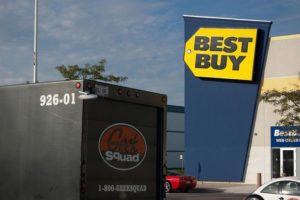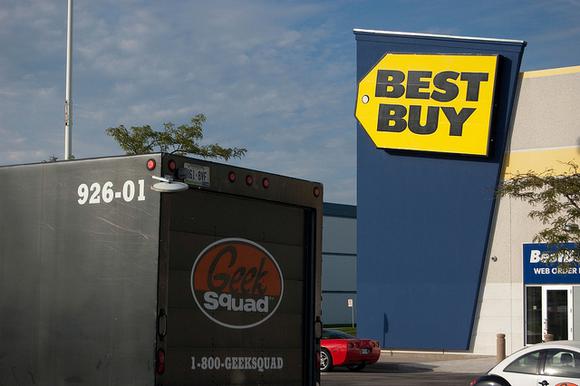 Recode is reporting that Amazon is testing an installation service for smart home products in several key test markets – in direct competition with Best Buy's Geek Squad. While these two giants battle over the rights to install smart home solutions into the home, where does this leave the independent integrator?
See more of what we learned from Recode…
In the eyes of Amazon, Best Buy's Geek Squad has been a major advantage the electronics retailer has enjoyed over the online giant, when it comes to selling smart home products that consumers need help with. And even though Amazon's Alexa has fueled interest in the smart home with consumers, they've been essentially on their own when it came to installing and configuring systems when purchased from Amazon.com.
But Best Buy's advantage is at risk of being eliminated, as Recode – a new media outlet founded by an ex-WSJ tech reporter and others – has uncovered an Amazon plan to begin offering in-home installations. For months now, Recode says, Amazon has "quietly been hiring an army of in-house gadget experts to offer free Alexa consultations as well as product installations for a fee inside customer homes.."
Now in 7 Markets
According to the report, Amazon's new service is already being tested in seven markets, introduced to them with little or no fanfare. The markets where the service is now currently available are: Seattle, Portland, San Francisco, San Diego, Los Angeles, San Jose and Orange County, CA.
Powering adoption of Alexa may have been a factor in Amazon's decision to build it's own, privately owned, in-house installation army. This fact calls into question the wisdom of CEDIA "launching" Alexa as a keynote speaker in last year's CEDIA show.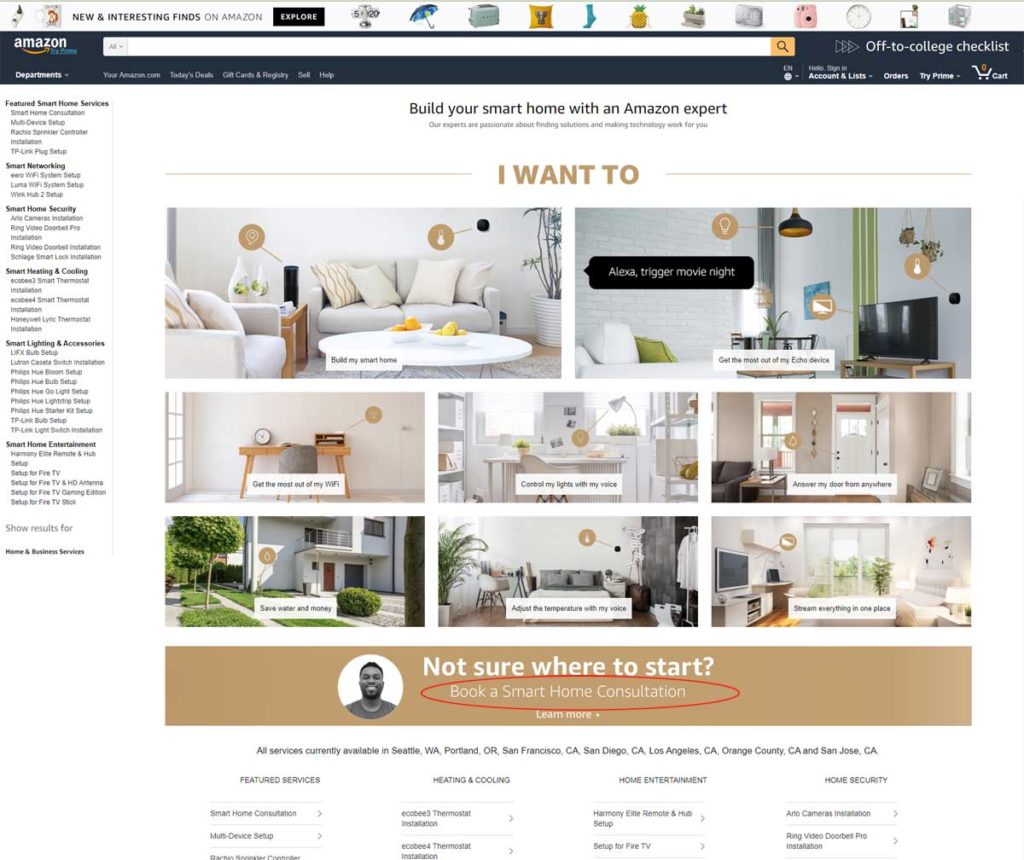 Moving Beyond the Marketplace
For years, Amazon has maintained a marketplace for third-party companies to offer various goods and services. These services include not only plumbers, but also TV mounting and other installation services. However, this move by Amazon to offer their own installation services, suggests that they view the smart home market as too important to leave to outside third-parties.
Amazon, the report says, has been caught in kind of a two-jawed trap: 1) First, not offering installation depresses the number of customers who are willing to purchase products from them, instead favoring other sellers like Best Buy who do offer installation; and 2) Amazon has struggled with much higher than normal return rate on smart home products, which many consumers find difficult to install and integrate with their other systems.
Amazon's 'Home Assistant'
Yet smart home products are one of the fastest growing segments in consumer electronics right now. Amazon clearly faced an inflection point where they needed to choose whether to continue to go after the smart home business and offer installation…or abandon the segment altogether. But with so much invested in Alexa, that second option was not an attractive one.
Recode notes that this story was first reported by The Spoon, a website dedicated to the future of food, cooking, and the kitchen. Writer Michael Wolf spotted a posting for a job at Amazon called a "home assistant."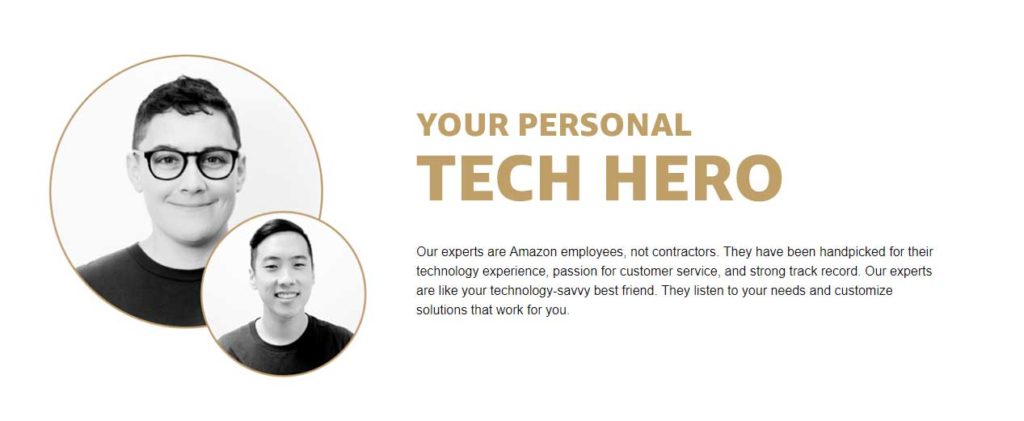 Wolf speculated: "…there's a chance Amazon sees the assistant role as one that will leverage existing in-home technology a[nd] creates a home that 'runs on Amazon.'… Amazon could write off these assistant visits as a 'truck roll' investment, one which is paid back through a home fully integrated with Amazon platforms such as Alexa, Dash, commerce, etc."
Alexa Smart Home Consultation
Shortly after writing that, Wolf himself received an email invitation from Amazon for a free 45-minute "Alexa Smart Home Consultation." Yes, that's right, an Amazon expert will come into your home, evaluate your Wi-Fi signal strength and set up and let you try out various smart home products. This includes the amazing experience of voice control in your home.
Amazon hastens to point out that this expert is an Amazon employee. Not only that, but he (and, presumably, "she") will leave you with a "customized" list of recommended smart home products to purchase.
$99 for Installation
Besides the free in-home consultation, Amazon is charging $99 for certain installation services, such as setting up an Ecobee4 Alexa-enabled smart thermostat. The company also regularly runs specials on installations, including time-to-time discounts up to 20% on installation.

Recode notes that multi-device setups requiring more than one hour of setup "may cost more." Scheduling delivery is a simple matter that is accomplished during the item checkout process on Amazon.com.
Expanding to New Markets Soon
Apparently, Amazon is prepared to roll this service out on a much wider scale. They have recently posted job openings for home assistants and "field technicians" in Tampa, Hoboken, Miami, Orlando, Houston, Dallas, and Las Vegas. The postings note a preference for an "Apple Genius" or a "Geek Squad Double Agent" background.
When you combine this new installation project with their recent acquisition of grocer Whole Foods, it appears that online kingpin Amazon sees the value of the in-person touchpoint.