An Optimal Mix of Quality, Utility & Ease-of-Use for the Residential User
Just about seven weeks ago, Strata-gee told you about Crestron's cool new TS-70R touch screen which was solidly built, exceptionally attractive for either a residential or small office setting, and provided a great control solution for the Crestron Home operating system. Now, Crestron continues their Crestron Home-specific product launches with another new product – the MM30-R Crestron Home Audio Conferencing and Control Solution.
You're going to want to know about this new Crestron solution…
Crestron has been introducing new products in 2020 at a blistering pace. Of course, that fact in and of itself is not too unusual for a company the size of Crestron. But this year, their residential division, headed by Vice President John Clancy, has been largely the beneficiary of many of these new products which have been targeted especially for the residential segment.
Notably, the company has recognized that its renowned strength in commercial unified communications (UC) technologies uniquely positions it for perhaps a once-in-a-lifetime opportunity. And that opportunity comes thanks to the rapidly exploding consumer trend towards a work for home (WFH) and learn from home (LFH) environment as a result of the COVID-19 pandemic. So the company has engaged in redesigning and reconfiguring their surprisingly extensive line of UC products – mostly from their Mercury commercial line – for the residential environment and technological ecosystem.
Larger, Smarter Home Offices and Learning Spaces are in Demand by Consumers in Today's COVID World
The construction industry, realtors, and integrators have all reported a strong and increasing demand from consumers for larger and more sophisticated smart home offices, as COVID quarantining forced many central offices to close and companies to move to a remote worker configuration. Also, as schools were forced to close, many school systems have gone to virtual instructional classes conducted over Zoom – stimulating further demand for specially optimized learn from home spaces. Now…it seems…everyone wants a Zoom Room.
Crestron has pounced on the opportunity, first with its HomeTime product, launched in conjunction with Logitech and Zoom; then its Flex MM device with Zoom and Microsoft Team support; then the previously mentioned TS-70R touchscreen; and now the MM30-R multi-function device. All of these devices work with the rapidly expanding Crestron Home ecosystem, which Clancy tells me is now deployed in tens of thousands of homes today. "And most, if not all of them, have home offices," he added.
A Desperate Need for an Enterprise-Grade Conferencing Solution
What Crestron has discovered is that as workers were relegated to working remotely, with new processes heavily reliant on audio and audio/video internet conferencing – there was a desperate need for enterprise grade conferencing solutions. And the MM30-R from Crestron is just exactly that – a well-built, robust, enterprise grade conferencing solution that works in almost any environment…either in residential or commercial situations.
The MM30-R features four distant-pickup microphones arrayed for 360° seamless pickup. "Users can even get up and walk around the room and still have a pretty decent audio conference," Clancy told me in a Zoom presentation on the new model earlier this week.
It's Really Two Devices in One – A Conferencing Device & A Smart Home Control Interface
It also features an elegant but solid design that is low profile with a 7″ high-resolution touch screen and a room filling high-fidelity speaker. With the MM30-R, users can simply and confidently engage in a series of conferences and also fully control their whole house Crestron Home solution.
The MM30-R will quickly become a client's audio device of choice for company (or personal) meetings launched from their Mac or PC. But since it is a fully functional control device for a Crestron Home system, it will also enable them to control all the elements in their home including lights, TVs, thermostats, security cameras, and more.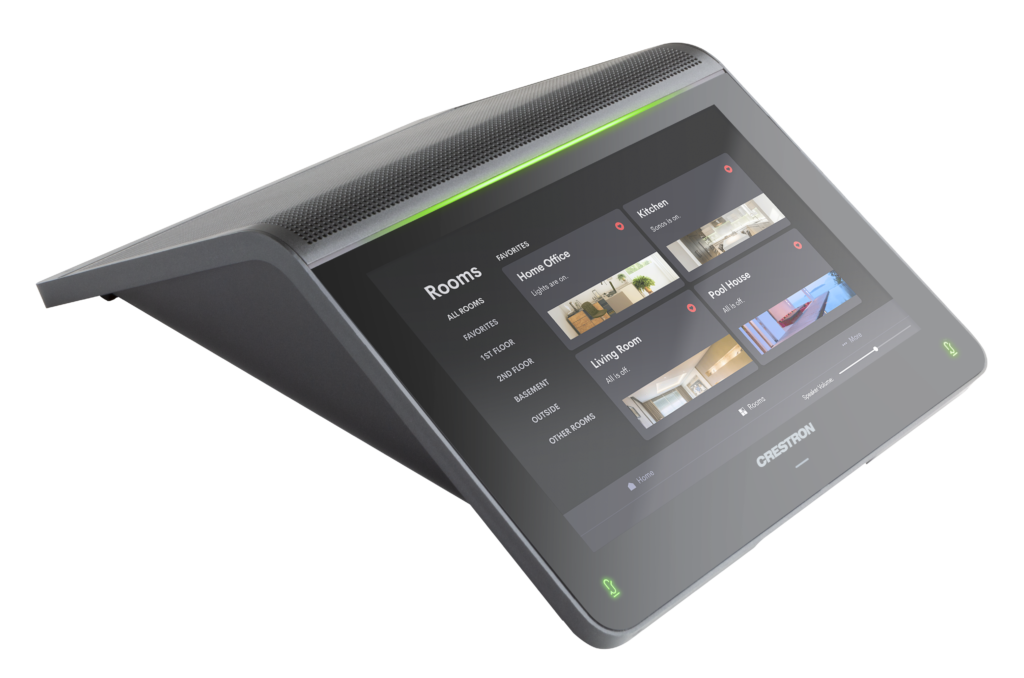 A Seemingly Small Feature Solves a Common Conferencing Problem
Clancy pointed out that one feature of the device has turned out to be incredibly handy, as he learned from testing the device himself. On each corner of the MM30-R is a symbol representing a microphone that is lighted. Normally, it glows a soft green during use – meaning the microphone is live. However, when muted, it turns to an attention-getting red color. So no more embarrassing situations where a user is talking away while the system is – unbeknownst to her or him, muted. With one quick glance, you instantly know the status of the microphone array on your device.
And by the way, anyone in the conference can quickly and easily mute the system by simply touching the microphone image closest to them – and it will instantly mute the system.
On One Level, the MM30-R is a Simple USB Microphone & Speaker
The MM30-R "is always on and always ready to be activated," Clancy said. "It is a BYOD device – it's agnostic to any specific conferencing service. So whether I'm using [Microsoft] Teams, or Zoom, or Google Meetup, or whatever the application, it is – from your computer's perspective – a USB microphone and speaker."
"[The MM30-R] is really very simple and very quick to set up – you literally unbox it, power it up, connect to USB, and connect it to Wi-Fi. From there it will find your Crestron Home system on the network and then prompt you for the user interface password. After you enter the password, it'll prompt you to select which room it 'lives' in – which in most cases will be the home office. Then that will be the room it will default to when you hit the 'Rooms' button on the bottom…and that's it. It literally just takes minutes."

John Clancy, Crestron's Vice President for Residential
'Quick Action' Magnifies User Convenience
While simple to set up and operate, don't mistake that for a limited capability of the MM30-R. It offers a wide range of functions that will dramatically simplify the end-user's life. For example, integrators – or even the clients themselves – can set up "quick actions" which are sort of like macros or scenes and offer one-touch convenience to users.
As Clancy explained it, you could set up a quick action labelled "on a call" that could, for example, raise lighting levels, lower the blinds, and light up the room indicator outside the home office door to signal to your family that you're busy on a call-in-progress. Conversely, you could then have a quick action button for "end call" that would then extinguish the "busy" light outside the office door, reduce the level of the room lights, raise the blinds, turn on your TV and bring up the audio from your favorite news channel.
It's a simple one-touch automation action that serves to make the user's life a little easier and more enjoyable – and also, a little more efficient and professional.
Crestron MM30-R Pricing & Availability
The MM30-R is available now for pre-order and carries a manufacturer's suggested retail price of $1,500. The company anticipates that it will begin shipping the MM30-R by December 31st.
Contact your Crestron representative today to get more details on the MM30-R Audio Conferencing and Control Solution – and to place your pre-order.
Learn more about Crestron Home Products by visiting: www.crestronhome.com.