Don't Be Fooled by the Pretty Face, It's a Beast
The innovation train keeps rolling down the track at Crestron who has had a string of new introductions in 2020. The company announced today a new line of touch screens in what they say is their "next generation" design known as the 70 Series Touch Screens. But if you only see photos of it, you won't truly appreciate what it offers – a balance of both elegant design with tough, all-aluminum construction and a solid weighty feel.
Learn more about the Crestron touch screens…
When I first learned about Crestron's new 70 Series Touch Screens, seeing it through a computer monitor, I was impressed with its sleek design. This design looks perfectly appropriate for any environment, whether a home theater, home office, den, bedroom, or kitchen. For that matter, it would even look nice in an office environment.
Available in either an in-wall or tabletop design, the look is not only stylish, but even with its relatively compact dimensions, the screen looks big. This is a bit of an optical illusion as the design incorporates a much thinner bezel around the screen, so it actually has a larger visual impact.
Why Crestron Sent Me a TS-770 Tabletop Version
Crestron provided me with a sample TS-770, a tabletop version that you see in the photo above and around this post. At first I wasn't sure why. Then I picked it up…and…WOW. At first glance, it seems like many other largely plastic touch screens…you know those lightweight designs that you are afraid you might drop.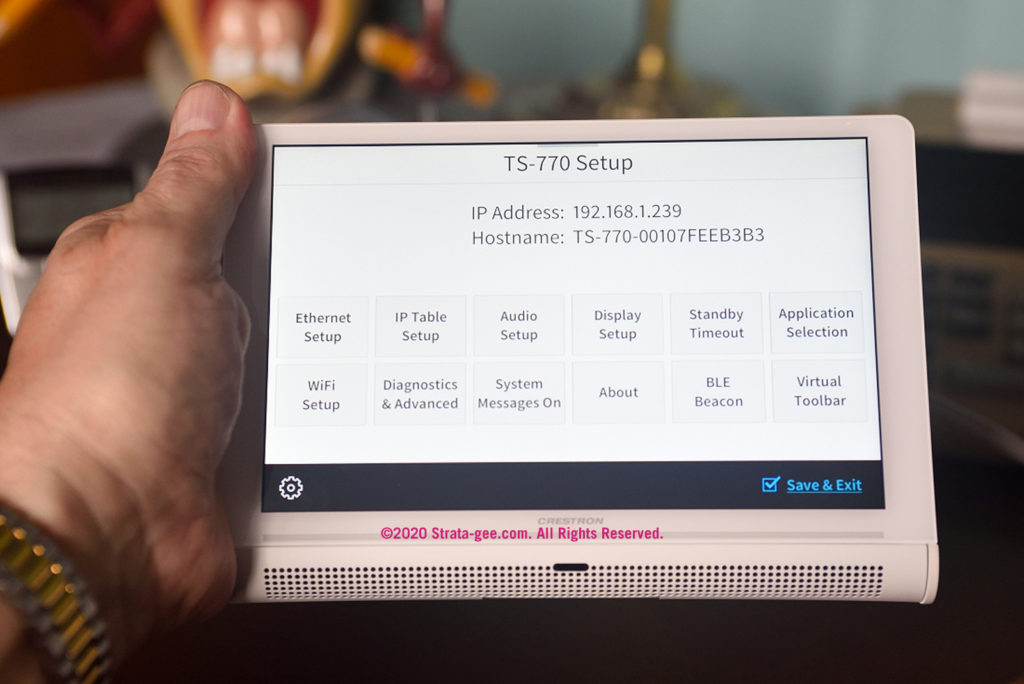 But this 70 Series model (the TS-770, with a 7″ screen) actually surprised me with its heft and solid construction. It is a bit of an oxymoron – you know, like jumbo shrimp. The TS-770 was sleek, thin, compact…and yet at the same time, it felt solid, hefty, with some real weight behind it. This build quality surprised me…and made me take a closer look.
Definitely NOT Your Typical Touch Screen
You realize when you look closer that the body of this device that it is NOT plastic, but rather high-grade aluminum. There are two large rectangular rubber feet on the bottom so it doesn't slide or fall over as you touch – or punch – the screen.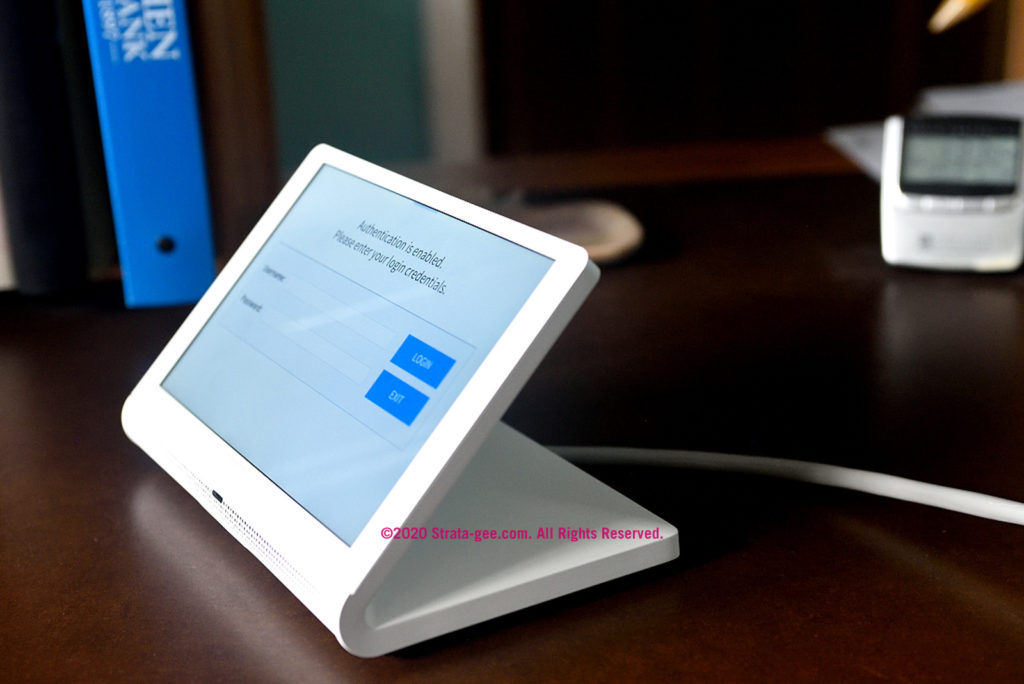 I also found the touch screen incredibly responsive as I poked around at this unprogrammed version. The setup screen is clear and easy for an integrator to operate and to quickly configure the unit.
Super Slick, Sleek & Stylish – No Buttons, Knobs or Dials
There are no physical buttons, no on/off button, no multi-element selection wheel with a center 'enter' button, no volume or screen brightness up/down arrow buttons…no controls of any type. Even cable connections are hidden behind a panel. This gives the touch screen a look is exceptionally slick, sleek and stylish. Operations are all handled via the bright and crisp touch screen.
But don't let the lack of external buttons/knobs lead you to believe that this is some kind of simplified pretty face of an interface. It is, in fact, quite a jack of all trades – and one that builds upon Crestron's prodigious experience designing system interfaces for mission critical commercial installations – as well as installations where untrained users may walk up at any moment and need to interact with the system.
It Senses When You Want to Use It
Usability is not compromised by the lack of physical controls, it is enhanced…thanks to smart design. The unit automatically enters sleep mode after a period of no use – proximity sensors 'wake' the unit up as the user approaches and screen brightness adjusts to the existing light level in the room so it is exactly as bright as you need it to be.
In today's world, with more and more people spending the majority of their time at home, we've seen an increase in demand for the most advanced type of technology control possible. Crestron's 70 Series Touch Screens were purposely designed with the homeowner in mind in order to deliver unparalleled performance for home control with a sleek, new aesthetic."

John Clancy, Crestron Vice President of Residential
The 70 Series Touch Screens are Compatible With Just About Any System Configuration
The 70 Series Touch Screens are Wi-Fi enabled and include wired Ethernet & USB connectivity – and are able to accommodate both custom-programmed and Crestron Home projects, including those where infrastructure requirements may not have been available. They support legacy and HTML5 projects – and make it easy for UI developers and programmers to provide a dynamic and modern user interface.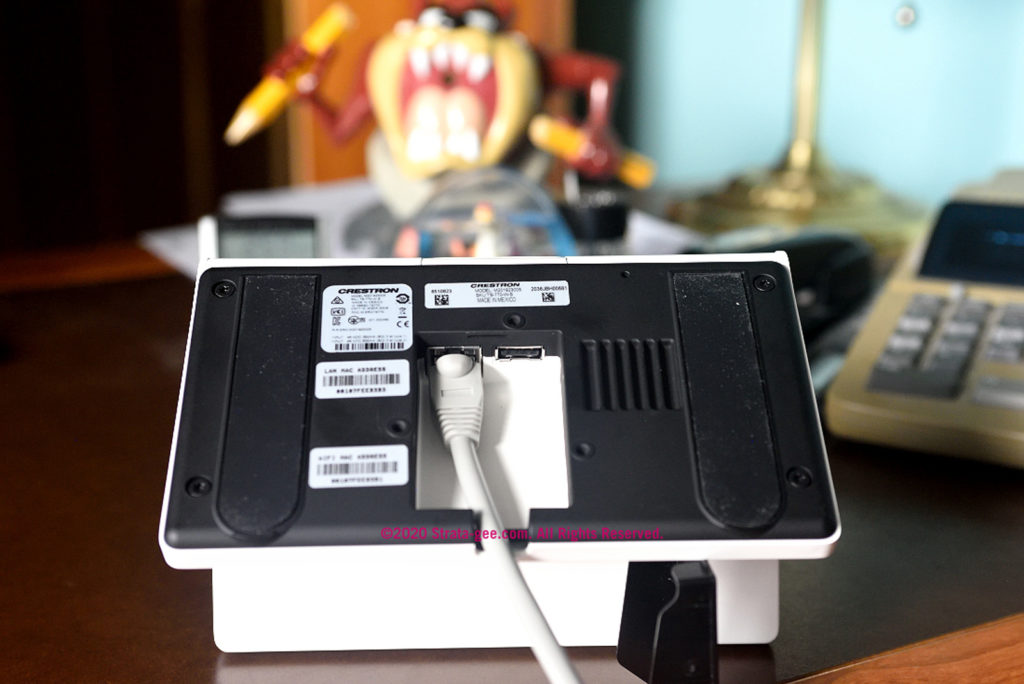 Features include faster processing for a performance upgrade, upgraded resolution for a better user experience, support for a full range of network standards for enhanced security and privacy, and can seamlessly transfer projects from the company's 60 Series Touch Screens.
Coming Soon…Get in Line Now
Available in both black and white versions, the 70 Series Touch Screens come in 5″, 7″ & 10″ wall mount versions; and are available in 7″ & 10″ tabletop sizes. The entire line will be available at the end of October. Get in touch with your Crestron representative now to get your hands on a 70 Series Touch Screen. Like me…I'm betting you'll be surprised.
Learn all about Creston's 70 Series Touch Screens by visiting: www.crestron.com/touchscreens.