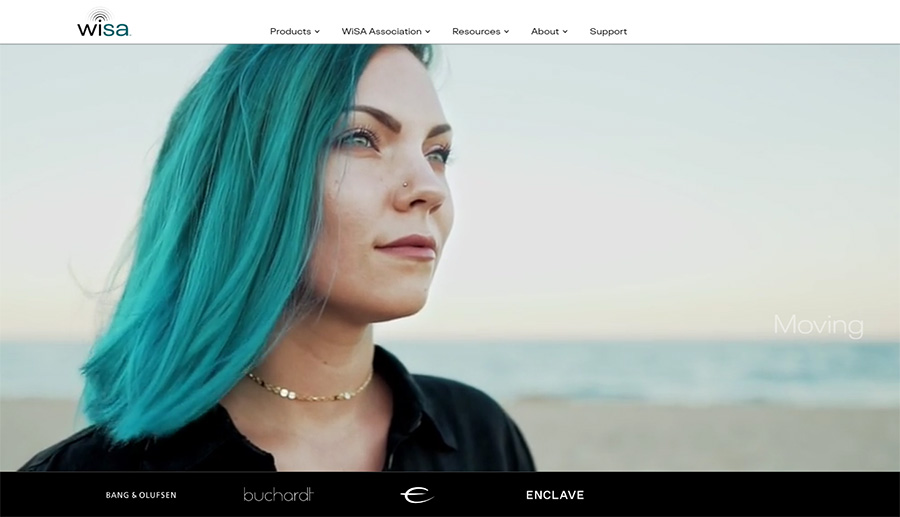 Current Stock Price Violates NASDAQ Listing Rule…Again
On Monday, WiSA Technologies, a developer and licensor of spatial, wireless sound technology, publicly announced the pricing of a new $4.8 million public offering of Series B convertible redeemable preferred stock and warrants. Separately, and a little less publicly, the company also filed a Form 8K with the Securities and Exchange Commission (SEC) revealing that it is "pursuing a potential strategic transaction."
The result of both of these pieces of news is that the company's stock value nosedived as investors turned thumbs down on this latest turn of events at the troubled organization.
See more on the new WiSA problematical issues
For almost a year now, I've been following the trials and tribulations of WiSA – starting in November of 2022 when it announced it was essentially putting the company up for sale. That sale was withdrawn and then it ran into trouble with the NASDAQ stock exchange, as its stock price dropped below a mandated minimum bid of $1.00/share – meaning it was out of compliance with listing rules. When that happens for a period of at least 30 consecutive trading days, the exchange gives the company 180 days (a time known as a "compliance period") to "cure" the situation or face delisting.
Stock Previously Faced a Nasdaq Delisting Action
In January 2023, the company announced it had requested and received an additional 180 days to cure the situation. That turned out to be a short-lived victory as less than three weeks later the company's share price fell below $0.10/share for ten consecutive days which triggered a special listing rule that caused the staff to instantly delist their stock from the exchange. WiSA immediately appealed the staff decision which stayed the action for about 30 days pending a hearing.
During that 30-day time period, the company proposed a reverse stock split that artificially inflated the share value such that it would be back in compliance with Nasdaq rules. WiSA management then called a special meeting of stockholders to vote on the reverse stock split proposal – which passed – and the company was back in compliance and maintained its listing on the Nasdaq.
Inflated Stock Price Began a Long, Steady Decline Back to Below $1
Since all of this transpired, I have kept an eye on the WiSA stock price since it opened on January 27, 2023, at the newly refigured price of $11.20/share. Almost immediately, the value of its stock began a long slow decline. Finally, on August 23rd, it again closed below $1.00 at $0.96.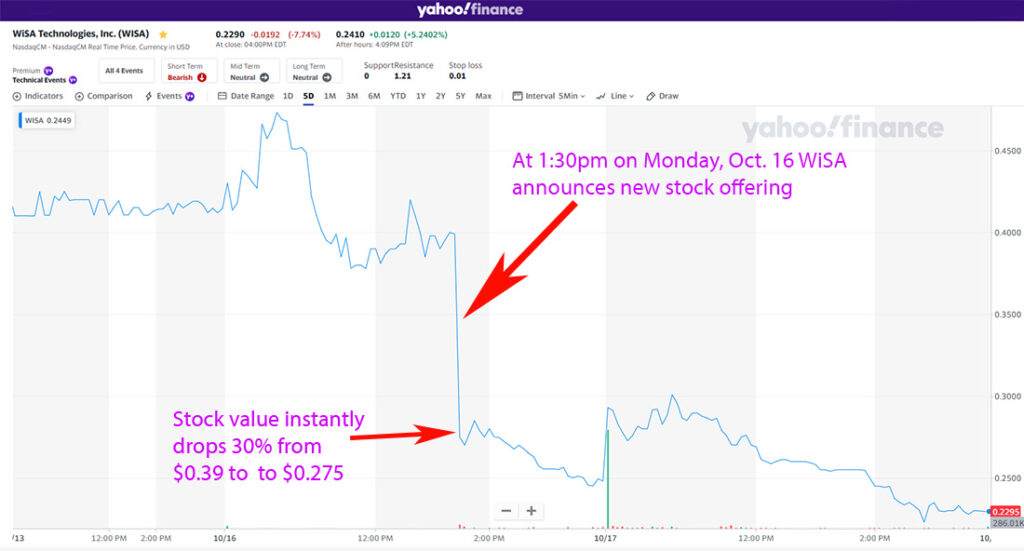 Once again, this puts the company out of compliance with Nasdaq listing rules. I don't see where the company has announced receiving any Nasdaq warnings, but they wouldn't have had to do so until it stayed below the $1.00 target for 30 consecutive days…which, of course, it ultimately did.
Stock Drops on an Unexpected Fundraise Effort & an Unexplained 'Strategic Transaction'
Now the company is looking to pull off another round of fundraising, and is apparently in negotiation with an unnamed entity in a mysterious "strategic transaction." Whatever that is, investors are apparently not impressed. On the day of the announcement of the stock offering, the value of its stock immediately dropped.
And when I say immediately, I mean…instantly. The company's official announcement of the offer was in a press release distributed on the newswire at 1:30 PM EDT. At 1:25 PM, the stock was trading at $0.39…and five minutes later at 1:30 PM, it dropped to $0.275…down 30% (-29.5%) on the announcement! It was a big negative reaction…suggesting that investors were not pleased with the development.
What This Unexplained Transaction May Be
What is this "potential strategic transaction?" The company's SEC filing does not provide any specific details. However, WiSA's filing does tell the SEC that "The Company believes [the strategic transaction] will create additional value for its stockholders." It goes on to enumerate several possible options of what this transaction may be: "Such transaction may include an acquisition, sale of assets, including substantially all of the Company's assets, as well as a merger, business combination, partnership, joint venture, licensing and/or other strategic alternative."
I told you that on the day of the announcement of another stock offer and the 8K filing with the SEC, the value of WiSA stock instantly dropped an astonishing 30% and ultimately closed at $0.25…off 39% over the previous day's close. The next day, after the market had 24 hours to digest the news, it saw an additional drop in the value of its stock, down another 7.74% closing at $0.229.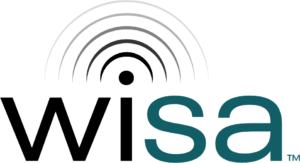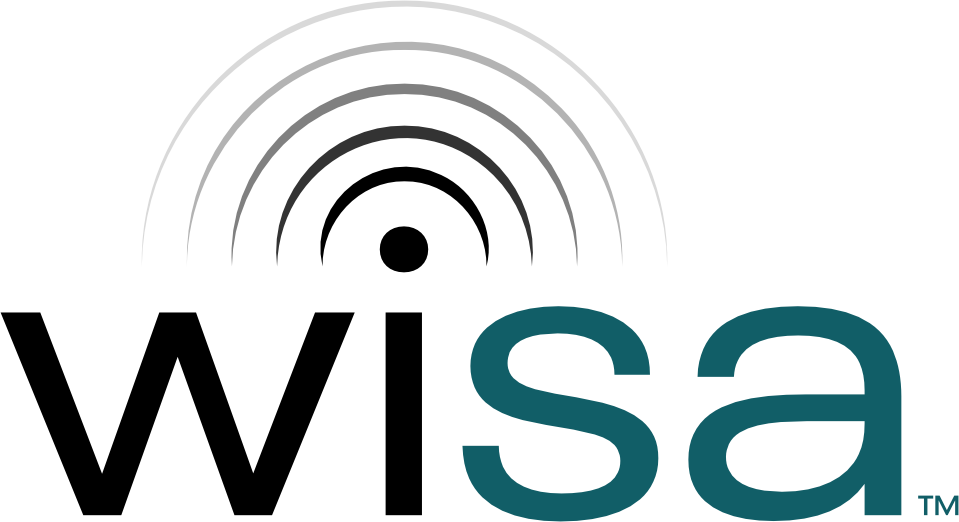 Big News May be Forthcoming on WiSA
So we'll have to wait to see if and when the strategic transaction is announced to determine if this is a transaction that will make a material change in the trajectory of the company. But I have the distinct feeling that another announcement is forthcoming.
Learn more about WiSA Technologies by visiting wisatechnologies.com.