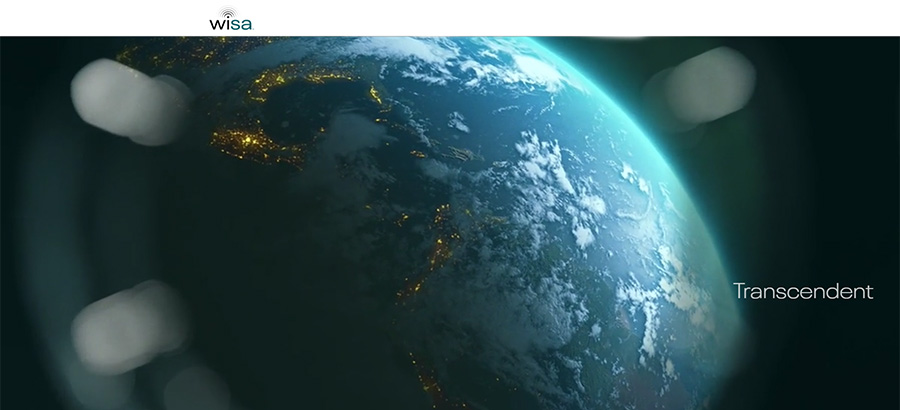 WiSA Technologies, Inc. (NASDAQ: WISA) has been on a wild and rocky ride over the last few days as it scrambled to head off a delisting action by the Nasdaq stock exchange designed to force its stock listing off the exchange. At issue, the company's business struggles that contributed to its declining stock bid prices have put it in violation of specific exchange rules governing maintained minimum pricing levels. This led the exchange to begin the delisting process, which WiSA appealed in order to buy itself some time.
The company then quickly embarked on a strategy – a mad dash really – to inflate its stock price artificially via a reverse stock split. But this tactic appears to have failed to impress investors, causing its stock bid price to collapse like an out-of-control toboggan ride down a cliff.
See the wild ride and rocky ride of WiSA
WiSA, a developer and licensor of spatial and wireless sound technology licensed by third-party brands, has found itself in challenging circumstances for quite some time now. As business challenges for the company depressed its stock bid price with investors, the company began to run into technical violation of specific Listing Rules of the Nasdaq stock exchange – as I told you about in this post in early January.
How WiSA Got to This Point
In June, the Nasdaq notified the company that its stock bid price had fallen below $1.00/share and was in violation of this listing rule and faced possibly delisting from the exchange. Nasdaq officials gave the company 180 days – to December 22, 2022 – to cure the situation and take steps to bring up their stock's bid price.
Also in that post, I told you that on December 21, 2022, the company had requested and received an additional 180-day extension of the compliance period to once again cure their violation of the Listing Rules. This new extension would give the company until June 20, 2023 to regain compliance.
Disaster Struck and the Company Called a Special Stockholders Meeting
But then disaster struck when on January 18, 2023, WiSA received a new notice from Nasdaq regarding a new violation of Listing Rule 5810(c)(3)(A), which says any company in a compliance period whose stock drops below $0.10 bid price per share for 10 consecutive days will trigger an automatic delisting of its stock. WiSA immediately requested an appeals hearing, which typically takes 30-45 days to be scheduled. The delisting ruling is stayed pending the appeal.

WiSA then called a Special Meeting of Stockholders to gain their approval of a plan to institute a reverse stock split – a process that will artificially increase the stock's bid price. I offer much more detailed information regarding this process in my post on January 24th, titled WiSA Runs Afoul of Another NASDAQ Rule; A Delisting Action has Begun.
Daily Diary of the WiSA's Process to Implement a Reverse Stock Split
Below is a diary of what happened since the stockholders meeting, which was held after the market close on January 24th…just three days ago:
January 24, 2023 – As I predicted, the stockholders did in fact approve the reverse stock split on January 24th. The final vote authorizing management to take this step was: 43,066,485 FOR…3,201,097 AGAINST…12,396 ABSTAIN. Stockholders authorized management to implement a split in a range of 1-for-5 to 1-for-100 share range.
January 25, 2023 – WiSA files a Form 8-K with the Securities and Exchange Commission revealing the results of the vote by stockholders on the proposal by management to implement a reverse stock split.
January 26, 2023 – WiSA publicly announces via a press release that it will implement a 1-for-100 reverse split of its common stock. The company has filed all necessary paperwork for this split to be in effect as of 5:00 p.m. on January 26, 2023. This means the shares will begin trading on a split-adjusted basis at the start of trading on January 27, 2023.
January 27, 2023 – WiSA stock opens trading on the Nasdaq exchange at a split-adjusted price of $11.20 per share and closes at $9.20 per share. This is a huge -17.12% decline in value in just one day of trading.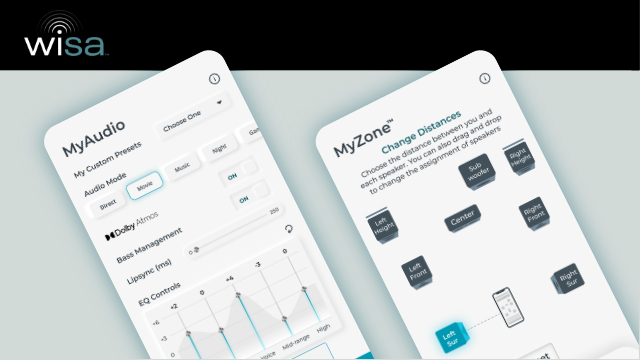 Investor Reaction is Ugly
It's been an ugly week for WiSA. As I mentioned in my previous post discussing reverse stock splits: "Bottom line, this move is not really popular with investors as it is a sure sign of a company in trouble. The primary reason a company considers a move like this [a reverse stock split] is to avoid delisting because of a very low stock value."
Here is the stock performance for the week, with daily opening bid, closing price, and change in terms of percentage increase(+)/decrease (-) of the value of its stock as compared to the previous day's close. Compare this stock performance against the daily diary of the company's actions shown above.
| DATE | OPEN | CLOSE | % DELTA | COMMENTS |
| --- | --- | --- | --- | --- |
| January 23, 2023 | 14.29 | 16.00 | +13.72% | |
| January 24, 2023 | 16.30 | 16.50 | +3.13% | Stockholders mtg |
| January 25, 2023 | 15.85 | 13.77 | -16.55% | 8-K filed w/SEC |
| January 26, 2023 | 14.17 | 11.10 | -19.39% | Rev. Split ann. |
| January 27, 2023 | 11.20 | 9.20 | -17.12% | |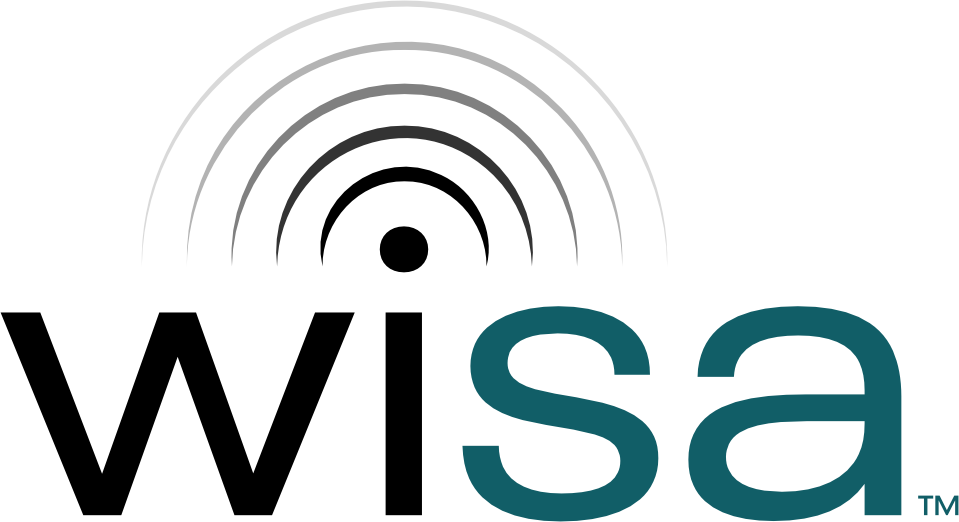 What Matters Most to WiSA
The bottom line, the stock is down -59.11% from its split-adjusted high bid price of $22.50 that occurred mid-morning on January 24th…to today's close at $9.20. You can see from the table above that there was clearly not a warm embrace of the reverse split from investors, with three days of double-digit percentage declines.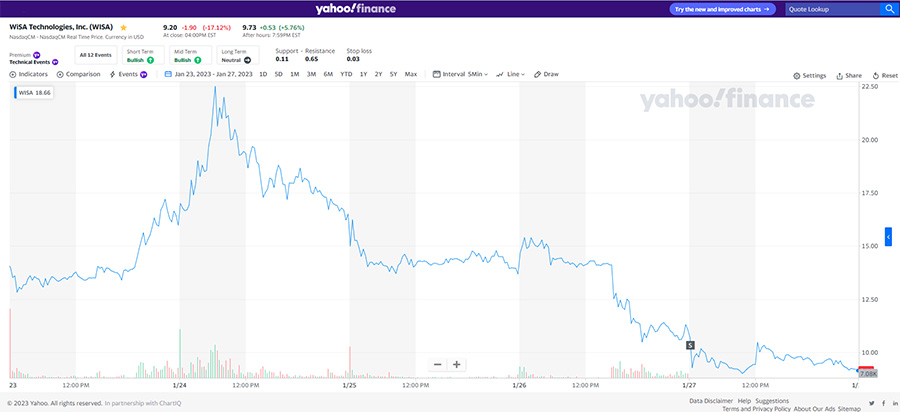 However, for WiSA what matters most is keeping the stock price above a bid of $1.00/share to stay within compliance with Nasdaq's Listing Rules. And even though this price increase to nearly $10/share was artificially created, it remains well above Nasdaq-mandated minimums. And that keeps WiSA in the game.
Learn more about WiSA by visiting wisatechnologies.com.