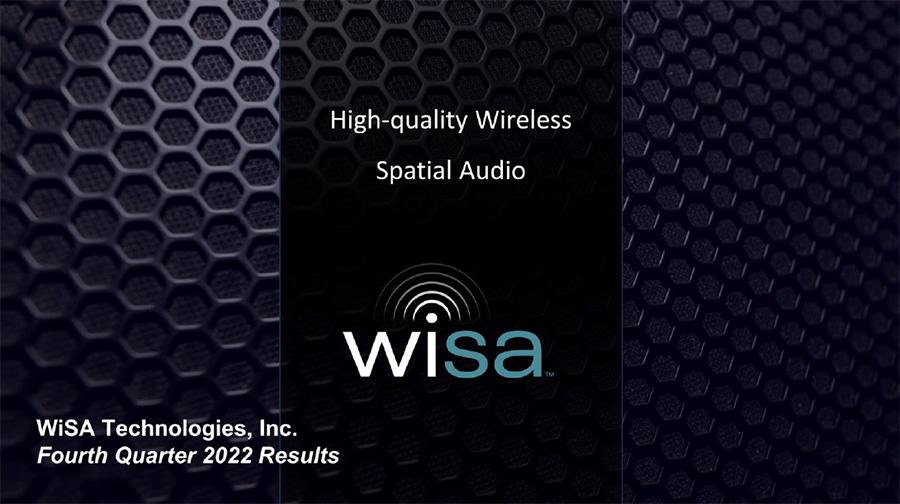 Retail Investor: 'My Investment in this Company is Now Basically Worthless'
WiSA Technologies, Inc. (NASDAQ: WISA) released its fiscal 2022 fourth quarter and full-year results and it was not a pretty picture – leading the company's auditors to issue a "going concern" warning, questioning its ability to continue. A developer and licensor of spatial, wireless sound technology used in a variety of brands, WiSA largely blamed an overall slackening consumer demand causing a glut of existing CE product inventory as the main source of its problems.
See more on WiSA's results for its last fiscal year
At the end of fiscal 2021, WiSA management said in a presentation to investment analysts that in fiscal 2022 they were anticipating "explosive growth in immersive audio in the consumer market" and that this fact, coupled with their superior technology, and combined with a "thriving WiSA Association" meant that the company would enjoy big growth for fiscal 2022. They issued forward guidance (again, at the end of their fiscal 2021) forecasting revenue growth of between 30%-to-50% and a healthy gross margin of between 28%-to-30%.
However, their optimism at the start of 2022 turned out to be off…way off. A fact that has apparently infuriated investors. How do I know this? Because the company unwittingly allowed a "retail investor" to ask questions during a Q&A session with investment analysts and he took advantage of the opportunity to call company management to account for a performance that rendered his 18-month investment in WiSA to be, in his words, "…basically worthless."
Digging Into the Numbers
So let's dig into the company's numbers for their fiscal 2022 fourth quarter and full-year results.
WiSA's fourth quarter revenues came in at $0.9 million or down -55% as compared with revenues of $2 million in the fourth quarter of the previous year. Gross profit margin as a percentage of sales came in at a razor-thin 2%, way off the gross margin of 30% in the quarter a year ago.
I'd like to give you more data on their fourth quarter, but they did not publish financials for Q4, only bullet point "Financial Highlights." Still, it's pretty clear to see they missed their targets in a dramatic fashion – revenues did not increase 30%-to-50% as forecast but rather declined 55%. And gross profit margins were off by something like 93%.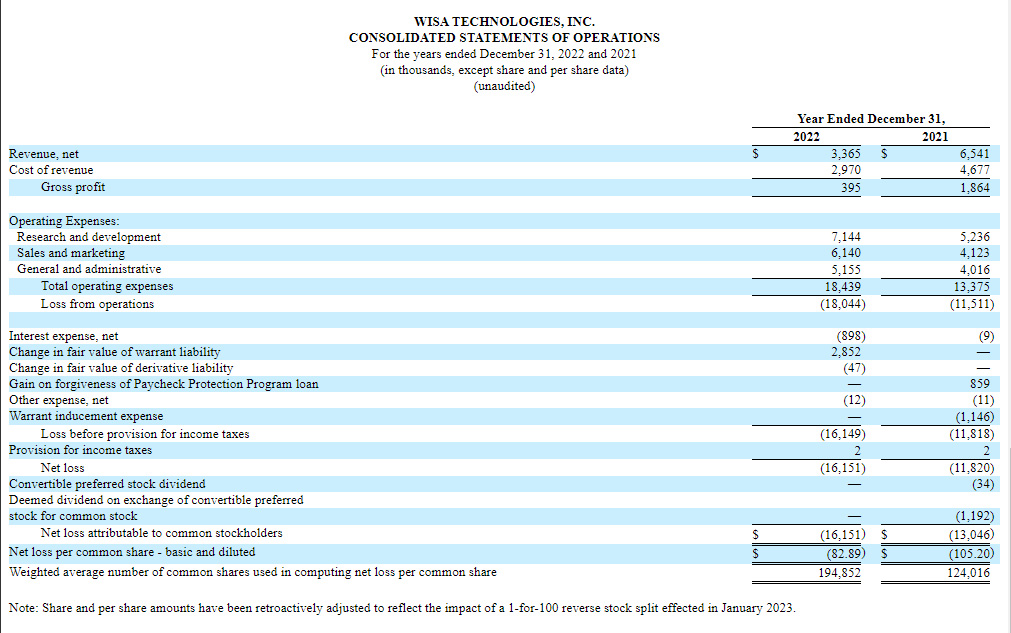 Financials Provided for Full-Year Results Only
The company did, however, publish full financials for their full 12-month fiscal year 2022. Those results were not much better. Total fiscal '22 revenues came in at $3.365 million or -48.6% off of revenues of $6.541 million in fiscal '21. Gross profits came in at $395,000, down fully -78.8% as compared to gross profits of $1.864 million in the previous fiscal year.
As a percentage of sales, the gross margin for fiscal '22 was 11%, down substantially as compared to 28.5% in fiscal '21. According to CFO George Oliva, the main cause for this drop was due to the decreased volume, which led he said to "the fixed cost spread over less units."
Net Loss Worsened by 37%; Operating Expenses Grew by Nearly $7 million
WiSA saw an increased net loss of -$16.151 million, 36.6% worse than the net loss of -$11.820 million for the same period last year. There is no way to sugarcoat it…these numbers are brutal.
As full-year revenues were dropping by nearly $3.2 million, total operating expenses were increasing by almost $7 million ($6.928). Much of this increased spending went to R&D (+$1.908 million), sales & marketing (+$2.017 million), and general and administrative (+$1.139 million). This combined to generate an operating loss of -$18.044 million – fully 57% greater than the operating loss of -$11.511 million in fiscal '21.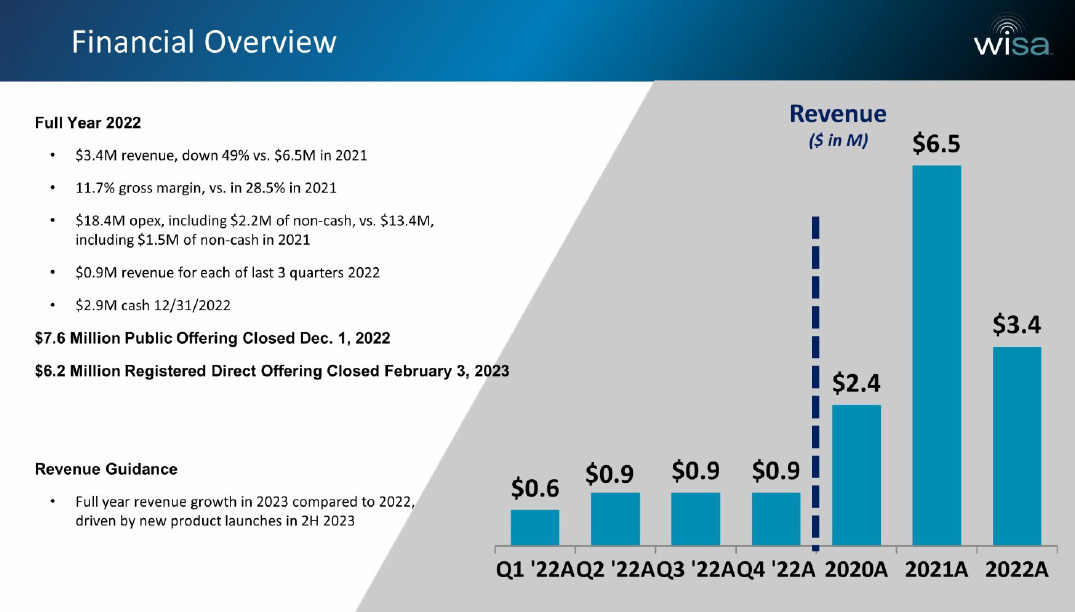 Q4 2022 revenue was $0.9 million, similar to revenue in Q3 2022, as industry conditions continued to impact our business and contributed to excess end product inventory at retailers due to the slow down in consumer spending on consumer electronics. In response to this soft demand, we have reduced discretionary spending in Q1 2023, and we expect operating expenses to be about $1.1 million lower in Q1 2023 than in Q4 2022.

Brett Moyer, WiSA Technologies CEO, President, and Chairman
Efforts to Avoid Nasdaq Delisting
I have recently begun following WiSA as it struggled to deal with a potential delisting threat resulting from the perilous drop in its stock value that put it in conflict with Nasdaq listing rules. The issue began when its stock price dropped below $1.00 per share. The exchange gave them 180 days to get their stock value back in line with listing regulations, but before they could do that, the WiSA stock value dropped below $0.10/share – triggering an immediate delisting action.
I have consolidated that history in this post…or you can see some of my reporting on the steps leading them up to this point in this post…and here…and here… Bottom line, the company executed a reverse stock split at a 1-for-100 rate to mathematically push share price back up into the safe zone in compliance with Nasdaq listing rules.
Reverse Stock Split Took Share Price to $11.20, But Not for Long
On January 27, 2023, WiSA shares opened on the market at $11.20/share. Technically, reverse stock splits are value-neutral and don't directly affect the company's valuation. However, reverse stock splits are almost always a sign of a company in trouble, and value tends to drop in the wake of such a move. In fact, on that first day, WISA shares closed down at $9.20/share.
Since that $11.20/share opening in January, WiSA's stock has continued to decline. If the decline continues, they risk violating Nasdaq's listing rules again. They are running out of room.
WISA Shares Drop Below $2.00 Entering a New Danger Zone
In fact, on the day of this writing (March 22nd), the Nasdaq closed down over 190 points or about -1.6% as the market reacted to another interest rate increase by the Fed. But shares of WISA stock dropped a much more significant -7.18% to close at $1.94…under $2.00 for the first time since the reverse stock split.
Remember, if their stock drops below $1.00/share, the company will face a possible delisting by the Nasdaq again.
'We've Had Quite an Exciting Quarter and Year'
In its presentation to investors, CEO Moyer was relatively upbeat, starting his presentation with, "I'd like to welcome our investors and participants to the call. We're looking forward to having a good conversation today. So we've had quite an exciting quarter and year."
Exciting, indeed. Moyer than launched into an almost 30-minute long sales pitch on the company's upcoming technology solutions (WiSA E, WiSA DS, focus on Dolby Atmos & upfiring speakers). He made only a brief reference to their financial performance.
On the side, the consumer electronics industry is still in a slump from overbuilding inventory and weak consumer demand. This certainly impacted us… But despite the slump and the impact on us continuing into the first half of the year, we still expect full year 2023 growth over full year 2022.

Moyer, on a conference call with analysts
WiSA to Analysts, Forget the Past…Look to the Future
The rest of his fairly long presentation promoted their upcoming chip, board, software, and product launches. The company is expanding its TAM (total addressable market) by engineering solutions for a wider mix of products over a wider range of prices, including more affordable soundbar products.
Moyer's talk got a little deep in the weeds, even explaining why they moved to software designed to run on a 5GHz chip (basically, more channels require a more robust platform). I'm certain most of this went over the heads of analysts – perhaps a shock and awe presentation to shift the attention away from their dismal financial results.
CES was Great, Presented to 22 Companies
The beleaguered CEO talked about how great CES was for the company. They presented their technologies to 22 companies, Moyers said. And their demos? Moyers says, "People were simply amazed."
Putting up a slide showing a colorful illustration of immersive audio telling analysts that in their presentations at CES, they demonstrated WiSA DS and the folks in their meetings found it "mesmerizing." He told analysts that ODMs (original design manufacturers) are already receiving RFQs (request for quote) from brands specifying WiSA DS.
By the way, the company had used that exact same graphic and a very similar basic spiel last year.
It all sounds so exciting…doesn't it? Don't you feel like the future looks bright for WiSA?
Forward Guidance for Fiscal 2023
Apparently having learned their lesson, the company provided a much more moderate estimate of forward guidance for fiscal 2023. The company says the first half will continue to be slow as it has been for the last six months, but that for the full year they anticipate "full year revenue growth." This is based on the new "WiSA HT and WiSA DS designs entering into production, launching Platin Audio's Rio 5.1.4 soundbar, and later in the year replenishing reduced inventories at its customers."
There is no guidance provided for gross margin percentages as they had in years past.
An Unexpected Analyst Q&A Session
As is typically the case, the participating analysts who chose to ask questions were polite and respectful. One asked about which of their products will be "drivers" for fiscal 2023 sales, which Moyer answered very completely.
Another asked how many of the 22 companies they met with they expect to convert into customers. Moyer said he expects to convert half of them in the next twelve months. He was quite optimistic.
In answering one question about cash on hand – CFO Greg Oliva said after two rounds of raising money the company is now sitting "a little north of $4 million in cash." But he added that "…we'll probably be needing to raise a little money in midyear." Keep in mind, all of these stock sales dilute existing stockholders.
Everything was proceeding in an orderly manner, no real hardball questions, no tough follow-up questions. Then the operator announced a retail investor named Jared Merrins…I've never heard a conference call where an individual retail investor is given the floor…this was going to be interesting.
A Retail Investor Steals the Scene
Almost from the beginning, Merrins asked questions that you would have expected to hear from analysts. After saying he's been a WiSA investor for "a little over a year and a half" he went on to note that Moyer "…started off the conference call saying it's been exciting for WiSA. Well, as a retail investor [in WiSA], it has not been very exciting."
He then confronted Moyer, saying "…you gave guidance last year that basically that you're going to have a better third and fourth quarter. What's different about this year that's different than last year because you made the same statements last year and you had a horrible third and fourth quarter. What's different?"
'It's Been Painful, Right?'
Moyer attempted to convince Merrins that they're all on the same team – both investors and the directors, management, and employees have "suffered the same pain on the stock. It's been painful right?" I suspect Merrins views the management's stock awards as a different matter than someone who is investing his own money to buy in.
To his credit, Moyer took the questions seriously and did his best to ignore the digs and provide an answer – at least at first. In the case of Merrins first question, Moyer noted negative industry dynamics coming out of COVID, slackening consumer demand, consumers investing in travel and dining out rather than consumer goods, etc.
Good Question: 'What Makes Up That $1.1 Million' in Q1 2023 Expense Cuts?
Merrins followed up with a question that I had thought an analyst would ask – as far as the company's projected drop in operating expenses in Q1 of 2023, "What makes up that $1.1 million?" Moyer responded, "We have trimmed heads. We are trimming marketing expenses. We plan to trim some legal expenses. We all plan to trim engineering."
Then Merrins asked about the upcoming "dilution" – mentioned by George Oliva in answering one of the analyst's questions. Perhaps sensing danger, Moyer tried to switch the subject, mentioning that the company has retained AQT to work on a strategic partnership, so they may not need another dilutive offering of stock.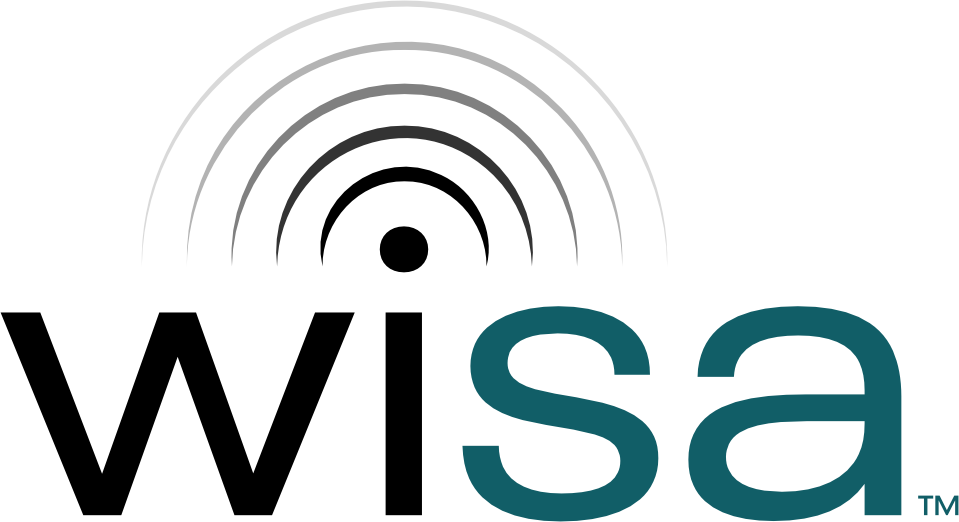 'We've Given the Guidance That We've Given'
Merrins pushed him on this point – suggesting a partnership was unlikely to happen before they needed to raise more cash. Moyer was starting to get annoyed, "Jared, we've given the guidance that we've given, right? You can build your models, but we are working to do a strategic partnership and that's plan A."
For every point that Moyer offered, it just led Merrins in a new direction. At one point, Moyer tells him that "…we believe that the product road map we showed at CES is a very compelling technical achievement by the best…Wi-Fi audio team in the industry."
'…You Guys Make Great Products, But Nobody Seems to Want to Buy Them'
Merrins' instant response: "And Bret, I believe in all the products you make. That's the reason why I invested in your company. The problem I'm seeing is that you guys make great products, but nobody seems to want to buy them."
There was one theme that Merrins continued to come back to throughout his questioning, the matter of dilution of the stock value. At one point Merrins blurts out, "My investment in this company is now basically worthless and the company just continues to dilute – basically reverse split, and then dilute."
"Jared," Moyer said in exasperation, "That's going to be the last question…and I feel the pain, trust me. Everything I have is on this company, right?"
Accountants Warning: 'Going Concern Uncertainty'
Not known at the time of this presentation to analysts – although the management likely knew this – WiSA's auditors had issued a qualified opinion on the company's results. Although they noted that the material presented in this report "present fairly, in all material respects, the financial position of the Company…"
But auditors added an ominous warning in a section of their letter titled, "Going Concern Uncertainty."
The accompanying consolidated financial statements have been prepared assuming that WiSA Technologies, Inc. and its subsidiaries will continue as a going concern. As discussed in Note 2 to the consolidated financial statements, the Company's recurring losses from operations, a net capital deficiency, available cash and cash used in operations raise substantial doubt about its ability to continue as a going concern. Management's plans in regard to these matters are also described in Note 2. The consolidated financial statements do not include any adjustments that might result from the outcome of this uncertainty. [Emphasis added]

WiSA 10-K Annual Report Filing with the SEC, REPORT OF INDEPENDENT REGISTERED PUBLIC ACCOUNTING FIRM
Yet Again: WiSA Reveals It Received Yet Another Nasdaq Delisting Notification
Just as I was about to publish this report, the company revealed today that it has received a new delisting notification from Nasdaq. This time, WiSA says it was notified "orally" by the Nasdaq Listing Qualifications staff that WiSA was in violation of Nasdaq Listing Rule 5550(b)(1), "which requires companies listed on the Nasdaq Capital Market…to maintain a minimum of $2,500,000 in stockholders' equity for continued listing… The Company reported stockholders' equity (deficit) of ($1,996,000) in its Annual Report on Form 10-K for the fiscal year ended December 31, 2022, and, as a result, did not satisfy the Stockholders' Equity Requirement pursuant to Listing Rule 5550(b)(1)."
The company says that it believes that as of this date, it has "regained compliance" with the requirement based on its recent refunding activities including a registered direct offering along with a "concurrent private placement" all of which was completed by the end of February. It has also reduced warrant liabilities since the end of the fiscal year.
Clearly, WiSA is on the Nasdaq radar screen…
Learn more about WiSA by visiting wisatechnologies.com.