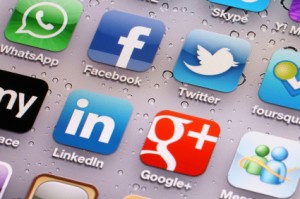 Social media has revolutionized marketing communications in many ways. But still, some haven't figured out how to make it work. I often hear from companies who tell me that they don't want their employees "wasting time" on social media – as if its only purpose is in sucking up time, or providing meaningless diversions. Smart companies recognize that, done well, social media enhances relationships with customers…and builds corporate reputations.
This week, Bloomberg tells the remarkable tale of a really old-school marketer that has figured out how to use social media to turbo-charge their relationship with customers and generate real sales. An amazing lesson that we can all learn from: elephants really CAN tap dance!
Learn how one marketer used social media to turbo-charge their sales…
It's hard to imagine a better example of old-school marketer than a catalog company – but that's exactly how J.Crew started out 30-years ago in 1983. Offering a fresh line of clothes and accessories embraced – to a large extent – by the younger crowd (and Michelle Obama), J. Crew grew dramatically over the years. Eventually, the company expanded by adding a nationwide network of retail and outlet locations, while continuing their continuous catalog mailings.
Like all of us, retailers have been trying to figure out how to best use social media to support their efforts. It's easy to get on the Internet and participate in social media…but it's not easy to get it right and many old-school, traditional marketers (i.e. elephants) are too large and sluggish and often get it wrong. The Internet ethic of the online community can bite you in the ass if you get it wrong – hopelessly labeling you a "spammer" or worse. But besides that, it can be really frustrating trying to figure out a way to turn social media buzz into cash register cha-chings.
Catalog 2.0
J. Crew, though, this week did something very smart and very clever. They took a stab at catalog2.0. What J. Crew did sounds simple…but potentially changes everything. And just what was it that they did?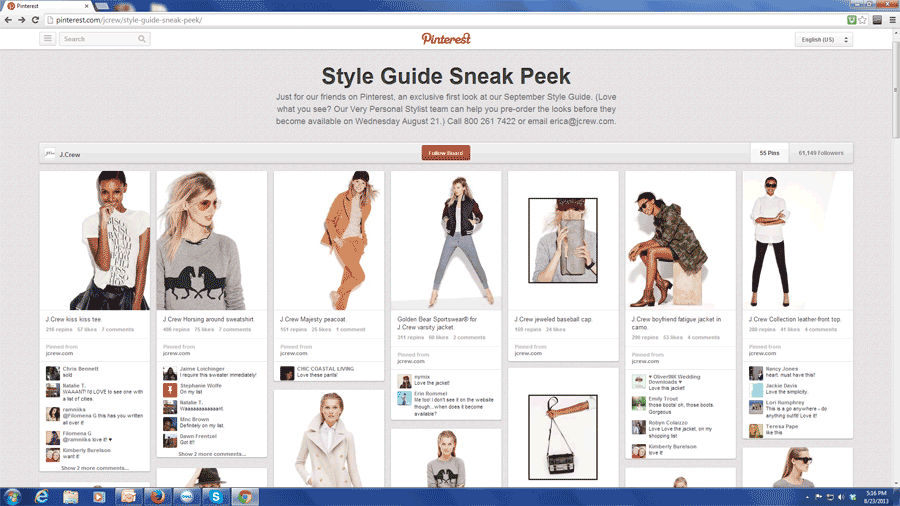 On Tuesday, J. Crew published their entire fall collection catalog on Pinterest – the electronic corkboard of social media. But what's even more significant is that the catalog was not scheduled to go live on their website – or begin to be physically mailed via snail mail – until the next day. In the world of marketing, little gestures can have big meaning.
60,000 close friends…
Taking this new approach, J. Crew gave their Pinterest followers – more than 60,000 of them – a 24-hour head start, or first "dibs," on their latest line of clothing and accessories. If you're a J. Crew fan…this is HUGE…and makes you the first kid on the block with the latest items. This is a really, really nice thank-you-for-following-us gift.
But it was also a gift to the J. Crew marketing and production departments. Why? Because releasing the line to Pinterest early, gave the company an opportunity…and raw data…to see which items were going to be the hot items, such that they can ensure adequate inventories for when the ROW (rest-of-the-world) gets the catalog.
Fans can 'pin' items they like…

You see, the Pinterest crowd can comment on items. Even more importantly, Pinterest allows users to "pin" items that you like to your own board. The total number of people who pin an item is shown on the catalog item for an instant read on which are the most popular items in the catalog.
The comments and pin counts can be a veritable treasure-trove of information for J. Crew marketers. It can be difficult (and expensive) to get direct consumer input. But Pinterest allows J. Crew marketers to have that direct customer connection where they can see what shoppers are saying – to the company, and to each other – AND see it in real time…on a per item basis.
Win-win-win…
No doubt, this move by the company was a complete win-win-win for customers, company, and Pinterest which says it hopes to become a shopping catalyst. In this case, J. Crew used social media to gain direct market data, gauge item popularity, and give their catalog a rocket-boost lift-off.
That is really smart. I guess elephants CAN tap dance…sometimes.
See the J. Crew Pinterest page here: http://pinterest.com/jcrew/style-guide-sneak-peek/
See the Bloomberg article on J. Crew and Pinterest by following this link…