<March 21, 2012> In a unique partnership, Rovio Entertainment, Ltd., creator of the popular Angry Birds game and Wal-Mart Stores, Inc. are coming together to offer exclusive Angry Birds clothes, plush toys, and snacks that will include clues to a new version of the game launching later this week called Angry Birds Space. The partnership offers benefits to both Wal-Mart and Rovio…but mostly to those Wal-Mart customers who are Angry Birds fans as items sold in the store will include "Golden Eggsteroid" clues to unlock levels of the new game.
Wal-Mart, the largest retailer in America, will offer the special Angry Birds Space items in more than 3,000 retail locations. Items to be sold will include apparel, mobile phones, plush toys, snacks, fruit snacks, and more. Hidden in the merchandise will be clues that unlock four bonus levels in the game, known as "golden eggsteroid" levels.
Most downloaded game…
Angry Birds is the world's most downloaded mobile game – it has been downloaded more than 700 million times. This incredible success has driven Rovio's value, in just a little over two years, to over $9 billion. Angry Birds Space, its newest version of the popular game, will be available for download Thursday.
Rovio's marketing chief told Reuters on Tuesday that the company has ambitions to become a global entertainment brand. The partnership with Wal-Mart will help Rovio attract even more downloads and provide a boost to its newest version of the game.
Only Walmart can deliver…
"We wanted to give our fans a unique retail extension to Angry Birds Space that rewards them for their eagle eyes," said Peter Besterbacka, chief marketing officer and Mighty Eagle of Rovio Entertainment. "Only Walmart can deliver the reach across America for this type of program and we wish our fans luck as they seek out our hidden clues."
At the same time, Wal-Mart is looking for ways to draw in younger, more tech-savvy customers. By partnering with one of the most popular mobile game franchises in the world (Rovio is a Finnish company), Wal-Mart hopes to create new customers from the hoards of Angry Bird fanatics around the country.
Walmart looking for younger, techier crowd…
To kick off the event, Wal-Mart said it would offer the first "golden eggsteroid" to its Facebook friends today. Wal-mart (which goes by Walmart online) has 13 million Facebook friends.
The merchandise with remaining clues will be in stores on March 25th. I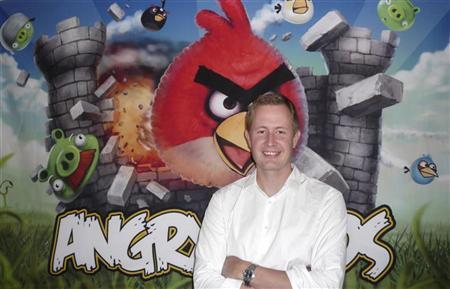 nterestingly, clues will be hidden. According to Wal-Mart, clues could be hidden on price tags, in snack boxes, and even designed into a t-shirt design.
Bringing fun back to retail…
"Walmart is bringing fun back to the shopping experience, with interactive merchandise that brings the best of digital gaming together with in-store retail," said Seong Ohm, senior vice president and general merchandise manager for entertainment, Walmart U.S. "By partnering with Rovio, we're able to give millions of avid bird slingers bonus content by coming into our stores and shopping our broad assortment of Angry Birds Space merchandise. This is just one of many exciting partnerships Walmart is forging to give our customers access to exclusive content."
As Reuters noted, Rovio also has a partnership with retailer Barnes & Noble, Inc. which has created dedicated areas within their 691 stores for Angry Birds merchandise…and earn game credits. However, with Wal-Mart rolling out this promotion in more than 3,000 stores, it is clear that Rovio is trying to extend their reach even further.
To learn more about this promotion, visit: www.walmarturl.com/angrybirdsspace