In Wake of CEDIA, Industry Debates How Hot Voice Control Is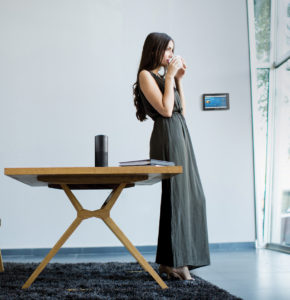 One of the keynote presentations at CEDIA 2016, was from Amazon – the monster online retailer. Amazon executive Charlie Kindel introduced the custom integration attendees to the Amazon Echo, Tap, and Dot…essentially Internet appliances that all feature their Alexa voice control technology. Then, late in the presentation, Kindel announced the company has developed a way for Alexa to interface with home systems – and even forged integration partnerships with Lutron, Crestron, Control4 and others.
And just like that, CEDIA 2016 became the voice control show…
Amazon suggested to those attending its keynote presentation, that implementing a VUI – voice user interface – will be the next big thing in technology. They showed several custom created videos demonstrating various use cases, all very professional…all very convincing.
On the show floor at CEDIA, popular custom integration brands were showing and demonstrating systems that included a voice controlled interface. The fact that the product was fully designed and ready to demonstrate was surprising – and got many at the show (and after the show) talking about voice control.
Industry Perspectives on Voice Control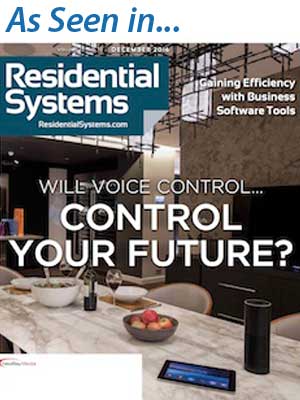 Strata-gee editor Ted Green, in a cover story for the December issue of Residential Systems, interviewed literally dozens of integrators and manufacturers to hear their perspective on just how important voice control is for custom integration. Not surprisingly, there were differing reactions.
Based on conversations with multiple manufacturers with differing levels of commitment to the integration of a voice user interface in their systems, most showed little reserve and seemed quite bullish on the topic. Some are strongly encouraging integrators to quickly hop on the VUI jet, which they suggest is taking off.
Two Distinct Camps of Integrators

But it was a different story in from the perspective of integrators. In discussions with dozens of home tech pros, there seems to be two distinct camps when it comes to VUI. The first group seems quite enthusiastic about integrating voice control into installations and is actively taking steps to do so as quickly as possible. The second, much larger group–perhaps as much as two-thirds– were excited about the concept of adding a voice control interface but were planning on a much more cautious approach.
See the rest of the article here on the Residential Systems website…