Company Pulls Monster LED Display from Times Square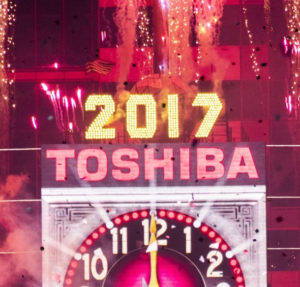 Struggling Toshiba Corp. has made what is undoubtedly a difficult decision and a big blow to their corporate ego  – they will abandon their giant LED display overseeing Times Square. The huge lighted billboard was a prominent showing of the Toshiba logo all year-round, but especially during the dropping of the ball on New Years Eve, when it served as the countdown shown on network TVs as cameras broadcast the ball drop around the world. The Toshiba logo has literally lit up Times Square for ten years, having been first erected there in December 2007.
See more on Toshiba's decision to vacate Times Square…
The reason for the decision is the company is flat-out cash strapped, and while their Times Square display may have helped them promote their brand, the cost was finally outweighing the benefit. Once the bluest of blue chip stocks in Japan, Toshiba's image has taken a heavy toll in the wake of a widely reported accounting scandal involving management fudging profits back in 2015.
Since that time, the company has been hit with heavy fines from government regulators and is dealing with a seemingly never-ending series of shareholder lawsuits. The company has been through several rounds of management changes and still haven't completely found their footing.
From One Nightmare to the Next
This nightmare was followed by another debacle when the company invested in Westinghouse Electric as part of a push into nuclear energy. However, the company had to announce it would be taking a multi-billion writedown related to project failures related to the acquisition. Ultimately, the company was hit with a $6.3 billion writedown – nearly terminal for an already financially weakened Toshiba. Toshiba's U.S. nuclear division is now bankrupt.
So clearly, the company finds itself in a position of needing to pull in its horns and attempt to regroup. Sometime during the first half of 2018, Toshiba will pull out of its Times Square billboard, saving it millions of dollars.
Ending Long-Running Sponsorships
The Japan Times also reports that Toshiba will end its sponsorship of two very popular television shows in Japan, for which it has been their long-term sponsor. Its sponsorship of Sazae-san, a cartoon show, and another Sunday night show, will end at their fiscal year end on March 31st. How big a deal is this decision? Toshiba has sponsored Sazae – the Guinness World Record Holder for longest-running animated series – for the last 48-years, and the Sunday night show for 61 years…truly the end of an era.
In addition to all of this, Toshiba has launched a series of fire sales to attempt to raise cash. They have sold their crown jewel, their memory chip business to a Japan-U.S.-South Korean group.. But, much as Sharp Corp. did, they have also announced the sale of their television division to China's Hisense Group. Last year, Toshiba sold off their appliance division to China's Midea Group.
Slipping from View
The company also plans to raise another ¥600 billion ($5.4 billion) through a new issue of shares. If any of these drastic measures falls through, the company faces delisting from the stock market…a situation that no one could have ever foreseen just three years ago.
Little by little, it seems as if Toshiba is slipping from view…
See More Coverage
See more of our coverage on Toshiba by clicking "Toshiba" in the Tag Cloud in the sidebar on the righthand side of your screen, or type "Toshiba" in the Search Box on the righthand side of the menu bar above.