BREAKING NEWS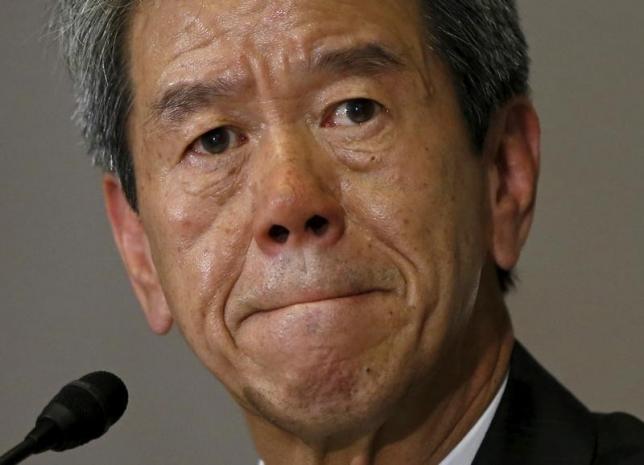 Much as we anticipated in our report yesterday, at a press conference today in Tokyo, Toshiba President Hisao Tanaka has resigned from the company as a result of a broiling accounting scandal in which investigators say company bosses were involved in improperly inflating company profits. Vice Chairman, and Tanaka's predecessor, Norio Sasaki and adviser Atsutoshi Nishida have also resigned in a startling confirmation of the severity of the crimes, as these executives are some of the most powerful individuals running the company up to now.
See more on this new development…
As we reported yesterday, the "special committee" of investigators looking into potential malfeasance at Toshiba, one of Japan's most respected companies, released a summary of their findings that shocked the financial and business community in Japan. At issue was how the company was accounting for expenses and profits associated with especially large projects for the company.
What investigators discovered was that, from the top executives on down, the company was engaged in misrepresenting their profits on an "institutional" basis. Top executives pressured their direct reports to hit challenging profit targets and subtly threatened to shut down underperforming divisions.
Follow Directives Or Else
Company managers were also lax in following standard reporting procedures that should have caught these misstatements and rectified them. Investigators said the company culture was such that employees were not allowed to "go against their bosses." But instead were expected to do whatever it takes to hit the predetermined numbers.
Well, those numbers are now retroactively changing as investigators say the company overstated profits by ¥151.8 billion ($1.2 billion) over a seven-year period. This will undoubtedly result in a restatement of the financials for those periods.
Japan's Government Comments
How severe is this issue? Apparently, severe enough to go to the highest levels of the country's government. Japan's Finance Minister Taro Aso "expressed disappointment at the incident," says the Nikkei. "We could lose trust in Japanese markets and the Tokyo Stock Exchange unless true corporate governance is in place," Aso said.
Tanaka told reporters that Chairman Masashi Muromatchi will add the President's duties to his role as the company seeks to try and re-establish its credibility.
Japan's Economic and Fiscal Policy Minister Akira Amari told reporters that Sasaki, who in addition to his duties at Toshiba had also served on several government panels, has resigned from all of those panels as well.
Rippling Consequences
In a separate announcement, the Japan Business Federation announced that Sasaki has also resigned as vice chairman of the organization, a business lobby group.
Toshiba is likely to face other consequences as this event continues to ripple out the center. Japan's Securities and Exchange Surveillance Commission is mulling over the imposition of fines from its Financial Services Agency. The Tokyo Stock Exchange is also expected to put the company under special monitoring for the foreseeable future.
FOR MORE INFO:
To see the industry's most complete coverage of the evolving Toshiba scandal, click on "Toshiba" in the Tag Cloud in the sidebar on the right-hand side of this website. Or type "Toshiba" into the search bar at the end of the menu bar above.