BREAKING NEWS
Reports Say CEO is Out; Board of Directors Faces Massive Overhaul

When Japan Prime Minister Shinzo Abe announced an initiative to tighten up corporate oversight he couldn't possibly have known that his administration's first catch might be his biggest – Toshiba Corp. Toshiba, one of the largest and most respected companies in Japan, is being investigated for what many sources are calling one of Japan's worst accounting scandals.
See what is coming for this titan of Japanese industry…
Our first inkling of a problem at Toshiba came in April of this year – the beginning of a new fiscal year for them – when the company issued a statement saying it was appointing a special committee to investigate "possible problems" with past accounting. Although the financially significant news was written in what appeared to us to be an effort to soft-sell the issue – just the hint of an accounting problem caused the company's stock to nosedive. Toshiba, in just a matter of hours, lost almost 5% of its total value.
It was just the beginning.
Stream of Damaging Headlines
Since that time, there has been a series of damaging headlines about the Toshiba accounting scandal in the media – as more word leaked out about the severity of the matter. In short: this may be the largest corporate scandal to hit Japan ever – or at least since the embarrassing revelation of Olympus Corp. hiding financial losses with shady acquisition accounting.
Toshiba's stock has continued to drop and the company is now worth 27% less than it was at the beginning of the year, since the matter hit the news.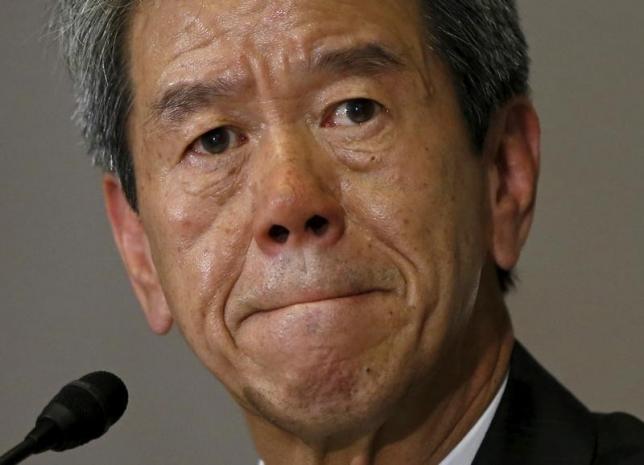 Another Miscalculation
Toshiba's corporate communications originally forecast that it would take the special committee about a month to complete its task. This appears to be just another miscalculation by a company finding itself at the center of a firestorm.
A brief selection of some of the headlines we've seen about the matter:
Toshiba Now Requiring Profit Reports for Each Infrastructure Project
Toshiba's Broader Probe Exposing Deep-Rooted Governance Issues
Low-Profit Businesses at Center of Toshiba Probe
Toshiba Mulls Rescheduling Shareholders Meeting, Changing Date of Record
Toshiba Execs to Have Salaries Cut by Up To 50%
Toshiba May Skip Summer Bonuses for Execs
Toshiba Likely to Admit Internal Controls Were Inadequate
Toshiba Fixes Errors in Internal Report
Toshiba Seen Lopping More Than 150BN Yen off Past Profits
Toshiba CEO to Step Down in September in Accounting Scandal: Sources
Toshiba to Book $2-$3 Billion Losses Over Accounting Scandal
Losses Not Millions, But Billions – CEO to Go
Those last two headlines are NOT from the Japanese media, but rather from the respected Reuters news service. Note that the Reuters estimate of $2-$3 billion in losses is far above the estimate from Toshiba, who said it expected a ¥54.8 billion loss – or about $443 million.
Reuters has learned that Toshiba's CEO Hisao Tanaka will step down from the company in September. September is the end of the first fiscal semester for most Japanese corporations like Toshiba and a logical time for the boom to drop. It appears as if this will coincide with the release of the financial results for the last fiscal year. Toshiba has been unable to close their books for last year while the investigation was ongoing – but has now said it expects to report its earnings in late August.
More Than Half of Board to Be Cut
The report goes on to say there will be a significant overhaul of Toshiba's board of directors with more than half likely to be let go, including Vice Chairman Norio Sasaki. All of this is to assign responsibility for the scandal and lax governance to these executives.
Keep in mind, the special committee that Toshiba appointed to investigate the matter has not yet rendered their report. Clearly, as the committee began digging, the probe began expanding. Reports suggest, however, that the special committee is close to releasing their report. It is expected to be a damning condemnation of Toshiba's management.
Bigger Danger on Horizon
Perhaps an ever greater danger for Toshiba is word that investigators have shifted into a "what did they know, and when did they know it" investigation of Toshiba's management. This is clearly very dangerous turf for the company. It is possible that if investigators discover that Toshiba management actively participated in – as some reports term it, "cooking the books" – criminal charges could be put on the table.
It is hard to overstate the impact this scandal has had on investors in Japan and even on the national pride of the average Japanese citizen. Much like here in the United States, a general assumption of people is that the "cream rises to the top" and, therefore, corporate executives at big companies like Toshiba are the best of the best. This reality earns top executives at venerated companies like Toshiba an automatic degree of trust. Scandals like this one are very upsetting and, to investors, destabilizing.
A Nuclear & Business Meltdown
While many in the U.S. think of Toshiba as a brand of TVs and computers, actually it is a huge global conglomerate in many product categories. In Japan, Toshiba is additionally known for household appliances, medical products, power-system solutions, and more. One large division of Toshiba, for example, builds nuclear power plants.
The narrative that investigators are said to be following is this: The company over the last few years had seen the re-emergence of countries building more nuclear power plants – benefiting a significant division of the company. Then, in 2011, disaster struck – literally. Known now as the Fukushima disaster, Japan was hit with an earthquake and tsunami that resulted in enough damage to a nuclear power plant in Northern Japan, that it resulted in a nuclear core meltdown in three of the six reactors there. More than 300,000 people were evacuated in an emergency evacuation of the areas surrounding the plant.
Did Executives Encourage Wrongdoing?
The accident stimulated a huge anti-nuclear energy reaction in the population of Japan. The Fukushima incident – the largest nuclear disaster since Chernobyl in 1986 – also likely caused projects to be put on hold around the world. Toshiba, it seems, feared it would experience a meltdown of its own business.
What accounting investigators are looking into is this – did the company overreact by setting overly aggressive targets in its other business units to make up for the drop-off in its nuclear energy division? Perhaps going so far as to encourage these other business units – such as smart meters and electronic toll booths – to under-report costs and overstate revenues?
Japanese investors are waiting – with bated breath – for those answers.