Stock Hit With Largest 1-Day Loss in More Than a Year

Toshiba Corp. announced in Japan that it will appoint a committee to investigate what it calls "possible problems" with its accounting. Investors in Japan responded by hitting the company's stock with its largest one-day drop in more than a year – dropping the value of its stock almost 5%.
See more on just what this probe is all about…
Tokyo-based Toshiba Corp., a large diversified company participating in a wide range of businesses such as medical products, appliances, semiconductors, electronics and nuclear reactors, surprised markets in Japan last Friday with news that some were questioning its accounting practices. According to a report by Bloomberg News, the issue could be a significant one that has called into question the quality of the company's forecasting.
The company revealed the news after the close of markets last Friday. On Monday, investors handed the company a huge rebuke, with its stock dropping 4.9%  – closing at ¥487.4. Toshiba's stock recovered slightly Tuesday, closing up at ¥492.7…but has dropped even lower today, closing at an even lower ¥485.8.
At issue? Reasonableness…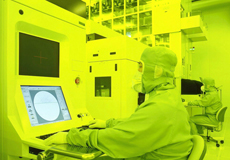 The issue revolves around the "reasonableness of estimates" when using percentage-of-completion accounting method for projects. The company has not determined what the effect on earnings may be if these standards were incorrectly applied.
"The announcement doesn't give us a good impression of Toshiba," Yukihiko Shimada, an analyst at SMBC Nikko Securities, Inc. told Bloomberg. "A sense of uncertainty will spread about the credibility of the company's accounting."
Outside experts on the committee…
Toshiba said it will take its committee about a month to sort the issue out. The committee, which the company calls the "Special Investigation Committee," will include members of its management. But the company says it will also appoint "experts from outside the Toshiba Group" including an attorney and a Certified Public Accountant for "both legal and accounting aspects."
"Some items in the accounting method for work completed needed to be re-examined," Naomi Furuya, a spokeswoman for Toshiba told Bloomberg. "This was discovered in March in a routine accounting survey."
Sorry about that…
The company released a prepared statement on the issue saying, among other things, that it was sorry to have caused the situation.
"The company expresses its most sincere apologies to our shareholders, investors, and all other stakeholders for any concern or inconvenience caused on this occasion."