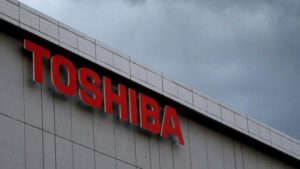 Toshiba Corp. announced yesterday that it will take a $6.3 billion writedown to account for the meltdown of its nuclear division. This amount of writedown is much higher than the markets had anticipated, forcing Toshiba into crisis mode having to secure lending commitments from their banks, reorganize their nuclear division, and sell assets to offset their losses.
Is Toshiba near the tipping point?…
Toshiba is still struggling to recover from their 2015 profit-padding financial scandal where the company paid the highest fines ever levied by government regulators for deliberately mis-reporting their profits. The company is still bogged down in a seemingly never-ending series of shareholders lawsuits related to the matter.
But now the stakes have been raised, as Toshiba acquired a nuclear plant construction company in 2015 through its Westinghouse subsidiary that ultimately mis-estimated labor and material costs on several projects. This error will result in a very large and very painful downgrade of its entire nuclear business.
Huge Writedown Leads to Huge Market Reaction
The investment community has been holding its breath waiting for the company to reveal the amount of financial impact of this downgrade. Not helping themselves, Toshiba bungled the announcement with several false starts…finally revealing a much larger number than expected. Investors pummeled the company's stock (again), with shares dropping 9% one day, and then another 8% the very next day.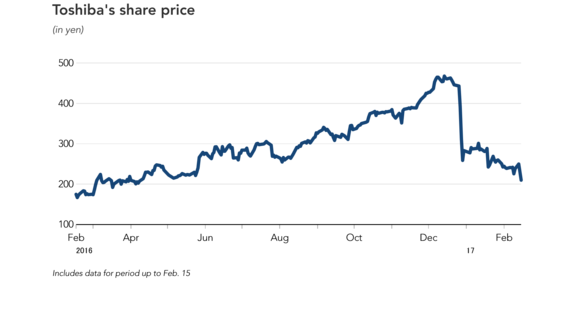 Toshiba has lost an astonishing $9 billion in total market value…since only December. In Japan…all Hell is breaking loose. Why?
Toshiba – Astonishingly – is Now Insolvent
The amount of this writedown will have a huge impact on the company's financial position. First of all, the company – which had been predicting a full year net profit of ¥145 billion – has now recast their forecast for a net loss of ¥390 billion.
But even worse than that…this writedown means that the company is insolvent – shareholder's equity stands at negative ¥191.2 billion at the end of December and is projected to finish the year at negative ¥150 billion. Toshiba needs to move towards solvency…and move fast.
Putting Its Prized Semiconductor Division Up for Sale
To that end, the company is putting its semiconductor business on the market. Originally planning to sell a minority stake, investors are urging the company to sell all of it…or at least a majority of it to raise more money. Latest reports indicate that the company is considering that proposal seriously.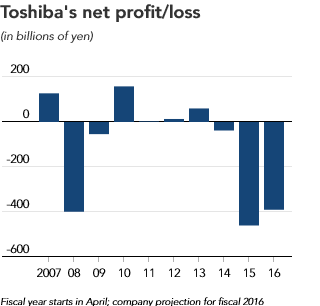 Investors are angry, which is why such a sharp reaction to the announcement. When Toshiba finally called a press conference to announce the size of the writedown, a reporter with the Nikkei blurted out directly to the face of Toshiba President Satoshi Tsunakawa,"This is very, very annoying." That incident may seem mild to you, but for those familiar with the formal and respectful world of business in Japan, it is a stunning lack of respect and decorum.
Toshiba's Chairman Resigned Today
The ire of investors has already taken its toll, not just in terms of Toshiba's crashing stock price, but also in the fact that Chairman Shigenori Shiga announced his resignation today.
Also, consider that President Tsunakawa said today, for the first time ever, that a complete sell-off of its pride-and-joy semiconductor business, "is a possibility," according to the Nikkei.
Just the Latest Example of Japan's Longer-Term Slide
In a separate announcement, Toshiba's banks have pledged to continue to support the troubled company…for now. A syndication of several banks is preparing a $2.44 billion to $2.53 billion loan package to carry the company to the end of March.
A cat may have nine lives, but we get the sense that Toshiba is running out of theirs. The well-regarded Bloomberg Technology newsletter noted that Toshiba's problems are "just the latest symptom of a longer-term slide in Japanese innovation and competitiveness, usually by way of scandal." The newsletter went on to point to a series of scandals surrounding Olympus in 2011, security fraud at Livedoor, and a "litany of other imbroglios" involving Yamaichi Securities (stock brokers), Tepco (utilities), Mitsubishi Motors (automobiles), and Kanebo (cosmetics).
Not Investing in R&D As They Should
"Toshiba is one example of an established pattern," Zuhair Khan, an analyst at Jefferies in Tokyo told Bloomberg. "On a societal level they are not reinvesting, they are not spending money on R&D and capex in the way that they should. Without that you're not going to create the higher-paying jobs."
How troubling is the radical changes hitting Japan? They lead Bloomberg to conclude, "Toshiba may not survive in its current form, but the company can continue making refrigerators and elevators and keep people employed."
The Model is Changing
But that scenario is quite a comedown for what was once one of Japan's largest and most respected conglomerates. It is alarming to see these once great brands fall…and fall hard.
Says Bloomberg of Toshiba, founded in 1875: "And it's not an exaggeration to say that Toshiba created the blueprint for Sony, Panasonic and other electronics makers that came later. It's hard to imagine Samsung's success without the business model that Toshiba pioneered."
It would appear that model is changing…