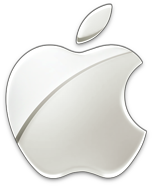 Wall Street analysts are getting increasingly concerned about the ability of Apple, Inc. to sustain its historic run of innovation. Some are suggesting the company's best days may in fact be behind it. Exacerbating the growing drumbeat of discontent…it has been eight months – since October 2012 – when Apple last announced new products. And even they were more iterative than innovative. Clearly feeling the pressure, over the last couple of months Apple CEO Tim Cook has told anyone who was willing to listen to hang on, great things are coming.
Are 'game changers' really coming? Or is the innovation just a figment of Cook's imagination?…
Apple's CEO made this claim again this week at the All Things Digital D11 Conference in Rancho Palos Verdes, CA. In an almost 90-minute long interview with All Things D journalists Walt Mossberg and Kara Swisher, Cook said the company has "some incredible plans." But Cook remained cryptic about just what those plans are…leaving journalists and observers to read between the lines of his comments.
Apple's staff, Cook says, "has several more game changers" coming. But these promises are starting to feel empty. So to appease the audience, Cook let it be known that two areas that the company is interested in is television and wearable computing. Ah….now we're getting somewhere.
It's no secret…
It is an open secret in the industry that the company has been working on a new TV, dubbed (by the press at least) the iTV, Steve Jobs last major product initiative before his death. There has been a lot of speculation as to just what features an iTV would possess, with most conjecture centered around a new more innovative control interface and easier access to multimedia content. All Cook would say was that the company has a "grand vision" for television and that it remains an area of interest.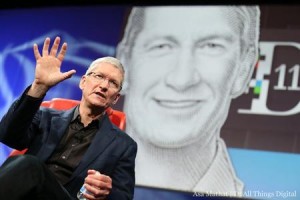 That TV is an area of interest is not new news. But the CEO, perhaps without realizing it, made a comment that just might be – and it surprised many in the audience that follow the company. The $99 Apple TV, a set-top device that the company has sold for a couple of years now and was generally thought to be not particularly successful, has apparently done better than most of us thought. Cook let it drop that the company has sold 13 million Apple TV boxes…well exceeding internal expectations. That is a good number for a set-top device.
A grand vision drives speculation…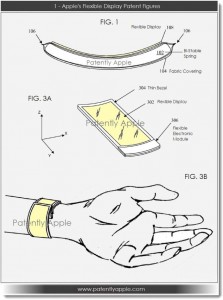 But while Cook did not delve into their new television system, his "grand vision" comment did raise again some press/blog speculation. Still, others in the industry are tiring of the constant teasing on some exciting new television system that is now 12-18 months past the anticipated launch date. Many are adopting a "I'll believe it when I see it" stance.
Perhaps a little more interesting, the CEO spoke to what is a fairly new speculation for Apple – wearable computers. A few months ago, reports emerged that the company had filed for patents on what appeared to be some type of slap-band, smartphone watch interface device. The company did not comment at the time.
Don't carry it…wear it…
Now, Cook admits the company is interested in wearable computing.
"It's an area where it's ripe for exploration," Cook said. "It's ripe for us all getting excited about. I think there will be tons of companies playing in this."
Is this Apple's response to Google Glass…another form of wearable computing that has been getting a lot of press lately as the company has put out several units for beta-testing? Google glass includes eyeglass frames with a built-in computer, camera, and display that only the wearer can see.
On your face? Or is the wrist better?…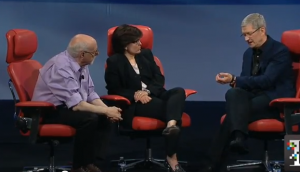 Cook, choosing his words carefully, suggested that Google may have erred in form factor.
"From a mainstream point of view, this is difficult," Cook said, pointing at his non-computing eyeglasses. "There's nothing that's going to convince a kid who has never worn glasses or a band or a watch to wear one, or at least I haven't seen it. So I think there's lost of things to solve in this space."
After making this statement, which tended to throw both glasses-style and wristwatch-configured products into question, Cook seemed to shift gears…telling the journalists "the wrist is interesting."
"I'm wearing this on my wrist," Cook said holding up his arm to reveal a Nike Fuel Band – a type of electronic bracelet that awards the wearer points for level of activity. "It's something natural. But for something to work here you have to convince people it's so incredible, that they want to wear it."
But, they don't wear watches…
Cook then went on to point out – correctly we believe – that 20-year-olds don't wear watches. Holding up his iPhone 4S, Cook said, "Their watch is this."
Again, Cook gave no idea of the specifics of anything that Apple is working on relative to wearable computers. In fact, he never confirmed that Apple is even working on them at all. But industry rumors say that the company has its top 100 product developers working on it.
Something good had better happen…and soon…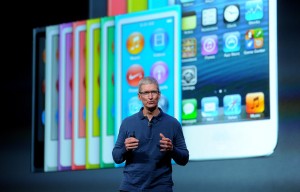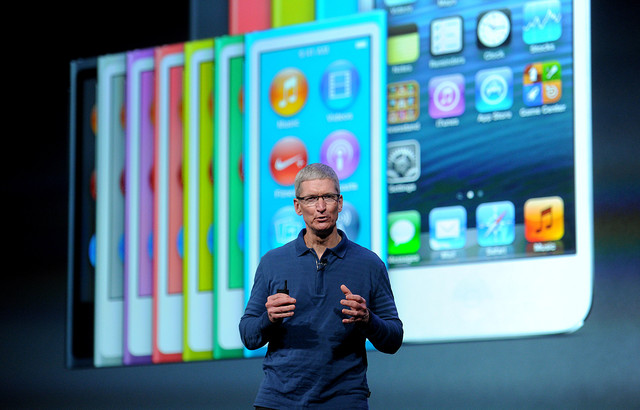 Well, Apple…or more specifically Tim Cook…had better come up with something impressive. Still within two years of his tenure as CEO after the passing of Steve Jobs, Cook has presided over more controversy than he has innovative products. During his tenure, the company has faced issues such as criticism for its China labor practices, tax practices, and even the Apple maps product flop.
In the meantime, products such as the iPhone have only had minor size, shape, and software updates. The company has had no major product launches in Cook's time as CEO.
Famous intensity…
Some have come to question Cook's management style. Steve Jobs, famous for the intensity of his involvement in product design decisions and micro-management of the product development process, had a very different style.
Cook, who was operations manager at Apple before being appointed CEO, has stayed out of the details of product development and instead delegates those responsibilities to several executives like Eddy Cue (Internet-services), Phil Schiller (marketing chief), and Bob Mansfield (senior vice president). And, of course, famous designer Jony Ive is also deeply involved.
Another issue for Cook to deal with is the dramatic drop in company value during his tenure. According to Reuters, Apple stock has lost 44% of its value since hitting its peak in September 2012. To put a finer point on it, Apple is worth $280 billion less in total market value that it was in September.
"What we have to do is focus on products," Cook said. "If we do that right, if we make great products that enrich people's lives, then the other things will happen."
Those are looking like some pretty big "ifs."