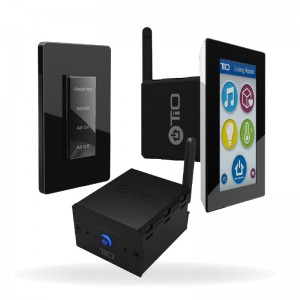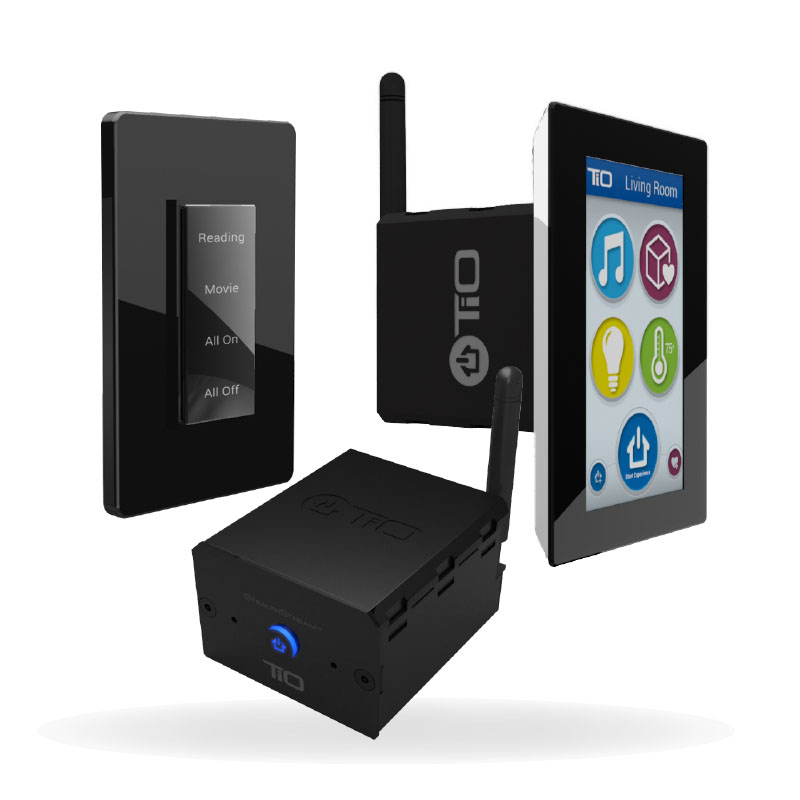 Turn It On (TiO), a division of Anuva Automation, announced this week that it is now shipping their TouchLite 4 Lighting Control pad. The announcement is significant for multiple reasons – not the least of which, the TL 4 is its first device that expands the TiO system beyond its original audio foundation.
But the news is significant for other reasons as President Mike Anderson shares with us…
We have reported extensively on TiO and its various predecessor companies as it has gone through a series of death/rebirth scenarios worthy of its own reality TV show. Early in 2014, after funding had unexpectedly fallen through, it looked as though the cat had used up its 9th life, leading in May to the company shutting down operations. But then in July Anuva Automation entered the scene with facilities, engineering, and cash to rescue the company once again.
The company made a triumphant return to CEDIA Expo in September – proudly declaring its existence and its new and brighter future. We had the opportunity to interview the new CEO Vinu Patel who told us enthusiastically that, "I want to make an impact in the home automation industry." Patel, well aware of the troubled past of the company, added knowingly, "There's a lot I need to deliver [to make that happen.]"
Delivering on the promise…

Now, as part of the Anuva group of companies, TiO finally appears to be delivering on the promise of its smart, simple, affordable Wi-Fi-based home automation system solution. So far, Patel has kept his commitment to the brand – and the shipping of the TL4 is yet another example of the product line ramp-up.
The TL4 is a smart lighting control that can handle just about any type of lighting including incandescent, MLV, ELV, LED and fluorescent lighting. Designed to fit in a typical single-gang mounting with a Decora-style plate, the TL4 features a capacitive touch screen with easily customizable labeling.
Simple to program and app-operated…
Like the rest of the TiO system, the TL4 communicates other system devices via Wi-Fi and is exceedingly simple to program. End-users will also appreciate that the system can be easily operated via an intuitive Android smartphone or tablet app.
However, it is not exactly accurate to call the TL4 a lighting control. The unit can, in fact operate a variety of loads including motors, appliances and fans – making it much more than an attractively designed light dimmer.
Oh yeah…two big changes…
We spoke by phone with Mike Anderson to find out if there had been any change to the TL4 since its initial introduction several months ago.
"Yeah, now its got a UL sticker…and…its shipping," Anderson burst out laughing. "That's new…that's new!"
Anderson went on to admit to us that the TL4 had been late to arrive due to an unforeseen delay in getting the device approved by Underwriter's Laboratory. This delay was not because there was anything fundamentally wrong with the TL4…"UL didn't quite know how to treat it," Anderson laughed. Apparently, UL hasn't seen anything quite like the TL4.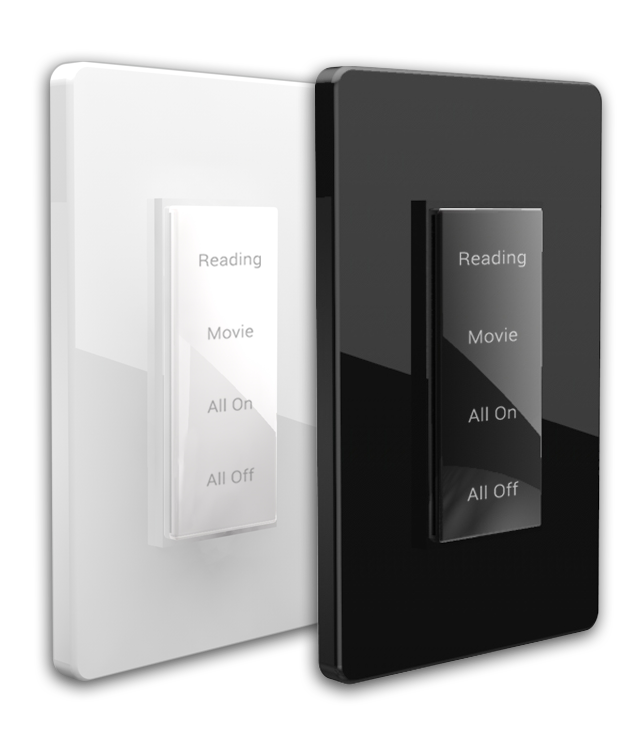 UL had to create new testing protocols…
The TiO President gave us one example of the extended process at UL, telling us that the laboratory wanted to do a mechanical lifecycle testing and hooked up the TL4 to their robot which constantly punches the switch off and on for a total of 10,000 cycles. But it didn't work. Why? The TL4 doesn't use a mechanical system….it's a capacitive touchscreen. So UL had to come up with a different testing protocol.
But all is good now. "Interestingly…it was not certified as a dimmer," Anderson said, surprising us. "It was certified as an appliance control device…that will also control lights." This is a tougher standard, and Anderson told us the TL4 literally went through rigorous testing at three separate UL labs. Needless to say, he is thrilled to have that process behind them and the company is now shipping TL4s.
Expanding the system…and expanding the new owners' commitment
We mentioned earlier that the shipping of the TL4 is significant. Up until now, the TiO system has been an audio-only system – so adding lighting and load control dramatically expands the system's capability…and impact.
But the shipping of the TL4 is also yet another example of Anuva's commitment to bring TiO to market. The company has invested heavily to both finish the engineering of the line, build a new production facility for the TiO line, create a TiO-dedicated development team, and more. The company is also making a deeper commitment to marketing.
"The first production run is well under way," Anderson said proudly. "Everything is being produced here in the U.S." And by everything, he means everything, "Boards are built here, plastics are here, metal chassis are here…everything."

Vinu Patel (CEO) & Mike Anderson (President), TiO
New production line…in a new factory…with new offices…
Anuva has built an all-new production facility to manufacture the TL4, Anderson told us. "The TL4s are being produced on an all-new production line – brand new facility, brand-new manufacturing machines…brand new everything."
The 46,000 sq. ft. production facility is completely dedicated to TiO products. Also included in the facility are new offices and – soon – new people, as the company anticipates dramatic growth.
A new product development team, exclusively dedicated to TiO…
As exciting as all this is, Anderson positively pounded the table telling us that Anuva has just assigned TiO its own product development team. Originally, TiO product development was being handled on a shared basis with Anuva engineering and development personnel.
Now, Anuva is handing Anderson his own TiO-dedicated team. This decision denotes a significant upgrade in both commitment and focus by Anuva…on TiO.
See more about TiO at: www.tiohome.com.