Lots of studies have shown that consumer adoption of various smart home technologies and devices is growing…and that is undoubtedly true. But a new study shows that adoption is not as strong as it could be but for the complexity of installing and using smart home devices.
This Study has Some Chilling Data for Integrators. Check it out…
A new research study published yesterday goes a little more granular on the customer experience in installing and using a rapidly growing array of smart home technology products. While it notes the category's rapid growth, it finds troubling data points relative to consumer frustrations in installing and using the devices.
The study was conducted by TechSee, an Israeli-based global organization that specializes in enterprise CX (customer experience) technologies. In their overview, they note that the smart home device market is expected to grow to a $151.38 billion business by 2024. That number factors in an impressive, double-digit compound annual growth rate (CAGR) of 12% in dollars…and 16.9% in units.
Study Contains a Few Eyebrow Raising Results
There were a total of 1,635 respondents participating in the survey which digs deep into their experience of both buying, installing, and using smart home devices. The research was conducted in September 2019 across the United States. Much of the study's findings are unsurprising, while a few data points definitely raise eyebrows.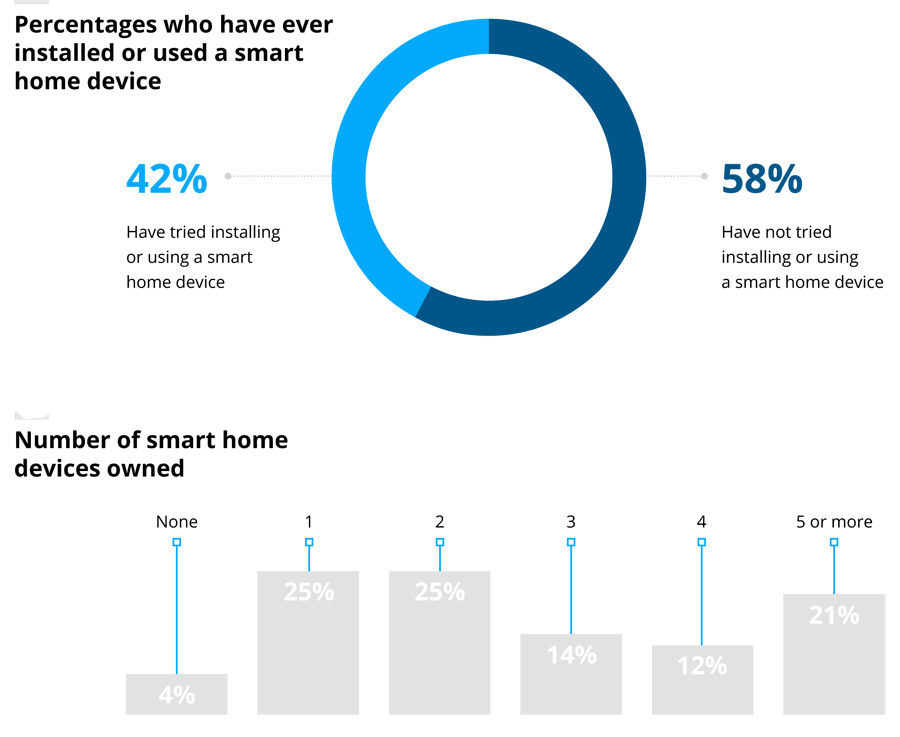 This was a fairly savvy group of participants I'd say – with more than four out of ten (42%) saying that they have "installed or used a smart home device." Of that amount, fully 72% of them say they have two or more devices in their homes. In fact, more than one in five (21%) say they have five or more devices in their home!
Smart Device Adoption Skews Young, But Not Too Young
It probably wouldn't particularly surprise you to learn that when broken down by age groups, the "over 60" group was least likely to have installed or used smart home devices. The study found that those using such devices definitely skews to the younger age group demographics.
But one thing we found interesting is that the highest usage group was the 30-44 age range, of which 47% reported installing and using SH devices. This was even higher than the youngest age group of 18-29 – of which 44% made the same claim.
Smart Speakers are Tops, Smart Leak Detectors are Bottom
And just what type of SH device do these participant own? By a wide margin, most have a smart speaker, which almost half of the respondents reported owning (49%). This was followed by a smart thermostat (32%), smart security camera (30%), smart lights (28%) and a smart doorbell (26%) to round out the top 5 items.
At the other end of the ownership spectrum, the least owned items, you have smart leak detectors (4%), smart security sensors (14%), and smart smoke detectors (14%).
Which are Easy to Install & Use? Which are Difficult?
When respondents were asked to rate devices by ease of installation, not surprisingly, smart speakers and smart displays were said to be "simple or very simple" to install by 81% of the respondents. Only 4% said smart speakers were "difficult or very difficult to install" while 3% said that of smart displays.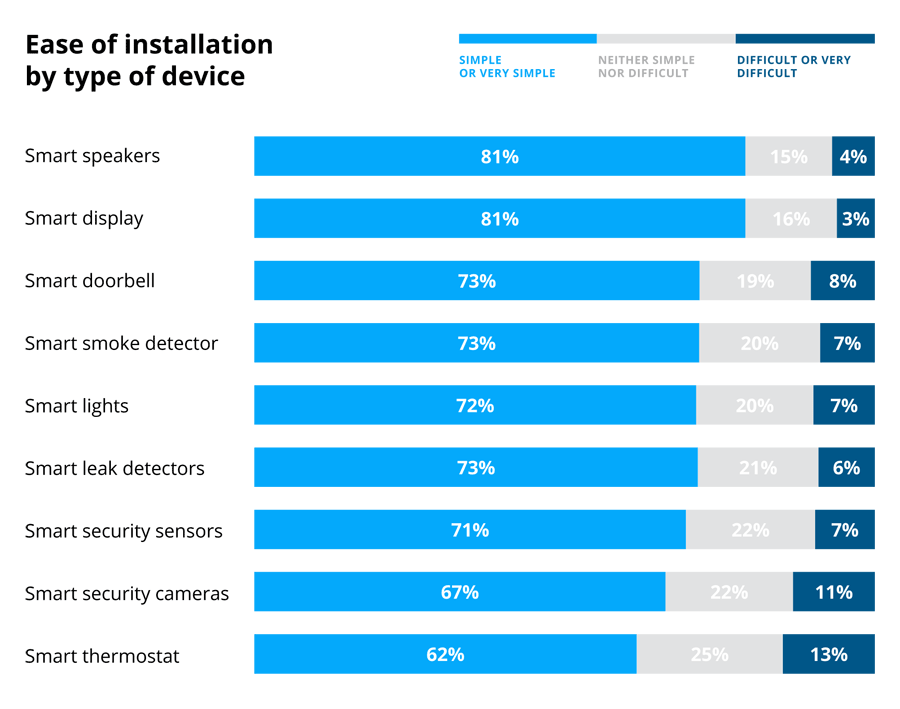 Similarly, when asked which SH devices were easy or hard to use, smart speakers again carried the day, with 86% saying so. This was followed closely by smart lights, which 82% say are "simple or very simple" to use. But smart thermostats and smart security cameras are difficult or very difficult to use say 7% of the survey respondents.
"We see that as consumers become more familiar with smart home devices, they find them easier to set up and install. This paves the way for additional purchases that generate more revenue and better margins for smart home brands. But the data also highlights an ongoing problem – entry point friction. Users often find product setup difficult and, in many cases, return products as a result."

Eitan Cohen, CEO of TechSee
What Technical Tasks Can Respondents Do? Or NOT Do?
Interestingly, the survey then asked respondents to indicate how simple or difficult technical tasks were that might be required in the installation and use of smart home devices. "Using device settings" and "identifying parts and cables" were rated "simple or very simple" by around 7 out of 10 respondents (71% and 69% respectively).
However "troubleshooting issues" and "syncing device with other devices" were both deemed "difficult or very difficult" by 22% and 15% of respondents respectively. Especially in the case of troubleshooting, less than half felt this task was easy, making it the single greatest issue for users.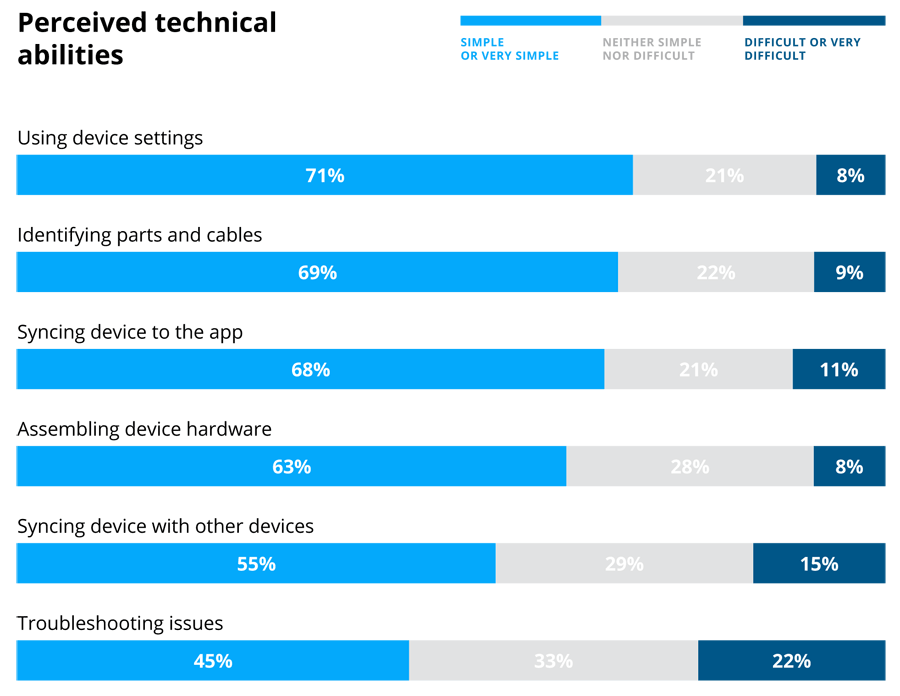 Perhaps Most Troubling for Integrators
One statistic that caught my eye was a question that sought to determine the users' preferred method for installing their next smart home device. The vast majority, regardless of their past experience with the complexity of installing or using current or previous SH devices, said that they preferred to "Do it myself" when it came time to install another device. Fully 78% of the respondents selected this response.
This was followed by just 15% who said they'd like a "free technician." Another 5% said they preferred "Calling a contact center," and only 2% said they would use a "Paid technician."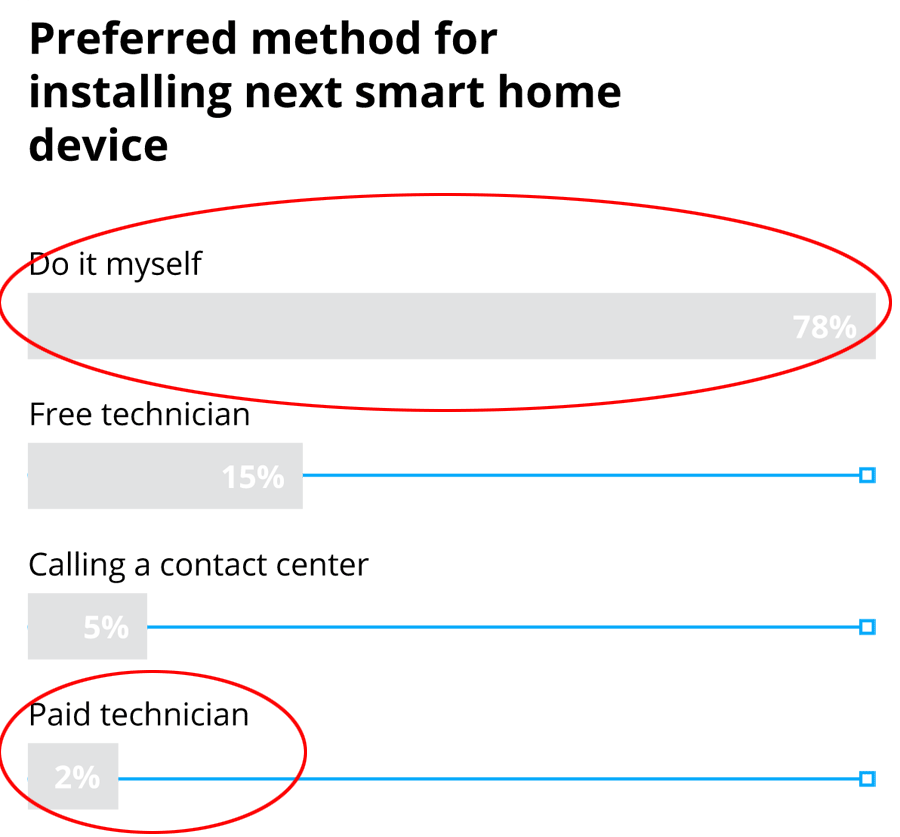 A Punch in the Gut
That last response is a bit of a punch in the gut for integrators. However, it is likely that respondents to this survey may have been largely populated with DIY-ers…the do it yourself crowd.
Still, I found myself a bit chilled with that last response.
Oh and what are consumers intentions if they buy, install, and use a device only to determine that it is too difficult to use? Nearly three-quarters of them (74%) said they are "somewhat likely" or "very likely" or "certain" to return the device to the dealer.
Learn more about study sponsor TechSee's "visual support solutions" by visiting: techsee.me.