We first reported on the new SpeakerCraft Dolby Atmos enabled AIM speakers at the 2015 CEDIA show (then called the Expo). A clever way to extend their line and tap into the enthusiasm many have to advanced surround sound systems like Dolby Atmos, DTS:X, and Auro3D – SpeakerCraft designed a high-performance alternative to standard in-ceiling height speakers.
Prototypes last year, but company says it's ready to ship shortly. Check it out…
SpeakerCraft redesigned their popular AIM speakers back in 2014.We were suitably impressed with this attractive design that added a lot of interesting technology stories, such as a fully directable ARC Tweeter Line Array, acoustic isolation, and Waveplane design with Vortex Eliminators.
In 2015, they expanded its capabilities by adding the ATX100 upward firing in-wall speaker module, introduced during last year's CEDIA Expo. This smart add-on allows you to create a full-fledged Dolby Atmos enabled surround system.
Why Not Just Use In-Ceiling Speakers?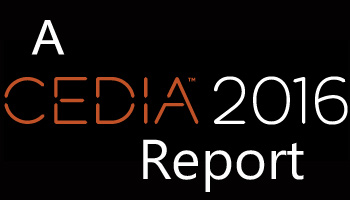 Why use an upward firing module when you can simply install in-ceiling speakers? We asked that question to Core Brand executive Mike Strange. Strange told us that SpeakerCraft has no objection to those integrators who would prefer to install SpeakerCraft in-ceiling speakers.
However, there are times where ceiling construction prevents the use of in-ceiling speakers. Or even when technically possible, there can be obstacles that prevent proper positioning.
A Better Sound
But the biggest reason to consider setting up an Atmos system utilizing the ATX100 is because many sound experts feel bouncing the height signal off the ceiling enhances the effect by additionally diffusing the sound. So it may actually sound better with an ATX100 than with a downward firing in-ceiling speaker aimed at the listener. In any event, SpeakerCraft offers the integrator the flexibility to execute the installation in accordance with their situation…or their preference.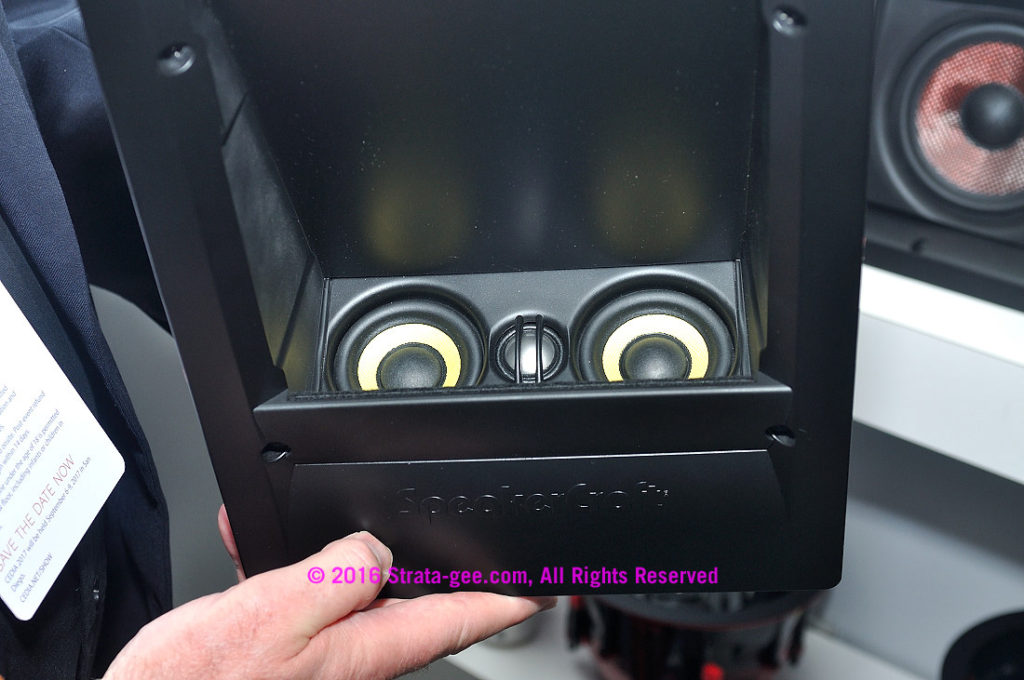 At CEDIA 2016, SpeakerCraft demonstrated their AIM Series 2 LCR5 and ATX100 system on the show floor. As difficult and noisy as that environment is, the demo was compelling. Height sounds were clearly and convincingly emanating from overhead, adding a feeling of sonic envelopment that traditional surround systems struggle to provide.
Flexible Tweeter Positioning in Two Planes
Strange demonstrated for us how the AIM LCR5 Five Series 2 speakers have a line array tweeter structure that articulates in two planes – you can spin it for optimization depending on horizontal or vertical installation of the speaker; AND, you can tilt the tweeter assembly no matter what direction it has been placed in. This is incredible flexibility and allows the integrator the ability to direct the high and mid-frequencies in any way that fits the installation.
The AIM LCR5 FIVE Series 2 sells for an MSRP of $879. A step down models without Kevlar cones called the AIM LCR5 TWO Series 2 sells for an MSRP of $749. The ATX100 has an MSRP of $349. All of these models will ship in October.
Check out the remarkable SpeakerCraft AIM Series 2 Speaker system at: www.speakercraft.com.