EXCLUSIVE PREVIEW!
The hushed buzz of whispers of trouble at Nortek's Core Brands had grown over the summer – culminating in almost a roar in the wake of Nortek's last quarterly report identifying its AV division as troubled. One of the premier flagships of the Core Brands stable is SpeakerCraft. As if the SpeakerCraft crew didn't already have enough on its plate countering these issues, the company faced a new challenge as its former founders launch a new competitor (Origin Acoustics) to a lot of noise.
But don't count them out just yet! SpeakerCraft just got SpeakerCrafty…
In an EXCLUSIVE telephone conference call with Strata-gee on the eve of the 2014 CEDIA Expo, six Core Brands executives shared details of an all new SpeakerCraft line-up that has been completely re-engineered from the ground up – and we'd be lying if we didn't admit we were suitably impressed.
Large companies can sometimes get bogged down in the decision-making process. First, there is the strong pull of history…as if "who we are" adds restrictions about where we can go. But sticking too hard to your historical roots in TECH can mean you're losing ground to other competitors who are aggressively moving forward.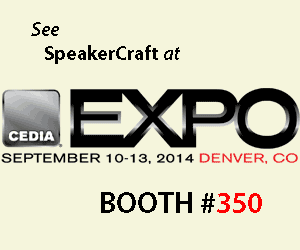 But Core Brands seems to have risen above these challenges and are delivering a product line that is as interesting and perhaps even more innovative than much of what we've seen. They are – in this case – acting a lot like a nimble entrepreneurial company.
We discussed an all-new completely re-engineered amplifier line-up that SpeakerCraft will launch at CEDIA Expo. And we also talked about an all-new speaker line-up that – quite frankly – surprised us in its clever design and new technologies.
AIM Series 2 Speakers
SpeakerCraft will launch several new speaker models in their Series 2 line, including: four 8″ models, five 7″ models and three 5″ models. This line-up will have an all-new industrial design…and the SpeakerCraft execs told me they started with a blank sheet when they sat down to design this new line-up.
The new series of speakers in their AIM line also incorporates all new technologies that make a real contribution to sound and acoustic performance. There are three primary technology improvements including: arc tweeter array,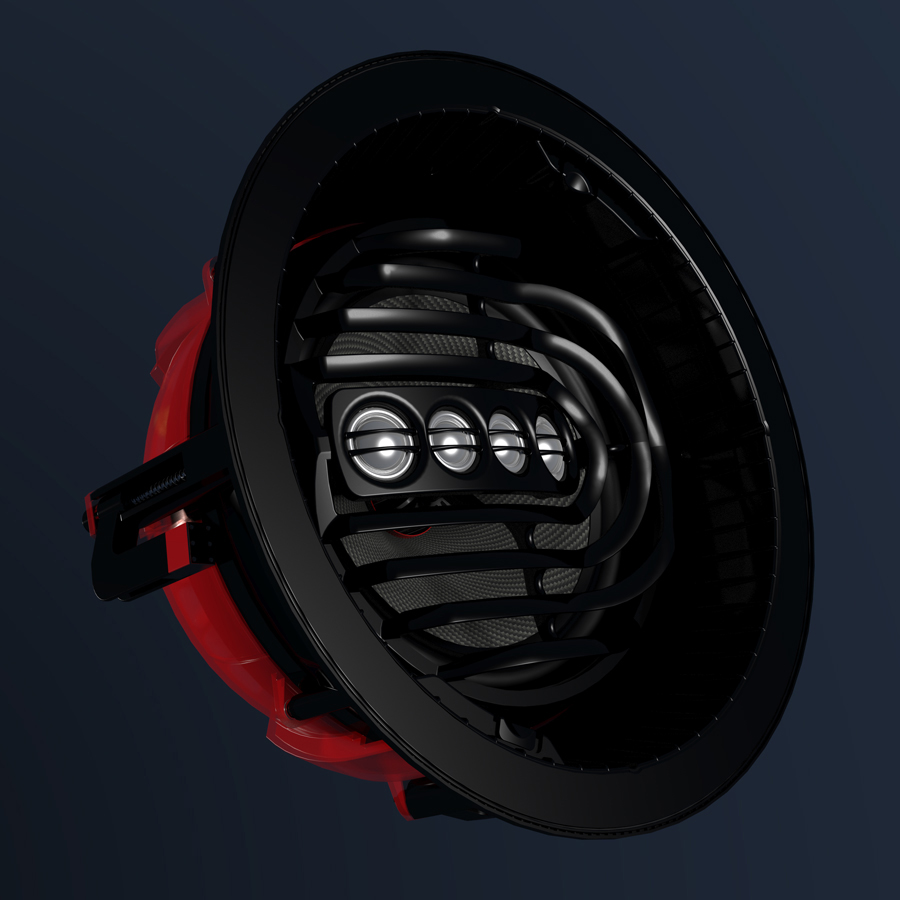 Arc Tweeter Array…
All of these new models will have multiple tweeters arrayed in an arc – called, logically enough, Tweeter Array™. We have not seen anything quite like this since our days as a pro musician as arced tweeters and speakers are common. In fact, we haven't seen and arced tweeter array from anyone else. They are completely aimable and configurable. The 8″ and 7″ models have four – count them – four tweeters…two half-inch and two quarter-inch. The 5″ models will have three tweeters.
The line array not only pivots a full 12°…but it also spins completely around on its axis, "Up to 359°," we were told. This takes the ability to aim the tweeters to a whole new level. And this is all done independently of the woofer – which is also pivots.
Not only that, but thanks to so many tweeter surface space, SpeakerCraft engineers could actually  lower the crossover point allowing it to function much like a three-way speaker.
Acoustic Isolation Technologies…
SpeakerCraft is declaring war on vibration with another cool technology employed in their new AIM Series 2 speakers – Acoustic Isolation Technologies™. The company has coated the entire circumference of the speaker mounting frame with a special low-density acoustic isolating compound that actually decouples the speaker from the wallboard or whatever kind of material in which the speaker is mounted.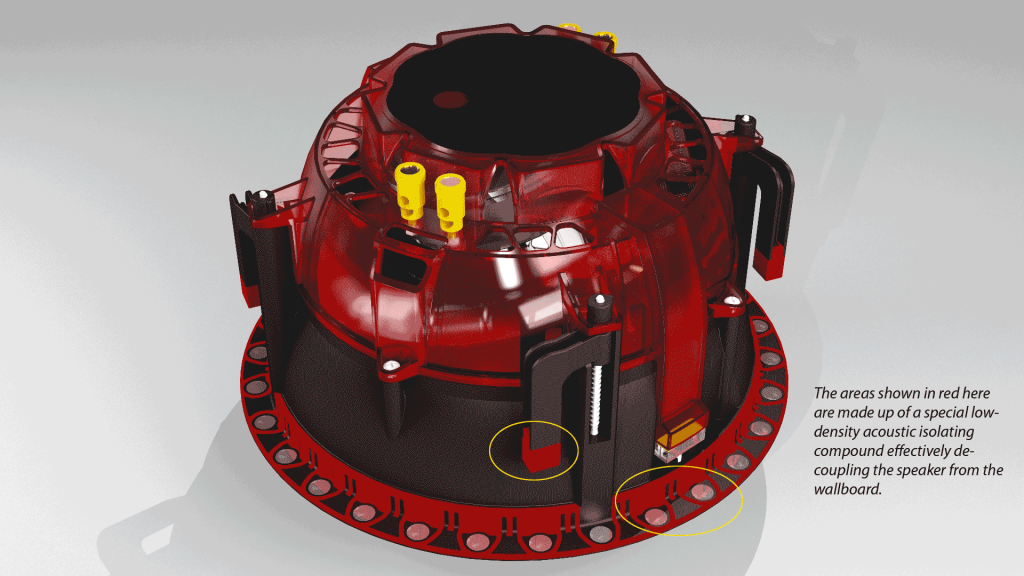 But wait! What about the mounting "dogs"…won't they transmit vibration to the wallboard anyway? , Nope – because the company wisely tipped the dogs in the same material. This is clever thinking in finding new ways to improve speaker performance.
Waveplane Design…
Finally, you may have noticed in the photo of the front of the speaker, a series of circular rails in a pattern over the face of the woofer. These individual rails are Vortex Eliminators and the whole system is part of their new Waveplane™ design.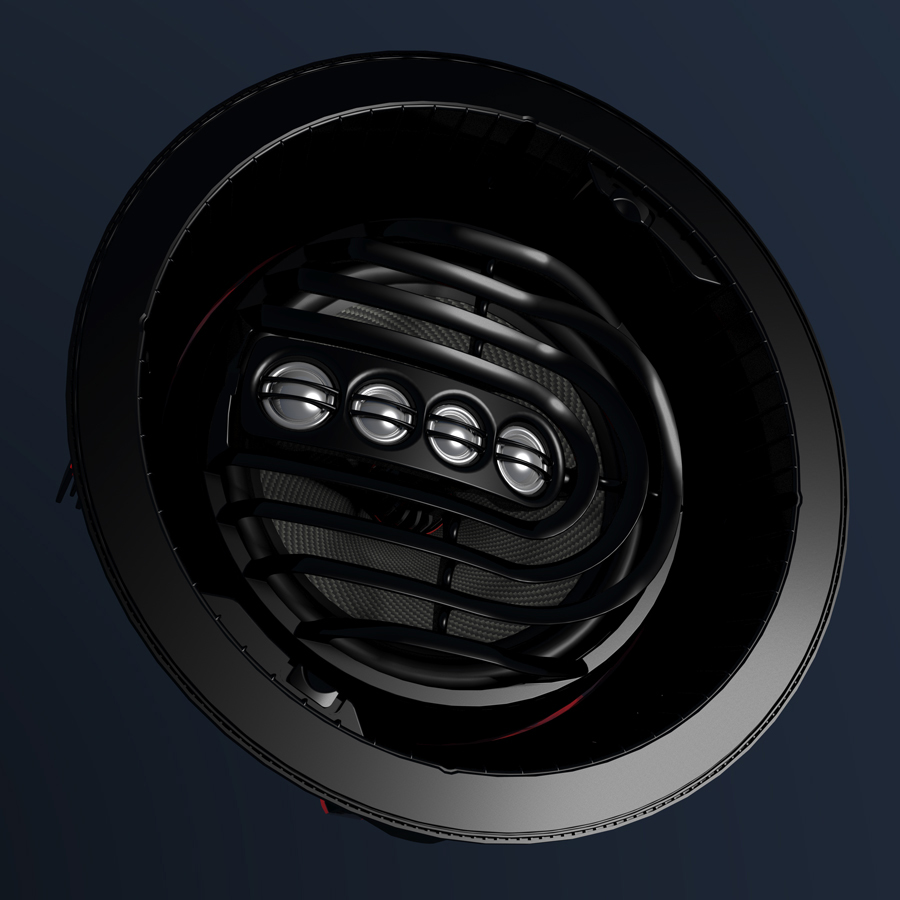 What is Waveplane and why do you need it? To have a fully pivoting woofer, you need a deeper recess to mount the speaker. However, mounting a speaker deeper creates a tunnel effect. By adding these wavy Vortex Eliminators, which are precisely tuned, the Waveplane design changes the wave of the air emanating from the driver – thereby reducing the tunnel effect. The effect is as if the woofer was much closer to the speaker grill. Again, a smart and meaningful technology that makes the speaker sound better.
You'll want to check these out…
And as a final note about the AIM Series 2 speakers, although we've not heard them yet and so we have to reserve ultimate judgment until we do, we'd have to say that the photos seem to show a very attractive design. According to the SpeakerCraft execs, in certain focus group testing with certain integrators, many said they don't even need the speaker grills to cover the speaker up. That's just good design.
You need to go check out these new speakers from SpeakerCraft at Booth #350 on the CEDIA Expo show floor. See if you think this new line is SpeakerCrafty.
See more on SpeakerCraft at: www.speakercraft.com.