We found some interesting stuff here at the start (and from the days leading up to the start) of CEDIA's 2015 Expo. There was a lot to sift through, but what follows are some of the more interesting products and technologies we found at the start of the show – presented in no particular order.
See items of interest from the start of CEDIA Expo…
Origin Acoustics
Celebrating their first birthday, Origin took a few moments to tell the press, "We told you so!" Noting that many questioned him more than a year ago when he revealed the Origin plan to them, CEO Jeremy Burkhardt told reporters that many had doubted whether they could pull it off. Now, Burkhardt says with great relish, they proved the naysayers wrong…at least so far.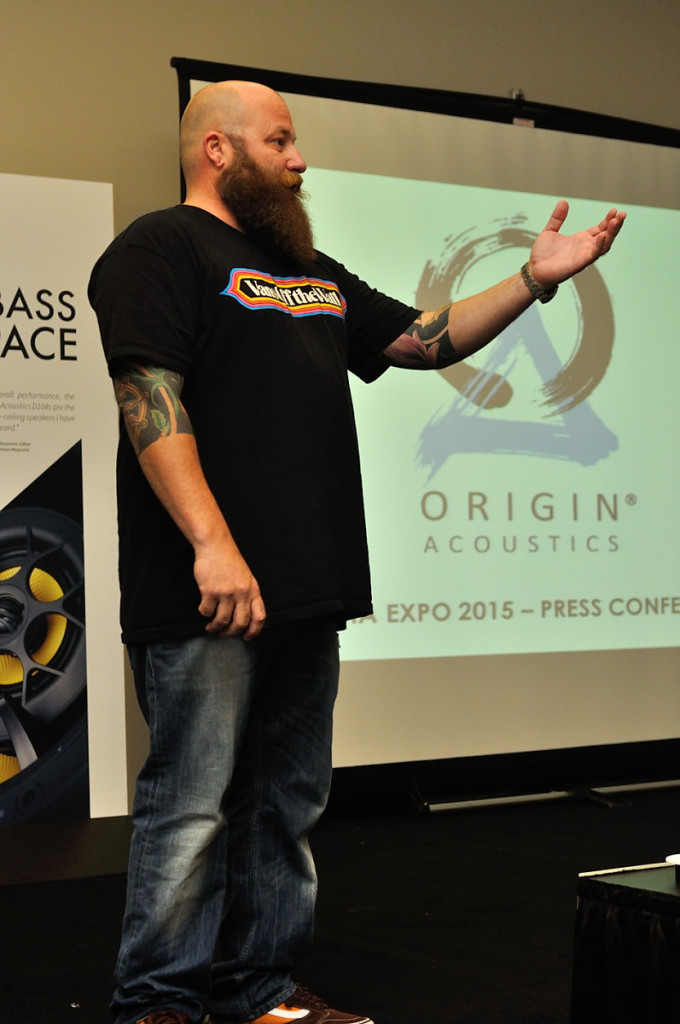 The company showed several new models including an in-ceiling subwoofer, new full range in-wall home theater speakers, a new in-wall subwoofer, and a line array outdoor speaker with more controlled dispersion (that will annoy your neighbors less).
GoldenEar
We continued to be impressed with GoldenEar's ability to innovate new creative solutions. At this show, founder Sandy Gross tells us that in their booth the company has a full Dolby Atmos demo using in-ceiling height speakers to a great dramatic effect.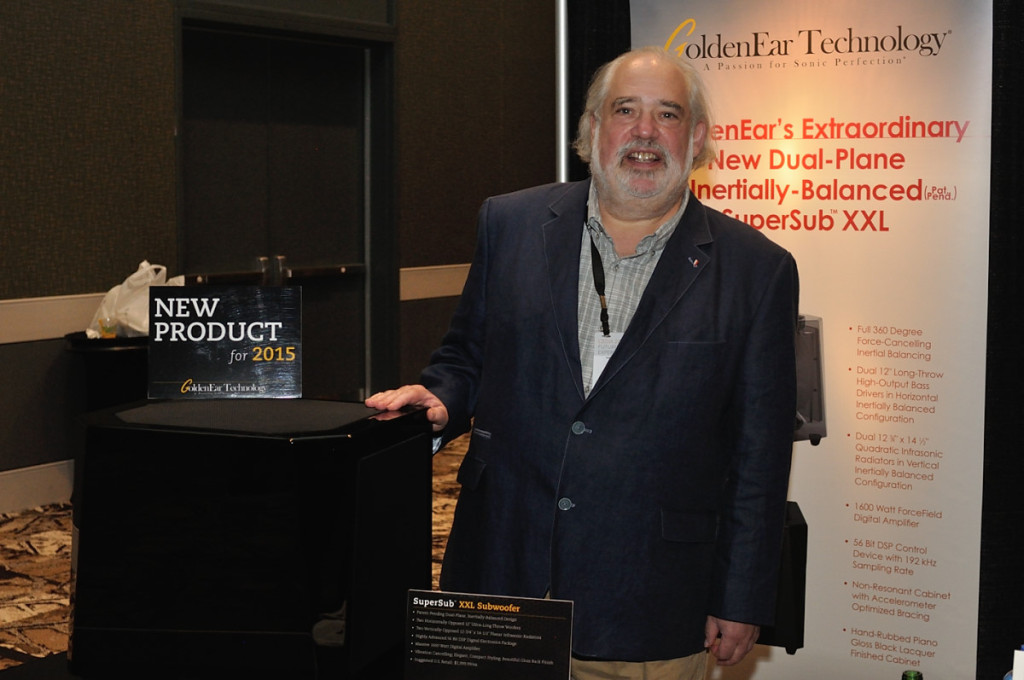 In the photo here, Gross shows off their now-shipping Super Sub XXL subwoofer.
Auro 3D
We had the opportunity to meet a remarkable man – Wilfried Van Baelen, the inventor of Auro 3D. As you may know, Auro 3D is a immersive surround technology out of Belgium that takes a different approach than Atmos or DTS:X.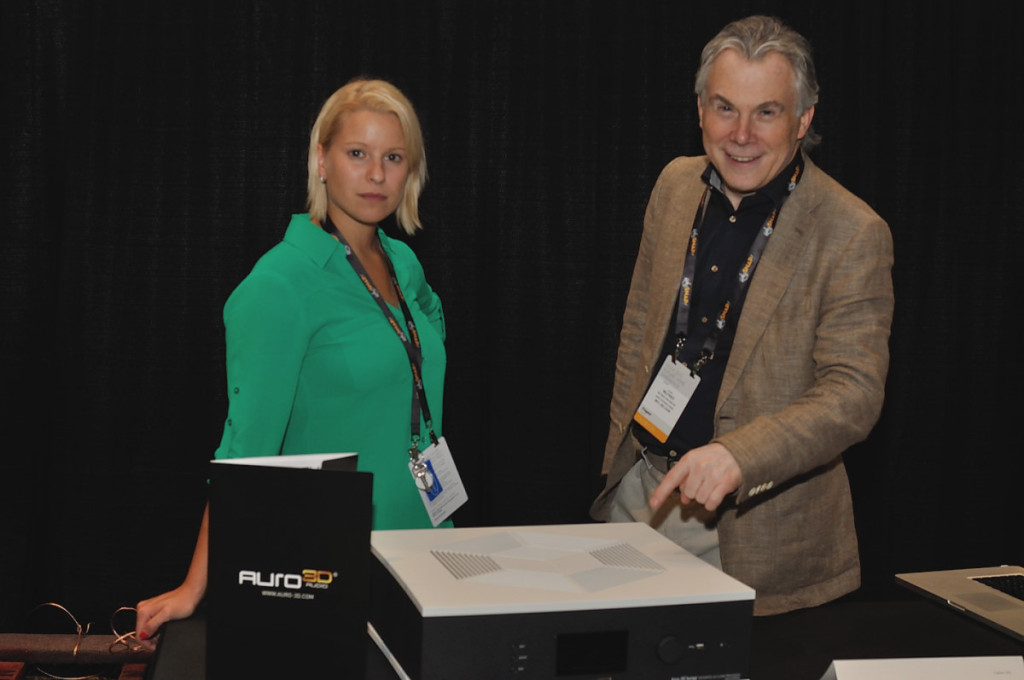 Auro 3D uses a different speaker configuration and placement, and that, Van Baelen says, is critical to allowing the ear to perceive seamless height information. But most interestingly, Van Baelen tells us that Auro preceded all of the other forms of immersive surround systems and that Dolby and DTS only entered the arena after experiencing Auro 3D.
Auro 3D is demonstrating their system in Booth #8030, Sound Room 17.
Sony
We admit it, in the past we have been skeptical of Sony's commitment to the CEDIA channel. But they participated again this year with a presentation to the press by none other than Mike Fasulo, President and COO of Sony in the U.S. Fasulo told reporters that AV integration is the biggest opportunity. Sony's CEDIA-related business, he claims,  is up 63% year-over-year.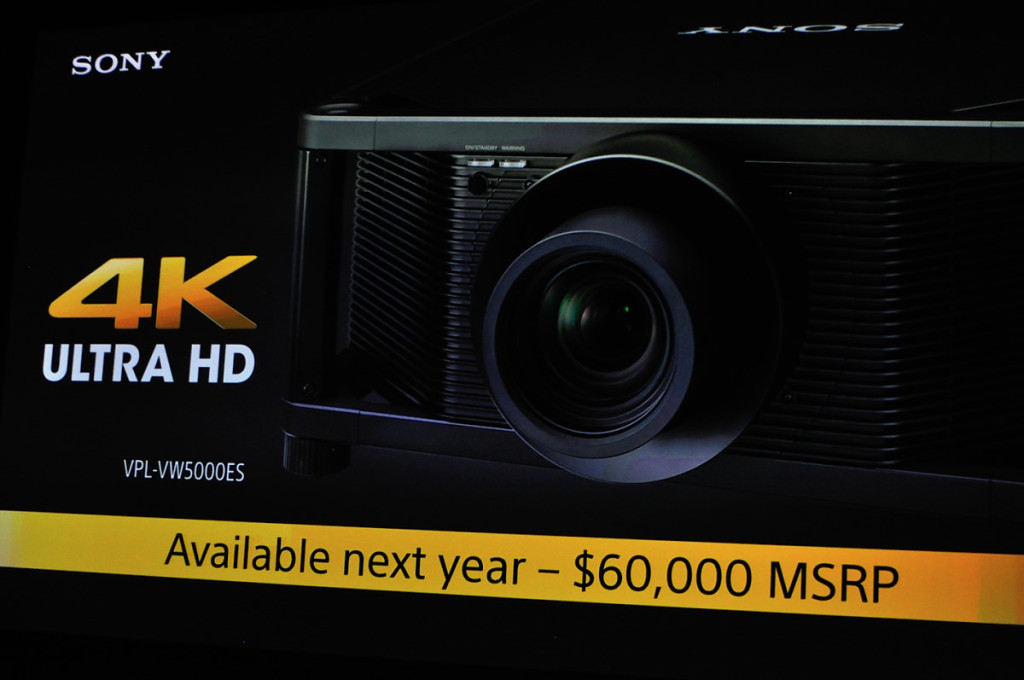 Sony showed an impressive array of 4K projectors, Hi-Res Audio, and an interesting new ES AV receiver.We are really interested in getting an opportunity to demo their new VW5000ES 4K projector. This projector is their first 4K projector to use laser technology with a cool $60,000 price tag. They call it the ultimate home theater projector.
TiO
TiO showed, among other things, a dramatic expansion of their system with new multiple new products. These new products dramatically expand the capabilities of the TiO system with the addition of a new touch screen, a lamp dimming element, a TiO network extender, a security adapter, an IR adapter, a contact closure adapter, a serial  adapter…all of which can be integrated into the system via a wired or wireless connection.
According to the company, all but one of these new items are available now and shipping. The last item will become available within 30-days. All of this was accomplished less than a year after Anuva Automation acquired the company.
SpeakerCraft
SpeakerCraft showed a new series of AIM in-wall speakers with a newly designed tweeter array. According to Core Brands' Mike Strange, the new design on the tweeter array improves performance dramatically.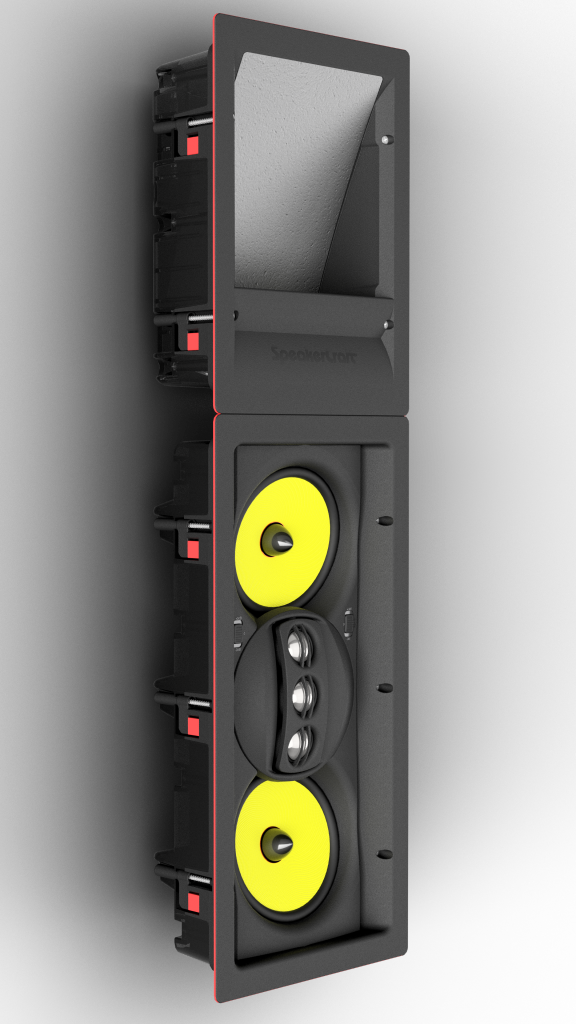 But what was most impressive is that SpeakerCraft is launching Atmos-enable in-wall module to add height speakers in a way we've not seen before. In a brief demonstration, we had to admit the system put out an impressive amount of height sound…in a show display with only about 3-feet of ceiling! It was a pretty dramatic demo.
Sonance
In their extremely large booth, Sonance showed their entire product line. But one thing that caught our attention was their SonArc DSP amplifier systems. As Sonance noted, many high-performance systems use system and room calibration to optimize the sound. But this is typically not the case in multi-room audio systems.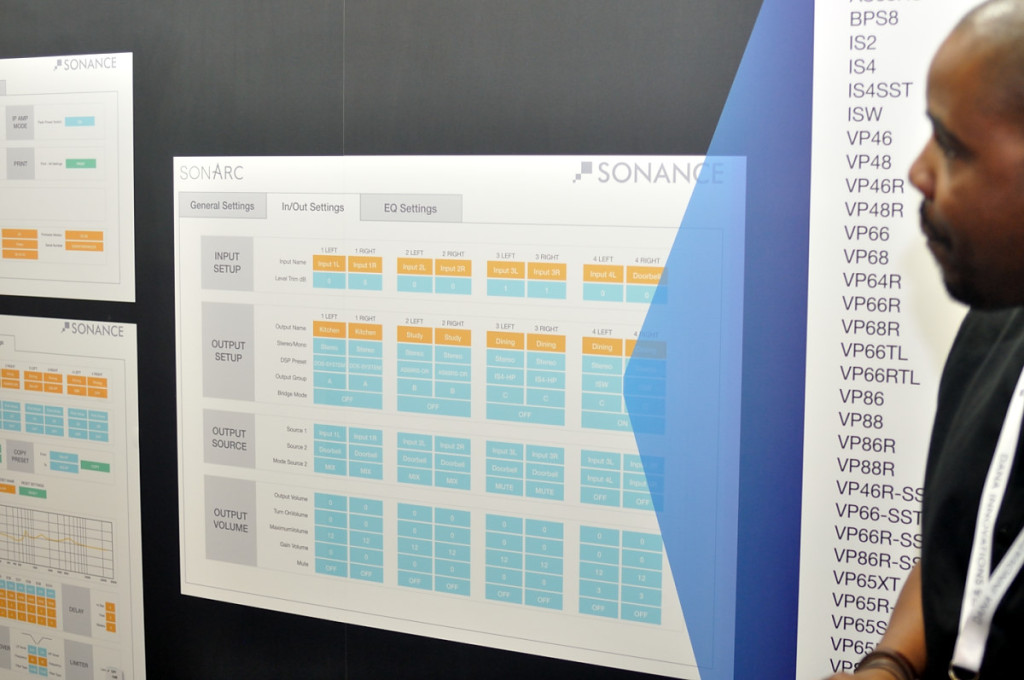 But their cleverly design SonArc system allows the integrator to easily and quickly adjust the system for any environment. Pre-programmed with a large amount of data of actual room measurements with a variety of room material types (hard-scape, soft-scape), and Sonance speaker characteristics – the company says SonArc is an effective way for integrators to optimize a multi-room system.
All-in-all, a fair amount of interesting items in our first day at the show.