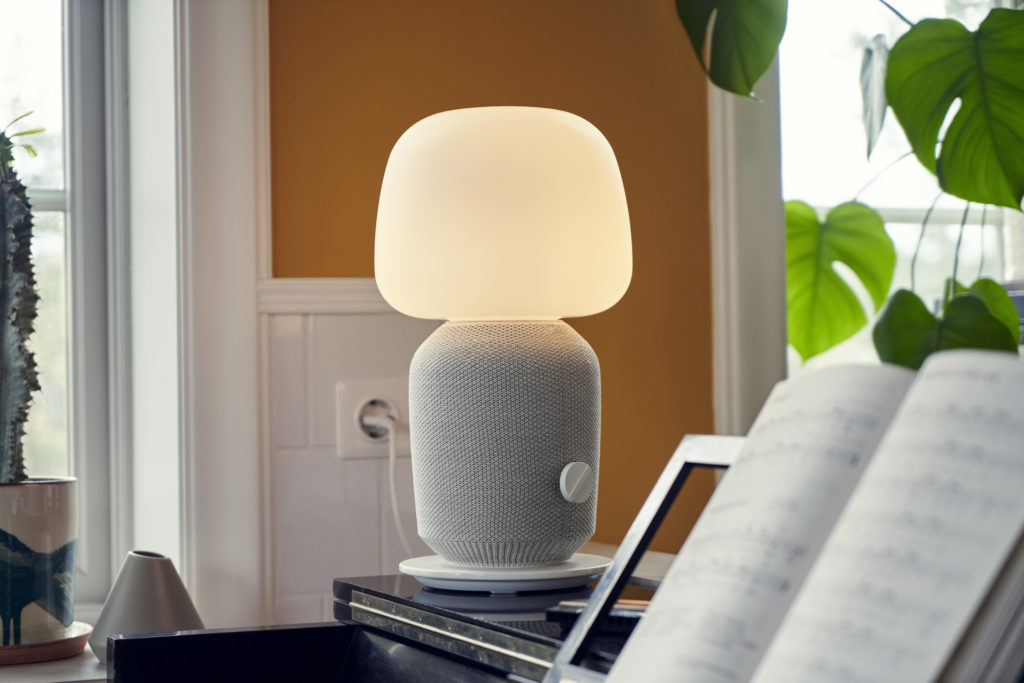 Formally announced back in April, Sonos has collaborated with IKEA on a line of products for which it has great expectations. The first products of this collaboration – a table lamp with speaker built-in, and a thin bookshelf speaker that sits on a shelf and LOOKS LIKE a book…are finally now available. Will IKEA fans turn out in droves to buy these new models?
See the Sonos lamp & shelf speaker at IKEA…
Although delivery of this line was inexplicably delayed, it is now available from the Swedish retailer who says they are all about "well-designed, functional and affordable, high-quality home furnishing, produced with care for people and the environment." Jointly developed by the two partners, one news outlet described the Symfonisk line as including "an oddly shaped, dual-speaker lamp"…and a "combination speaker-and-shelf."
IKEA sees it differently – describing their new table lamp/speaker combination as "a great sounding, great looking piece of furniture that blends into the home in a new way, making it easier to furnish with sound."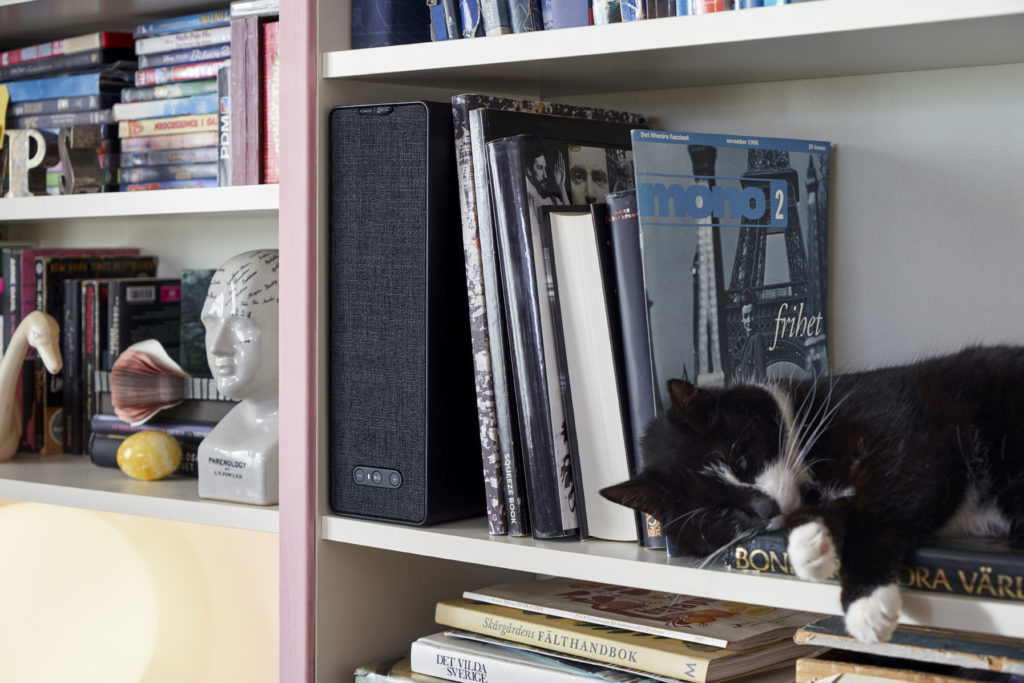 "Sound is a powerful part of our identity – whether it's hearing your baby's laughter or listening to that 80s hit your mom loved, it is a deeply emotional part of all our lives. This partnership has always been about our two companies' shared passion, values and knowledge. IKEA and Sonos recognize the importance of great sound and its potential to positively affect life at home for the many people. We set out to create products neither of us would or could develop independently. To this end, since music and light are both instrumental in creating a sense of place, we developed a product that can deliver both – the Symfonisk lamp speaker."

Tad Toulis, Vice President of Design at Sonos
Both IKEA & Sonos Equally Contributed to the Design
According to IKEA, the idea for the table lamp/speaker combination model came from the concept of the fireplace – "one single piece that spreads warm light as well as sound," said Iina Vuorivirta, an IKEA designer. With the Symfonisk table lamp/speaker, you get a nicely designed table lamp with a WiFi speaker built-in – light & sound.
Both parties equally contributed to the line, with IKEA bringing their home furnishing knowledge and sense of design direction to the partnership. For their part, Sonos obviously brings their sound design expertise. Whether these products will capture the imagination of the consumer remains to be seen.
Masquerades as Either a Book or a Shelf
The Symfonisk bookshelf is designed to be used either ON a bookshelf with a design that makes it look like a book – or AS the actual bookshelf itself…with a WiFi speaker built-in. In the case of both the shelf speaker, and the table lamp/speaker combo – IKEA was shooting for a space saving concept…allowing the homeowner to enjoy a "de-cluttering the home with less devices and cords."
The Symfonisk table lamp with WiFi speaker sells for $179, and the Symfonisk bookshelf with WiFi speaker is offered at $99. Both incorporate full Sonos technology – including fully operable with the Sonos app – and are available in both light and dark finishes. You can get either of them now in your nearest IKEA store or online at ikea.com.
To learn more, visit IKEA at: www.ikea.com.
See all that Sonos has to offer at: www.sonos.com.