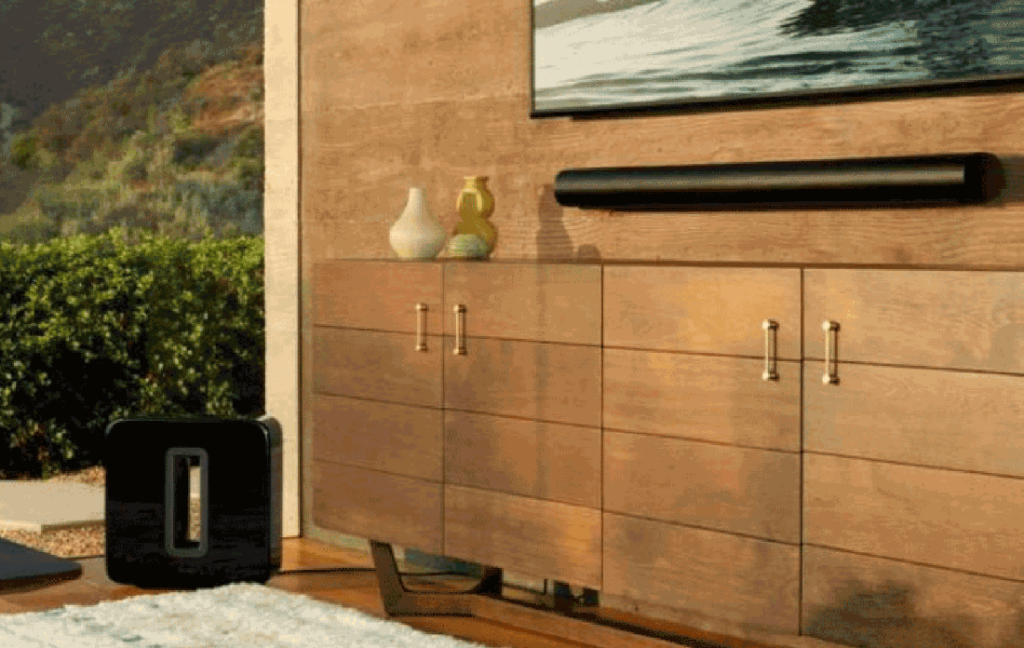 CEO Says Direct-to-Consumer Sales Were Big, Launching Three New Models
Sonos Inc. announced Wednesday the results of their fiscal second quarter, a quarter that CEO Patrick Spence called "challenging." The company saw a double-digit sales decline of 17% to $175.1 million from $210.2 million in the same quarter in 2019. Worse, net losses more than doubled to $52.3 million – 129% worse than the net loss of $22.8 million in Q2 last year.
Still, Spence sounded upbeat in a letter to investors and says he is "confident that the actions we are taking today will set us up for long-term success and the continued tremendous opportunity ahead."
Learn more about the sour Sonos results in Q2…
By many measures, Sonos' fiscal second quarter, the period which ended March 28, 2020, was a rough one. Not only did the company have a double-digit sales decline…and a more-than-doubling of their net loss…but they saw mounting negative momentum as sales declined a substantial 23% in March alone.
Now of course, we are in the time of COVID-19, and that certainly was a significant factor in their results. Although, it seems likely that the impact of the Coronavirus had really only got started in the January-to-March quarter. This would suggest that the next quarter could be even more "challenging."
In any event, challenges abounded in their latest report. The company said it had unit sales of 680,591 units, a 23% decline on a year-over-year (YoY) basis. The company noted it had two unusual events impact sales in the quarter – first, a "large retail partner in the U.S." engaged in a "rebalancing" of its inventory during the quarter. They did not name this retailer, but it might have been Best Buy, as Spence casually mentioned their name later in a call with analysts in discussing his thoughts on how their curbside pickup service was going.
COVID-19 Rears Its Ugly Head in Sonos Results
In addition to this unnamed U.S. retailer, the company also disclosed that it "experienced weakness" in the German market – one of the strongest economies in all of Europe. The reason for this weakness was that their German distributor also rebalanced its inventory during the quarter. Rebalancing inventory likely means they did not issue any replenishing orders for more Sonos products, and may have even returned items to the company for credit. In this situation, it is common for a distributor to offer an order of equal amount (or a company to demand one) to offset the credit – yielding net zero sales.
The company also explicitly noted the impact of COVID-19 on their business in March, when "broad-based physical retail closures" hit demand for their products hard – "impacting replenishment orders in the majority of our end-markets."
Product Category Sales – Big Down, Small Up
The company tracks product sales in three main categories: 1) Sonos Speakers, 2) Sonos System Products, and 3) Partner Products and other revenues. Sonos Speakers – their largest category that represents 66% of their overall sales – saw sales decline 27% from $160.5 million in Q2/2019 to $116.4 million this year. The Sonos Speakers category, the company says, was the one most impacted by the major partners (U.S. retailer & German Distributor) rebalancing their inventories and the impact of the COVID-19 pandemic on consumer demand and retail store closures.

Sonos System Products, however, while only 27% of company sales, saw sales increase 22% in the quarter to $47.2 million versus $38.5 million last year. The company says that this increase was largely due to the success of the Sonos AMP product and the launch of the Sonos Port.
Partner Products and other revenues – the category that represents their partnership with Sonance and now IKEA – saw revenues increase only 4%, coming in at $11.5 million or just slightly over the $11.1 million in the same quarter a year ago. In a way this was somewhat surprising considering that their relationship with IKEA is still rolling out and therefore has a period of buy-in as product is added to their stores. However, COVID-19 is a worldwide phenomenon, so perhaps it is to blame here as well.
Regional Results; Gross Margin Hit by Tariffs
Regionally, sales in America were off 12%, EMEA was down 28%, Germany was down 66% and APAC was up 9% (with the company pointing to the IKEA ramp up for this increase in the APAC region). By the way, not to nit-pick, but Germany saw sales collapse from $20.1 million in the quarter last year to just $6.8 million this year. Sonos said they "experienced weakness" in Germany. I'd say that understates the case.
Gross margins declined 130 basis points, largely due to the impact of tariffs imposed by the Trump administration. Sonos is taking steps to "diversify" their production base to Malaysia, where goods produced there and destined for America will be not face the same tariffs that their China made imports do. The company has additionally submitted a request for exclusion from tariffs and are awaiting what they hope will be a positive decision.
Operating Expenses Rose to 72% of Revenues
Operating expenses increased 11%, coming in at $126.2 million or a surprising 72% of revenues in the quarter. In the quarter last year, operating expenses were $113.4 million or 54% of revenues. Perhaps sensing some potential criticism from the market on expenses, the company noted it was cutting operating expenses, or as Wall Streeters like to call it "op ex," by eliminating discretionary spending.
Research and development costs increased 24% to $49.6 million, as compared to $40.1 million the year earlier. The company said this was largely due to a headcount increase in R&D, in part because of their acquisition of the Snips SAS team.
Other expense categories also grew for the company. Specifically: Sales and marketing expenses were up 2% (due to new marketing campaigns) and General and administrative expenses were up 9% (due to IP-litigation expenses of $1.7 million).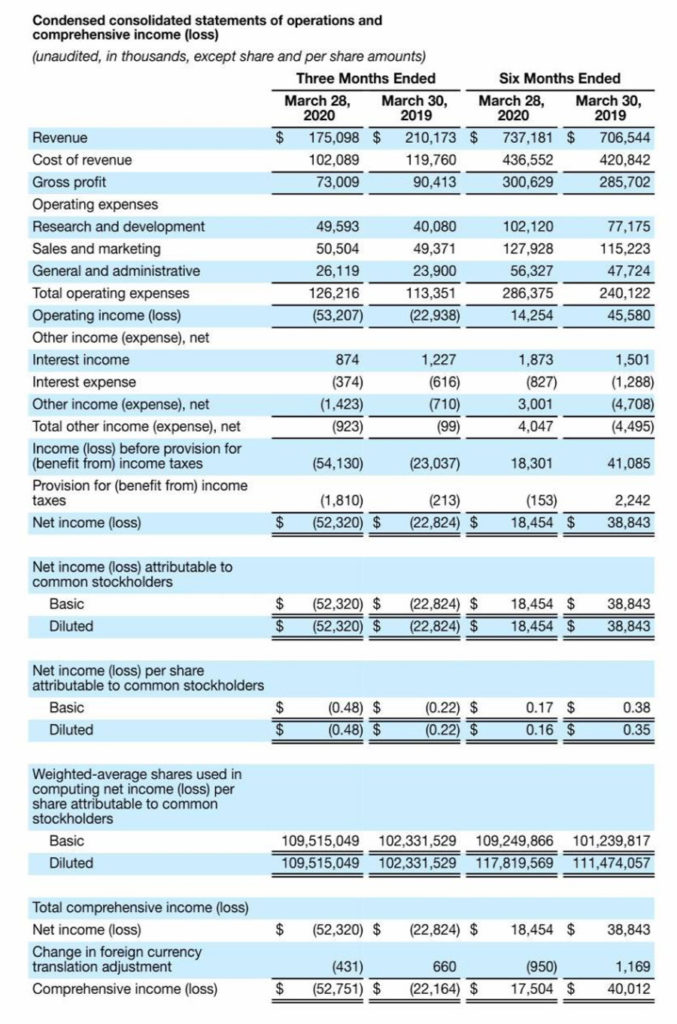 Four Reasons Why the Sonos CEO Remains So Optimistic
Looking at all of the above: sales down, profit margins down, costs up, a big net loss..how can CEO Spence be so optimistic about the future? There are four big developments that give Spence cause to be upbeat – even though we are still early in the COVID-19 era with its major impact on business yet to be fully felt.
First, when March sales crashed, Sonos quickly decided to craft a new marketing campaign – an online campaign they called "At Home with Sonos" – to try and drive their business. That campaign ran from April 2nd to May 5th and according to Spence, it was a huge success.
Remember that March monthly sales had dropped a concerning 23%. But thanks to their AHWS campaign, April sales were only down less than 5% Spence said, much better than their March results. Company CFO Brittany Bagley suggests that the company may experience a continued boost to sales, because even though the campaign has ended they hope the momentum it created will continue.
Second, although overall sales had declined 17% in Q2, Sonos says that their direct-to-consumer (D2C) sales had risen a surprising 32% in the quarter on a YoY basis. Most of this came through the Sonos.com website. Spence added that the D2C business accelerated nearly 400% during their AHWS campaign in April.
In answering a question during a phone call with analysts, Spence suggested that the success that the company has recently experienced in selling direct-to-consumers is changing the way they view that channel's role in the future.
"It definitely makes me think that this is going to be an even bigger part of our future. And it also points out that, in these kind of times, we are the ones that ultimately made sure that we are getting people our product quickly and it's all about trying to deliver product to the customer as fast as possible. There were a lot of disruptions from the other channels."

Patrick Spence, CEO, Sonos, Inc.
Third, the company has announced three new products that it believes will all make a dramatic contribution to a pick-up in sales. These new products include the Arc (a premium soundbar), the Sonos Five (replacing the Play:5), and the new Sonos Sub (replacing the previous Sub).
Especially in the case of the Arc, this takes the company's soundbar offerings into a new premium category (MSRP $799) as compared to their other soundbars and Spence feels this will both attract new customers and motivate step-up sales to existing customers. [See more details and my thoughts on the new Sonos models below.]
Fourth, the company noted that in a review of system data, they discovered that Sonos customers spend nearly half of their time on Sonos products listening to radio content. So the company launched Sonos Radio, a free, ad-supported streaming radio service with music, news, sports and original Sonos content that plays on the Sonos app. Spence characterized Radio as a bit of an experiment for the company – its first test of them directly offering content.
Radio gives them a potential new revenue stream opportunity as well, Spence told analysts, as they can sell advertising on this Sonos owned "channel" along with other partner and sponsorship opportunities. This could be the beginning of a whole new foray into service revenues as a freestanding category for the company.
CEO Sees Long Term 'Sustainable and Profitable Growth
For all of these reasons, good times or bad, Spence feels that there is plenty of opportunity for Sonos. "While the short term is unpredictable, I am confident we are well-positioned for the long term and we will emerge from this crisis well positioned to drive sustainable and profitable growth," Spence said.
---
New Models from Sonos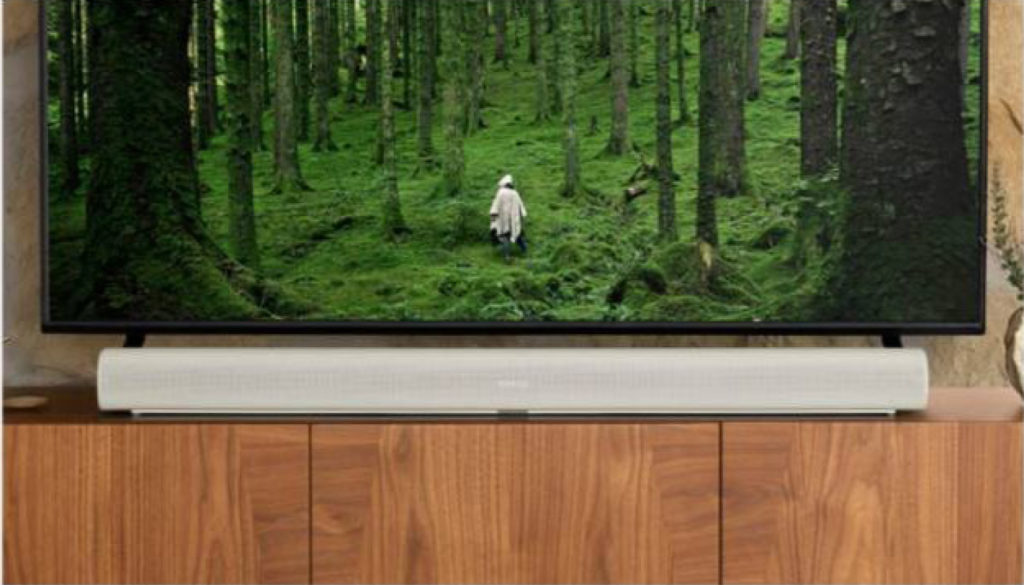 Sonos Arc – A new premium soundbar that the company says delivers an immersive theater experience. Features include: Dolby Atmos, multiple voice assistants, Sonos Trueplay tuning technology, and Arc is available in either black or white finish. Arc sells for $799 MSRP and will be available June 10th.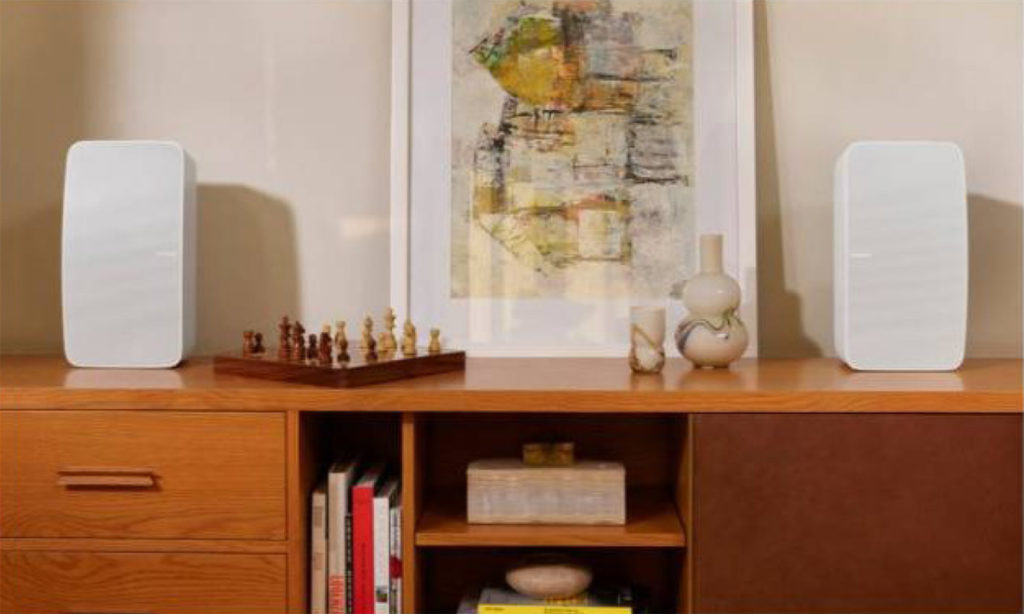 Sonos Five – The company says that the Sonos Five is their most powerful speaker. It is an update to the Play:5 and features include: increased memory, increased processing power, and a new wireless radio. The company also calls out its "stunning new front grille." The Five is available June 10th for $499 MSRP.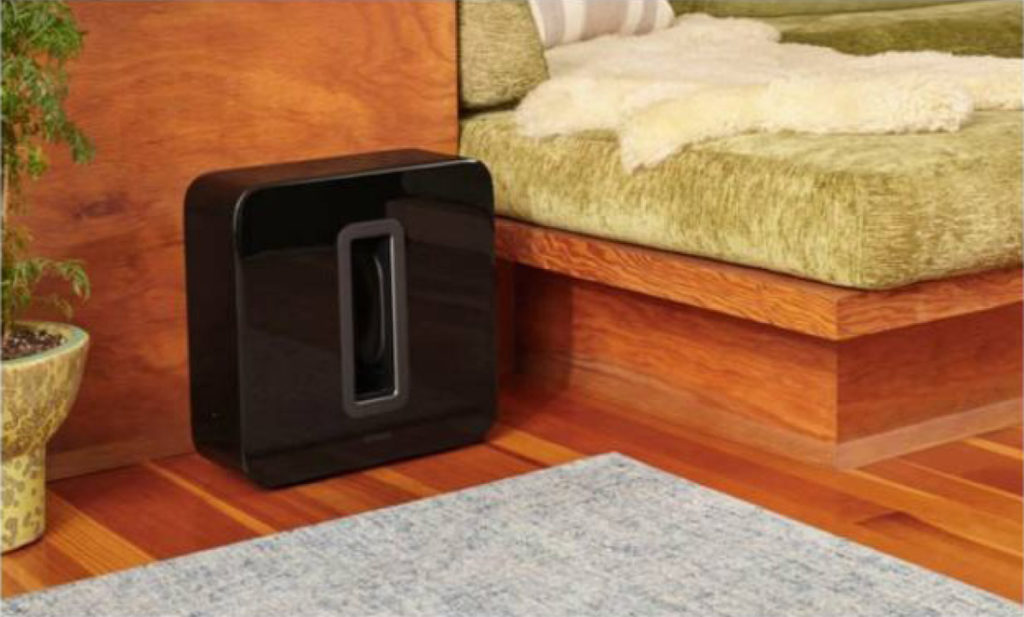 Sonos Sub (Gen 3) – This is the third generation of the popular Sonos Sub and like the Sonos Five, it receives more memory, increased processing power, and "more" according to the company. It will be available on June 10th for $699 MSRP.
These Models are New, But are They Compelling?
So, to my eyes, two of these three new models look like relatively modest, incremental upgrades over existing models. In the absence of more detailed info on the Sonos Five and Sonos Sub that reveal more impactful features or technologies, I wouldn't expect a stampede of sales. Yes, you will get channel fill from your retail partners…but this is painfully short-lived.
The Arc, on the other hand, may represent a step-up opportunity for Sonos. However, I remain unconvinced that the company is fully embraced by the step-up audience. For that, we'll just have to wait and see.
To learn more about Sonos, visit: sonos.com.