Sonos, Inc. this week reported a strong first quarter for their 2020 fiscal year. In fact, the company says it had a record quarter with strong revenue and profit gains.
See more on the Sonos record quarter results
As is their typical approach, Sonos released an initial read on their performance in a letter to shareholders. In this letter, the company said revenues grew 13% to a record $562.1 million for the quarter, and GAAP net income increased 15% to a record $71 million as well.
Growth came pretty much across the board, as the company noted each category of products showed decent growth. However, it is a little difficult to compare with previous reports, as the company has changed their product category definitions. Still, growth appears across the board, no matter how you slice and dice it.
Q1 Highlights
Revenues for the quarter rose from $496.4 million in 2018 to $562.1 million in 2019, a 13.2% increase. Operating income actually decreased slightly, coming in at $67.5 million or 1.5% below the $68.5 million the year before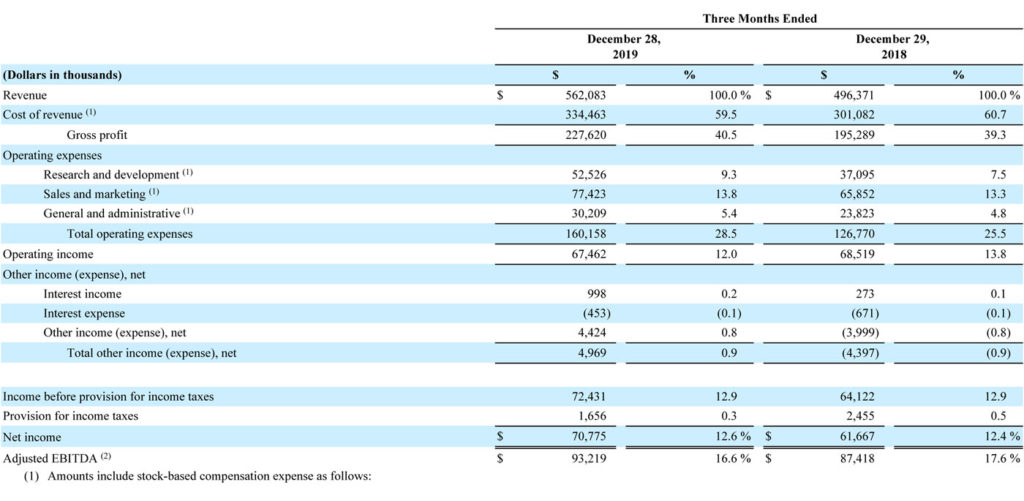 However, the company showed net profits in the quarter of $70.8 million, or 15% higher than the net income of $61.7 million the same quarter the previous year. This is, of course, the proverbial "bottom line."
The company sold almost 3 million units with sales increases across the board. Each of the company's product segments showed growth, although there was a lot of variation in the percentage of growth between them.
New Product Segment Breakdowns
The three categories that Sonos now track are broken down as:
Sonos speakers – Consisting of Play:1, Play:5, Sonos 1 SL, Playbar, Playbase, Sub, voice-enabled Sonos One, Sonos Move, and Sonos Beam)
Sonos system products – Consisting of Sonos Port, Sonos Amp and Sonos Boost
Partner products and other revenue – Consisting of modules units sold through partnership with IKEA, architectural speakers sold through their partnership with Sonance, accessories and other revenue associated with other software, services or licensing arrangements

The main driver of growth on a percentage basis is the "Partner products and other revenue" business segment. This is the segment that is largely defined by their Sonance partnership and their new experiment with IKEA.
Biggest Percentage Gain in Smallest Segment
While the total revenue growth rate was 13% overall, the Partner products category had growth of over 332% – from $7.8 million in 2018 to $33.9 million in 2019.
I have been reporting for a few quarters now that the company was struggling with a decline in sales for their original wireless music system products. Now in their Sonos speaker segment, that decline seems to have been offset by the success of new models in the grouping and the company particularly notes success with the One SL, Move, and Port. Still, the growth in this, their largest segment by far, was a much smaller, single-digit 7% growth.
Gaining Market Share, Even in 'Premium'
The company says it continues to grow market share in most major markets such as the United States, United Kingdom and Germany. They note, "when looking more specifically at premium price points in the categories we serve in the U.S., Sonos gained disproportionately more share compared to the rest of the market – further illustrating the power and premium nature of our brand and the strength of our products and platform."
The company's cheerful letter takes a serious turn when it notes that they intend to "work towards realizing the value of our intellectual property assets. Based on the information we have, we believe many companies with multi-room, audio product offerings infringe on our IP."
More Lawsuits are Coming
Yep, much as I had predicted during my coverage of their litigation with Denon (over their HEOS line), Sonos is rattling their sabers and putting the industry on notice that they are coming for you. They had a huge win in their Denon litigation and it is yet to be determined how they'll fair against Lenbrook who took some pretty good defensive swings back at the company – but the big magilla is their litigation with Google.
Clearly, if you feel ready to take on one of the world's richest and most powerful companies, you are brimming with confidence. However, unlike their competitive combatants up to now, Google is very IP savvy, has strong legal counsel, and the resources to do whatever it takes.
Yet, if Sonos manages to prevail over Google…the world is their oyster.
Learn more about Sonos by visiting: sonos.com.