A newly created poll by Axios and The Harris Poll reveals what Americans think of the reputation of the top 100 most visible companies in the U.S. Tech, as you might imagine, was well represented here, and this poll bared a difficult truth for many tech companies…their reputation is crashing.
See the surprising pluses & minuses for Tech companies…
This new poll, a partnership between the politics website Axios and market researcher The Harris Poll, offered a surprising and highly informative level of detail on company reputations. And because this is an extension of a poll that Harris has been conducting for years, there is a capability to divine trends in brand reputation over time.
With that being the case, major themes emerged as a result of this new, detailed poll. Some of those themes related directly to Tech, while others were more indirectly related.
Let me first say there was some very positive results for Tech as well…surprisingly positive. This annual poll ranks the Top 100 companies by "Corporate Reputation" and the poll is generally known as their Reputation Quotient. Axios & Harris took extraordinary steps to improve the accuracy of these results – and to insulate them from bias. These steps included starting with a wide sample (more than 18,200 Americans surveyed) and using an interesting two-step process (one group picks the brands to be rated; a second group rates them).
Report Identifies Five Major Themes:
Government Inc.

The Tyranny of Convenience

De-FAANGed

Captains of Controversy

Health, Well and Fresh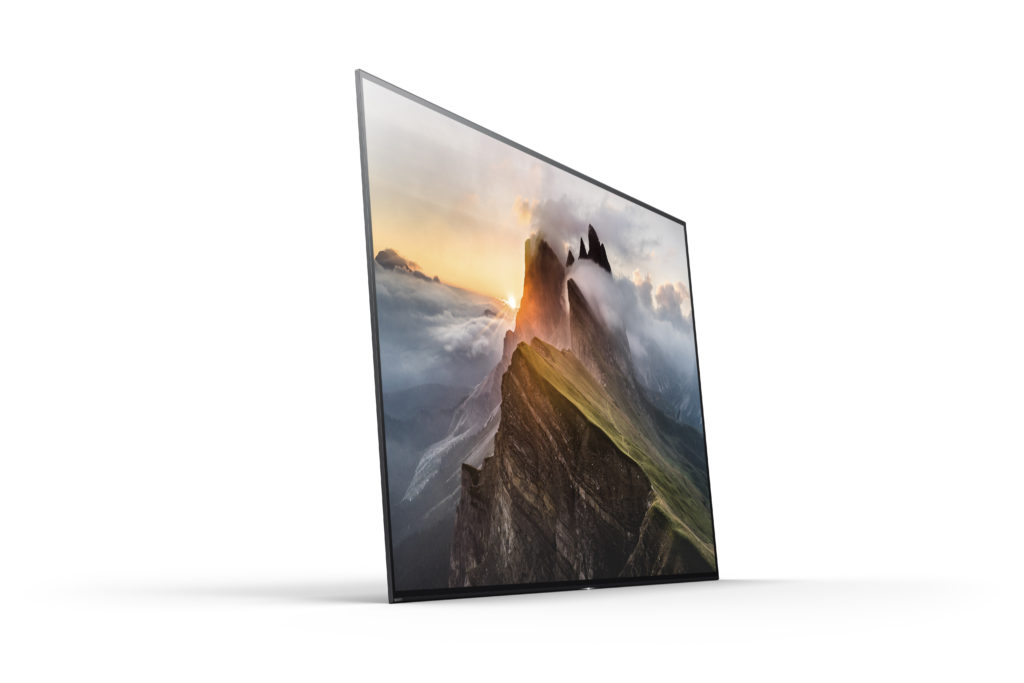 Of these five, this post will delve into the two themes that directly relate to Tech below: The Tyranny of Convenience, and De-FAANGed. But let me first start with some general insights I gleaned from perusing this list that I found interesting.
FIRST – Tech is all over this list, including Amazon, Samsung, Sony, LG, Netflix, Dell, Best Buy, Google, Apple, T-Mobile, AT&T, Nintendo, Electronic Arts, Verizon, Twitter, Facebook, Microsoft, Charter, Comcast, IBM, Dish, and more
SECOND – In a separate list of companies on the Top Ten Fastest Rising Reputations, Tech players took top honors: #1 on this list is Samsung, who saw its reputation grow by more than 28 positions in one year! This was closely followed by #2 Sony, whose reputation grew by 21 places! And rounding out this top ten most improved, we find LG at #9, seeing its reputation surge 10 places. Congratulations to these brands whose reputations are surging!
THIRD – There is, to me at least, a surprising number of grocery chains on this list of most visible company brand reputation. In fact, the number one brand on this list is Wegmens, with a top reading of 83.0. Wegmens displaced Amazon who was #1 in 2018. Other grocery chains on this list include, at #6 Publix, #21 Kroger, and #23 Aldi. Not really relevant to our industry, but I noticed it because Amazon has recently been reported to be hatching plans to launch more grocery stores (under multiple brands – but not Whole Foods). Perhaps the popularity of grocery stores is one reason why Amazon is targeting the category?
FOURTH – The shocking position of Amazon (#2 on the list, #1 last year) which has connected deeply with consumers on products and services, but sees a growing number of Americans who are increasingly "wary of Amazon's power and influence over society." Amazon is very much at risk of hitting a tipping point with consumers. This is the major theme the researchers titled The Tyranny of Convenience – referring to how Amazon used product convenience to spread its influence, but now seems a bit…well…tyrannical. Consumers rate them high for products, but much lower on ethics – a warning sign.
FIFTH – Unfortunately, Tech was also well represented on the list of Top Ten Fastest Falling Reputations. The company experiencing the greatest and fastest drop in its reputation rating is Facebook, who dropped from its upper middle class position of #51…to barely holding on as a top brand at #94. This is a breathtaking drop of 43 spots…in one year. They weren't alone – also on the list of Fastest Falling Reputations were Google (#28>#41, -13 spots), and Comcast (#78>#91, -13 spots).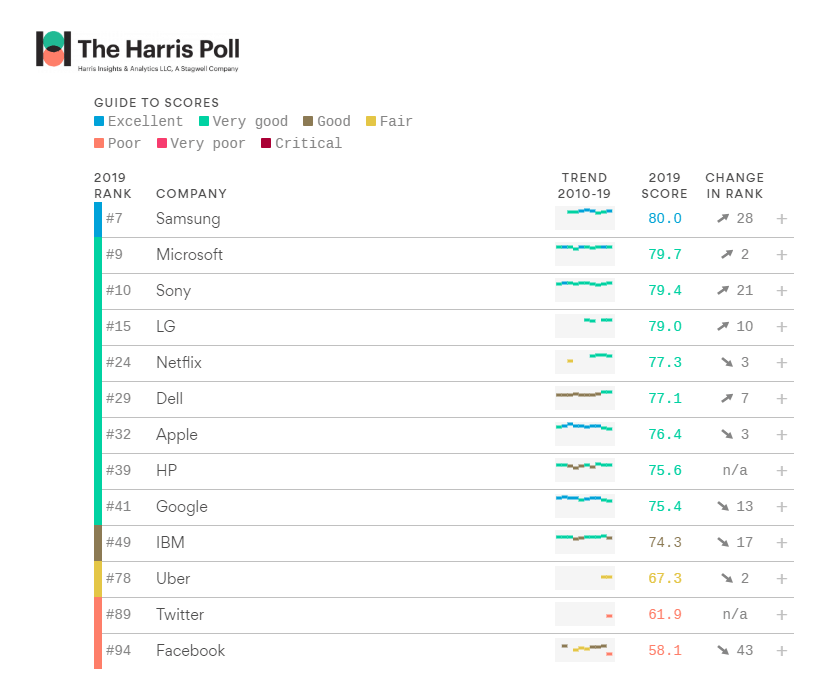 Ratings are Broken Down by Attribute & Generation
I completely nerded out on this detailed report and there are many, many interesting and nuanced insights into how consumers are viewing top brands, including Tech. The researchers had survey participants rate each company on a number of variables, including: Growth, Culture, Citizenship, Product & Services, Ethics, Trust, Business Trajectory, Organizational Character, and Vision. It is fascinating to see how the ratings change for each of these variables…and I'm still digesting it all.
There was also a generational breakdown, showing the Top Ten and Bottom Ten brands by generation. These list varied dramatically – yielding some surprising results. For example. Boomers and Gen Xers both rated Samsung as a highly reputable brand. Yet it never showed up in the Top Ten List with Millennials. Or – Gen X rates Samsung highly, but not LG. But Boomers like both Samsung and LG, but they like LG more.
2019 Corporate Reputation Rankings – Top 25 Positions
Wegmans – 83.0
Amazon – 82.3
Patagonia – 81.4
L.L. Bean – 80.7
Walt Disney – 80.4
Publix – 80.3
Samsung – 80.0
Procter & Gamble – 79.8
Microsoft – 79.7
Sony – 79.4
UPS – 79.3
The Home Depot – 79.1
Fidelity – 79.1
Kraft Heinz – 79.0
LG – 79.0
Hobby Lobby – 78.9
USAA – 78.8
Costco – 78.6
Boeing – 78.3
Lowe's – 77.9
Kroger – 77.9
Chick-fil-A – 77.5
Aldi – 77.4
Netflix – 77.3
Unilever – 77.3
So What Was Shocking?
I guess what surprised me the most was how consumers were dramatically downgrading the FAANG companies (Facebook, Amazon, Apple, Netflix, Google). for the last several years, these were high-flying companies popular with consumers. Now they collectively showed the biggest decline of any single category of brands. This is a dramatic turnaround in reputation…for the worse.
I mentioned a little about Facebook above, but beyond them, other FAANG brands have been taking a beating in the last few surveys. For example, Apple was the #2 brand, enjoying a great reputation, just three short surveys ago in 2016. Now, they fell all the way down to #32 on this list. While they're still in the top third of this ranking, it is a LONG way from #2 to #32, and momentum still appears to be negative.
Facebook may have been the biggest loser, but Google in just one year also fell 13 places from #28 to #41…and former darling brand Netflix, from #21 to #24…down…down…down. And even Amazon fell out of first place, a position that they held firmly in their grasp for the previous three years. Now they've lost that slot to Wegmans.
The crashing of FAANG brands is what I found shocking.
A Foul Odor in the Air
In fact, there may be the whiff of a foul odor that might help to explain what is going on. The analysis by Axios/Harris noted that there were – as I mentioned above – several Tech companies, like Samsung, Sony, LG showing dramatically positive results. What do these brands have in common? None of them are "Tech Bro" companies based in Northern California's Silicon Valley. Perhaps the foul odor of misuse of user data is emanating from here.
In a separate question from brand rankings, the researchers asked survey respondents a simple question: What issues are "very important" to you personally that you feel that companies need to make a positive difference on?
The #1 priority for consumers – Data Privacy.
I have noted this before, and I'll say it again. For all of us in Tech, including all those executives I have personally spoken with who told me that they are looking to make a "big data" play, as well as those planning to do so that I haven't spoken with – all of us need to take data security and consumer privacy very, very seriously.
A reckoning is coming…and only those brands who have chosen to take the high road on protecting their users' data and privacy will emerge smelling like a rose.
DIG DEEPER
See the entire list of 100 companies in the "2019 Corporate Reputation Rankings" here on the Axios website.
And go even deeper with many more details – and request your own copy of this report – on The Harris Poll website here…