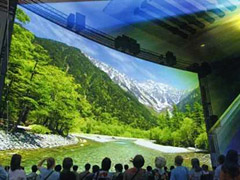 Sharp Corporation has announced in Japan that it intends to be the first company in the world to bring 8K LCD TVs to market – and says it will begin making them in 2015. Sharp made the comments at CEATEC, a major trade show for the IT and CE industries taking place right now in Japan.
Are you ready for 8K?…
While 4K is still in its initial roll-out phase here in the U.S., several companies and institutions – and the Japanese government – are pursing 8K resolution, or what they feel is the next generation of video technology. According to the Nikkei, the Japanese government has just "redrawn a road map for 8K," rapidly stepping up its introduction.
We first told you about 8K back in 2012. At that time, the creators of the technology were referring to it as Ultra HDTV, but then the industry decided to use the Ultra HD designation for the current 4K technology.
Mega- ultra- super- duper- high, higher, highest resolution…
According to its developers, 8K has 16 times the resolution of normal HDTV for what they say are stunningly detailed pictures. With a total of 33.17 mega-pixels of resolution – there is no question that 8K offers a lot more detail than the 2.07 mega-pixels of normal high-definition TV.
Then, in January of this year, we told you about a Japanese public broadcaster's (NHK) announcement of successfully completing a long-range 8K broadcast, that they now refer to as Super Hi-Vision. The government, in association with a number of consumer electronics manufacturers and broadcasters has been engaged in a series of tests broadcasting 8K signals…trying to make sure they get it right.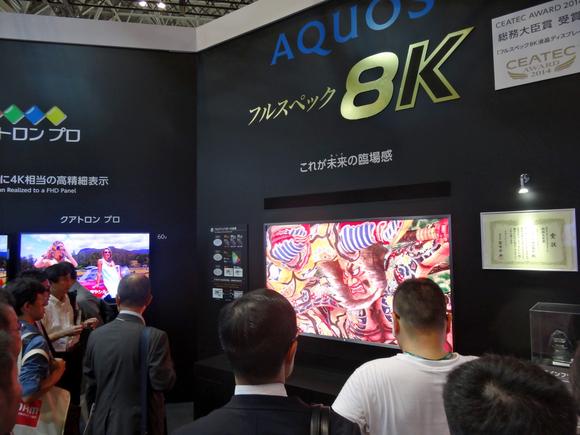 Shaving the schedule a little…by 4 years!…
Now we learn that the government's Ministry of Communication is stepping up their 8K testing schedule. Larger-scale test broadcasting of 8K signals – originally planned for 2020 – has now been moved up to 2016. Only about 15-months from now, this new plan shaves a full 4-years off their original schedule.
And – as you might suspect – Sharp is seeking first-mover advantage in an effort to move back into the forefront of the television industry. Like many of the Japanese television manufacturers, Sharp's fortunes have been flagging over the last few years – generating losses in the last three years in a row.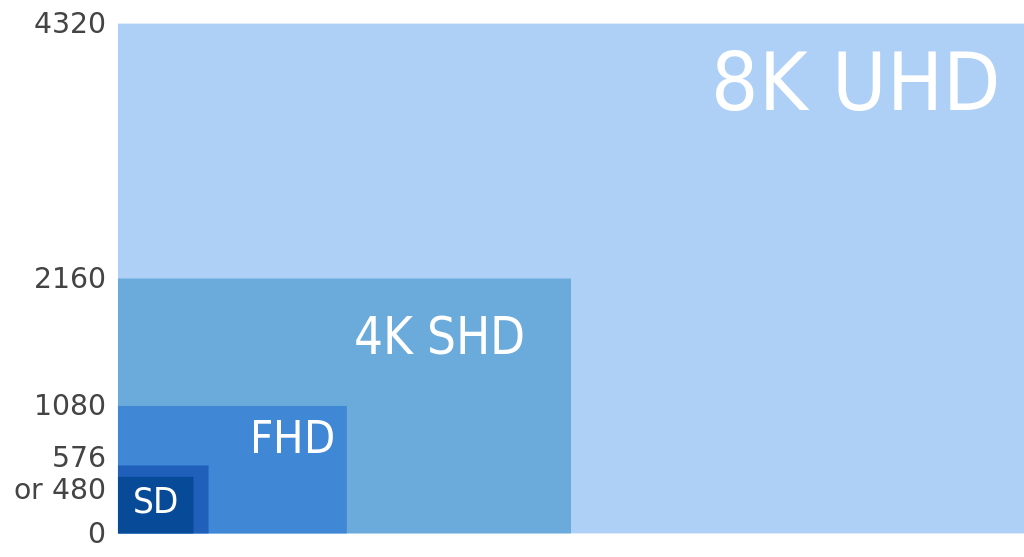 Regaining a leadership role…
Sharp hopes to help usher in the 8K era – and in so doing, re-establish its industry leadership role and regain some of its lost market share. They also hope to be able to generate greater profitability by dominating the latest technology.
At CEATEC, Sharp showed an 85-inch 8K full-spec LCD TV. While Sharp is not the only company working on the technology, they are believed to be leading the pack as far as developing it. In fact, even though the company is expected to be only marginally profitable this year (projecting a profit of ¥30 billion or $278 million) – the company has maintained its R&D investment of ¥140 billion or $1.3 billion.
"We can't cut down on R&D," Sharp President Kozo Takahashi told the Nikkei. "If we do that, it's the end."
Who gets 8K first?…
As far as we can tell, Sharp's first shipments in 2015 will be earmarked for Japanese broadcasters and production companies to help facilitate 8K testing. The company has not released a specific timetable for any consumer launch, either in Japan or here in the U.S.
Sharp executives told the Nikkei that they welcome the government's stepped up testing schedule. They say they are ready to begin supplying displays to the NHK Science & Technology Research Laboratories…where 8K is being tested.
And Sharp's Executive Vice President Shigeaki Mizushima told the Nikkei – of their rivals who are also developing 8K products – "We're the only one that can support the full spec."