This post will present some of the top tech stories from CEDIA Expo 2022. You know, covering a trade show like Expo has always been a particular challenge for me. As someone who is always looking for a good story, going to a trade show with hundreds of exhibits is a bit like trying to take a sip of water from a fire hose. Nonetheless, I was able to discover several stories I found particularly interesting and I hope you'll like them too.
Read on for my select tech stories from CEDIA Expo 2022
Oftentimes trade shows like CEDIA Expo 2022 will have tech "themes" that will run through multiple exhibitor booths at the event and there was some of that at this year's event. For example, there were multiple exhibits on various low-voltage lighting systems and breakthroughs, multiple booths presenting motorized shading systems and innovations, outdoor audio was well represented, and more.
But mostly I found unique gems spread throughout the show floor and am happy to share some of those finds with you here.
So, in no particular order, here is my list of select tech stories from CEDIA Expo 2022.
Crestron Triumphantly Returns to CEDIA Expo Bigger and Better Than Ever
I'm going to start with Crestron Electronics, a major control and automation solutions provider to many, if not most, integrators in the custom integration industry. Crestron shocked the industry (and me!) back in 2016 when it decided to pull out of CEDIA Expo. Strata-gee was the first to report it, and the move sent electrified shockwaves throughout the industry.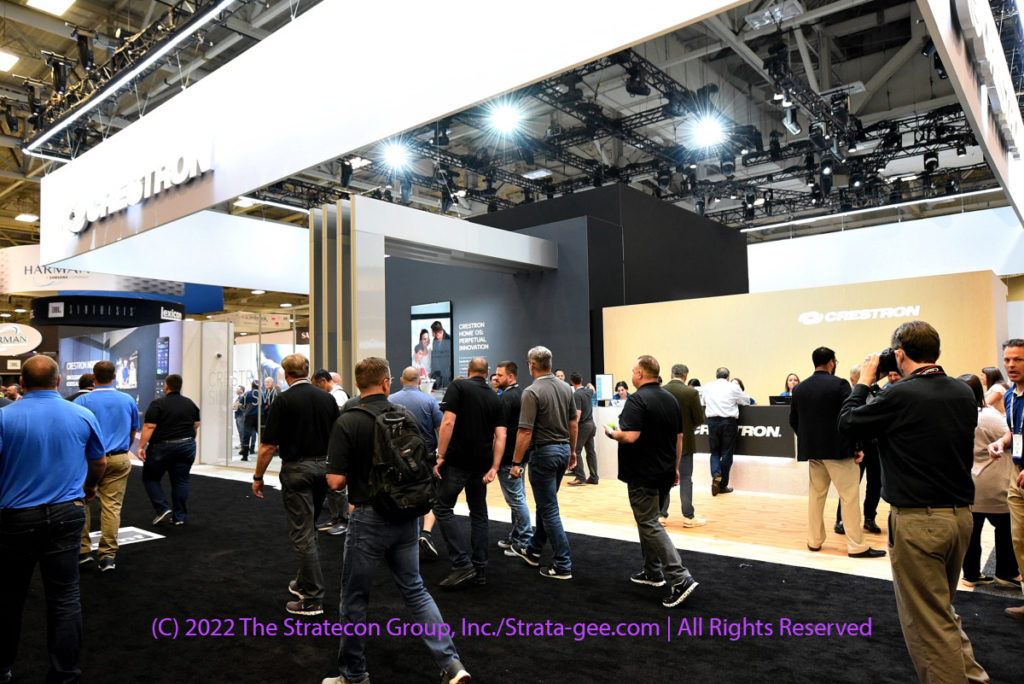 Well, now they are back – bigger and better than ever. In many ways, THIS iteration of Crestron is better positioned to supply the residential integration community than it ever has been before. That is because the company has created Crestron Home, an automation solution designed specifically for the residential smart home channel.
Company execs had tipped me off to the fact that the company had an all-new, enormous booth this year and they weren't kidding. But what they didn't tell me was that it was an incredibly intelligently designed booth with a design that embraced a stunning sea change in how they present their products. A change that I firmly believe the entire industry needs to embrace.
You see, in years past, Crestron, like many in our industry, held a strong product- or device-centric approach to marketing their products. But in a bit of marketing savvy unusual for tech companies, they shifted their approach to an application-centric presentation of solutions. It is brilliant and aligns with the way clients think – and I would argue the way the rest of us should think as well.
It did my heart good to see a large Crestron booth with a super smart presentation of the Crestron Home ecosystem – an ecosystem with leading-edge technology presented to show not what it is, but what it can do for your clients.
Snap One Offers an Array of Innovation
Snap One surprised me with a wide and surprising array of really cool innovative solutions. These items included new Control4 Halo remotes which combine the elegant design of their Neeo remote with enhanced functionality and a beautiful screen for visual feedback¹ – available in both a touchscreen and non-touchscreen version. Control4 also showed an impressive linear lighting solution they call Vibrant. It is a well-appointed full line with a simple interface and tremendous flexibility that never overwhelms. I liked it!
But my favorite innovation sounds like lighting but is actually a killer dual solution that looks to me like it will be incredibly hot. I refer to the company's new Episode Radiance outdoor audio and lighting solution. Radiance is a bollard-configured 70-volt outdoor speaker & LED light combination that gives your clients the two most important enhancements to their outdoor living space – sound and light. With a single two-conductor cable connection (how smart is that?) and a clever modular design that offers simplified full control of placement and usage – clients are going to love Radiance.
The company is also offering multiple flexible mounting solutions that allow, for example, to mount a speaker/light combination on the side of a house or perhaps on the column of a pergola. There is also a solution for converting the unit to hang, pendant-style. And of course, there is the more typical bollard in-ground mount as well. Check it out, the company says Radiance will be available in January 2023³.
Hunter Douglas Aura Illuminated Shades
As I mentioned, one of the themes of the show was the growing number of companies offering motorized shading systems. There were several solutions from multiple brands. But Hunter Douglas offered show attendees a really unique new solution they've developed that at first, almost seemed counter-intuitive – the ability to have lighted shades.
It seemed counter-intuitive because one might think the purpose of shades is to block out the light from the outdoors. While that is true, the company has created something new, a multi-layered design that sort of backlights the shades for a pretty amazing soft, glowing effect in the room. It is kind of zen and soothing.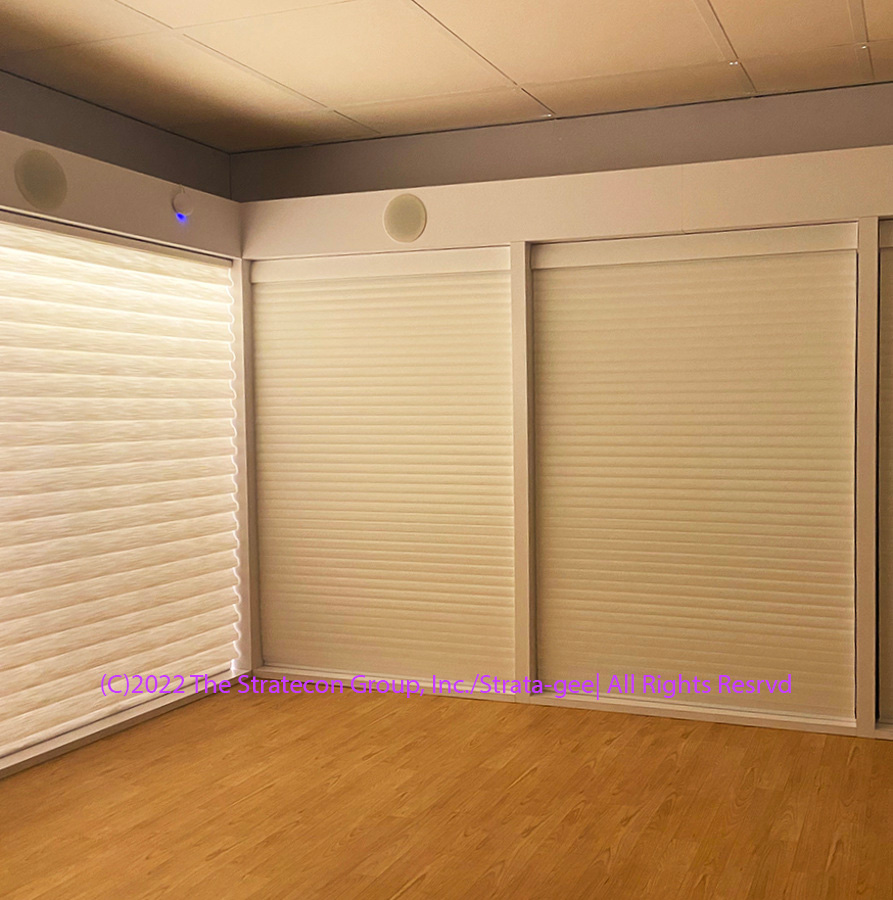 The color of the light is fully adjustable from cool to warm for the effect most pleasing to you. And there is some pretty clever technology that makes this concept work.
I admit, I was a skeptic when they first told me about it, but after basking in the glow for a bit my mind was changed. If you get a chance, check it out.
Sonance – Smart Sales Support
Sonance, an industry-leading supplier of a wide range of superlative speakers, showed a really cool interactive sales support presentation that helps to visually tell the story of their unique approach to system design. The company has been promoting the concept of utilizing system designs employing a greater quantity of smaller speakers throughout a space versus fewer larger speakers for better sound coverage with a more appealing visual installation.
The presentation uses common language easily understood by anyone, including consumers, integrators, and sleep-deprived media types. Using photo-realistic images and animation, it visually depicts the comparison of these two approaches.
It is this kind of careful attention to both sales AND support that helps to delineate winners in the marketplace. No doubt, this is just one example of how Sonance stays at the top of the industry.
Vanco – Pulse Audio Collaboration Video Bar
I don't know how they do it, but Vanco continues to impress me with a never-ending stream of products that offer clever solutions to key problems. This superpower includes the ability to create best-in-class new solutions for emerging market needs.
Such is the case with their new Pulse Audio Collaboration Video Bar (PA-CVB1²). The Collaboration Video Bar is like a soundbar on steroids – using smart technology to provide better performance than other similar products while at the same time being easier for end-users to operate. It is the perfect solution for boardrooms, conference rooms, and perhaps even more importantly home offices.
Vanco CEO Mark Corbin demonstrated the CVB1 for me, showing how its built-in, smart 6-microphone array uses advanced algorithms to sonically track the speaker. He positioned himself on the opposite side of the space from me and began to speak. The camera immediately swung over to where it sensed Corbin's voice was coming from – as it did when I spoke – automatically keeping whoever is speaking on screen. This camera is also so smart, it actually reframes the image for the number of participants (up to 120 degrees).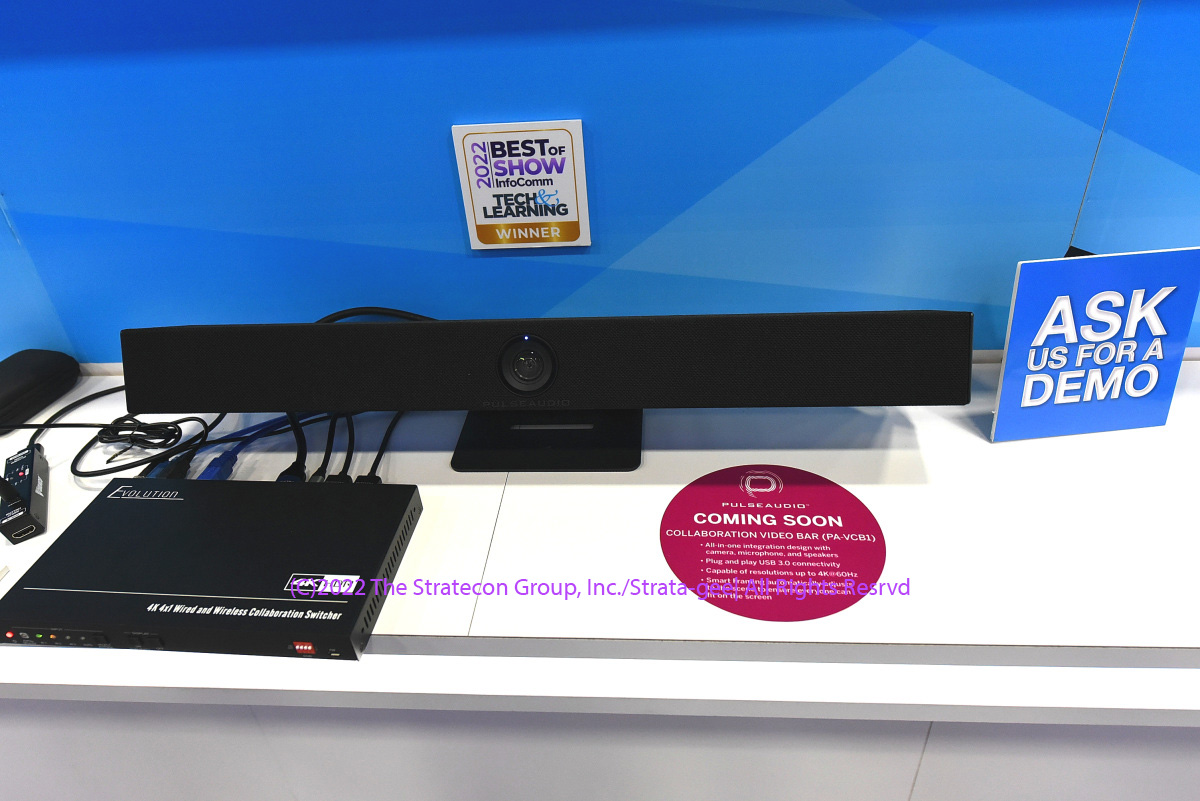 The audio quality was superb, clearly audible, and very articulate…even on a noisy trade show floor. The Pulse Audio Collaboration Video Bar is the perfect solution for your next Zoom or Teams virtual meeting.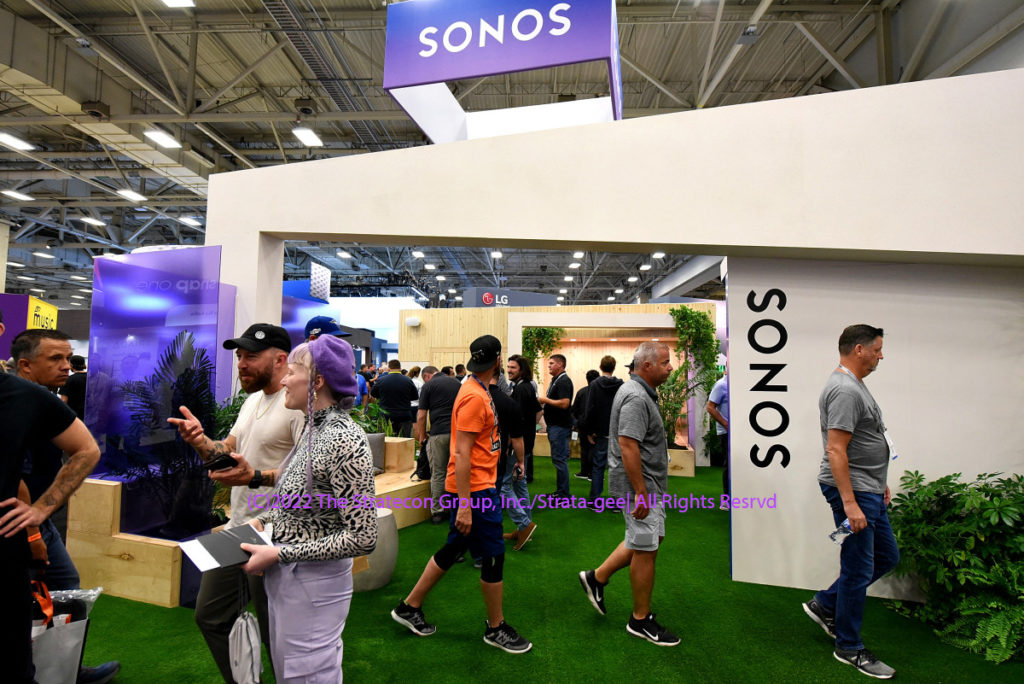 Special Mentions
Savant – A continual innovator, Savant had a series of announcements at CEDIA Expo. I've been impressed with their power initiatives, new system SaaS updates, and even that they are adding Mark Levinson Electronics products to their portal. There's always something innovative happening at Savant.
Netgear – This consumer networking devices powerhouse is making a serious foray into custom integration. With a wide assortment of enterprise-grade wireless and wired connectivity solutions, I'm going to keep an eye on them. I recommend you do so as well.
Sonos – The Sonos booth was packed almost every time I passed it. The company was unafraid to demo – on a very noisy show floor – their latest Sub Mini model. This little powerhouse was cranked up and keeping up the beat. I was skeptical when I heard the CEO tell investment analysts that Sonos is popular with integrators, but I may have to eat some crow here as they stayed busy throughout the Expo.
AudioControl – They did it again, AudioControl launched a new line of AV receivers and preamp/processors. This savvy – and sometimes sassy – company continues to grow its share of this challenging product segment and grows its importance in integrators' assortments.
Draper – One of the country's largest suppliers of motorized shades and projection screens to the commercial channel, Draper now jumps into residential with both feet. They offer an impressive combination of manufacturing capabilities (their delivery times will be hard for competitors to beat), product quality, and powerful line assortment. Watch these guys…
Lenbrook – Lenbrook is a very progressive maker of high-end, high-performance digital audio gear, designed for the 22nd century. Its great-sounding gear fits perfectly into today's digital/streaming world. The company makes the point that the quality of audio does not have to be compromised to gain the convenience of digital. I'm hoping to convince them to lend me a set of those $100,000 speakers they showed at the Expo.
Legrand – Everything they make…makes perfect sense for integrators. I especially like how they take disparate parts of third-party products – like different brands of low-voltage lighting, for example – and make it all work together seamlessly for the end user. Smart stuff for smart homes.
Sound United – The company showed an amazing assortment of Denon & Marantz AVRs, Bowers & Wilkins loudspeakers, and much, much more. That booth warms the heart of this old audio guy!
There's even more than these, but you get the picture. There was just about something for everyone at the CEDIA Expo 2022.
---
CORRECTIONS
#1 – October 7, 2022 – From Manufacturer -The original text "(not a touchscreen, however)" has been corrected to show that two versions of Halo are available, one with and one without a touchscreen
#2 – October 10, 2022 – From Manufacturer – Original post listed the model as the PA-VCB1, it is now corrected to the PA-CVB1.
#3 – October 11, 2022 – From Manufacturer – The Radiance shipping date was originally shown as December, now the company has informed me it has moved to January 2023.