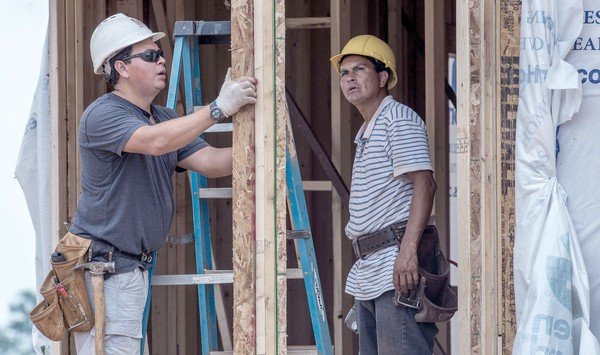 Two new economic reports from June covering the housing industry show promising results, with both residential construction (otherwise known as housing starts), and sales of newly constructed homes taking a nice bounce in June. This was welcome news after dramatic declines hit the housing market in early Spring.
But will it hold?
See more on the changing housing market
Overall housing starts in the month of June jumped 17.3% to a seasonally adjusted annual rate of 1,186,000 over the revised rate in May of 1,011,000. While a nice bounce back from a troubled decline as a result of the coronavirus pandemic hitting the U.S., this rate was still 4% below the 1,235,000 rate a year ago in June 2019.
Like the overall results, single-family housing starts also saw a double-digit increase, coming in at a rate of 831,000, which is 17.2% above the revised May result of 709,000.
Jump Largely Due to States Reopening
These jumps in the single-family and overall housing starts was largely due to increased construction activity as states began to reopen after most of the country was under a stay-at-home lockdown during the Spring. Still the rebound did not indicate a full recovery, and many economists suggest that the recent resurgence of COVID-19, which is causing some states to reinstitute some new business shutdowns, will likely impact the future results.
We look for strong demand, improved homebuilder confidence, and an ongoing shortage of supply to support growth in housing starts over the rest of the year, but downside risks are increasing due to the resurgence in Covid-19 cases.

Nancy Vanden Houten, Lead U.S. Financial Economist at Oxford Economics to NY Times
According to this latest government data, all regions but one showed solid increases, with the Northeast knocking it out of the park with an astonishing increase of 114.3%. The sole declining region was the West which saw its overall starts decline 7.5% in June.
Building permits, a widely followed indicator of future construction activity, grew as well – although at a much more modest pace. According to this new data, permits grew to a seasonally adjusted annual rate of 1,241,000 or just 2.1% over the revise May rate of 1,216,000. This rate was also 2.5% below the rate of 1,273,000 booked in June 2019.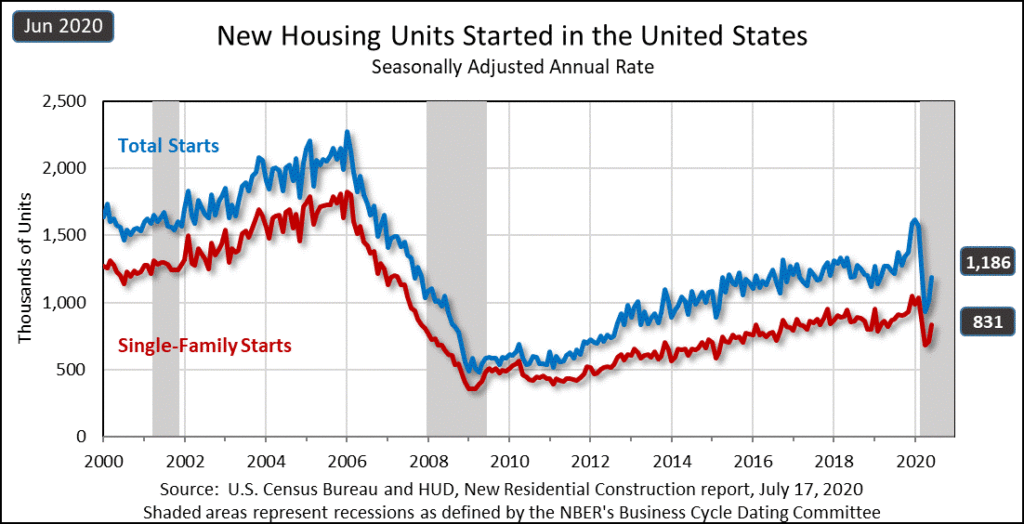 Sales of Newly Constructed Homes Jumped Double-Digits as Well
Just one week later, the U.S. Census Bureau and the Department of Housing and Urban Development released new home sales data that said sales of newly constructed homes jumped to a seasonally adjusted annual rate of 776,000. This is fully 13.8% above the revised May rate of 682,000…and 6.9% higher than the June 2019 rate of 726,000.
There is little doubt that one factor driving sales of new homes – besides COVID-19 cabin fever…or fever for a new cabin – is that mortgage rates continue to be at or near record lows. Clearly, anyone even remotely considering purchasing a home in the near future would not want to miss what could be a once-in-a-lifetime opportunity at these historically low rates.
But again, much as I noted for the bump up in construction, it is likely that with the resurging COVID-19, these sales could drop off as states begin to close again in another attempt to get the pandemic under control.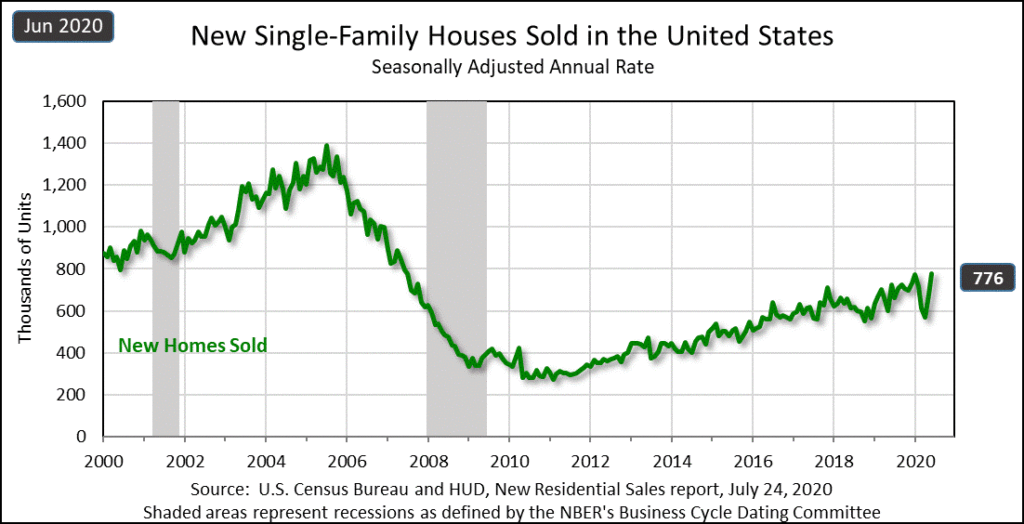 All Regions Saw Sales Increases, But Northeast was Big Winner
All regions showed growth in sales during June with the Northeast again emerging as the big winner with sales jumping 89.7%. The Midwest saw a 10.5% jump, and the South and the West regions saw sales increase 7.2% and 18.0% respectively.
Another interesting data point: after declining for two months in a row, home prices also increased…perhaps as a sign of low inventory increasing competition and driving up prices for available homes. The median price for new homes in June was $329,200 (versus $310,200 in May) and the average home price was $384,700 (versus $362,300 in May).
Finally, and this is no real surprise, but as a result of these jumps in sales the inventory of new homes available for sale dropped rather dramatically from 5.5 months supply in May to 4.7 months in June. During the depths of the pandemic, when most states were shut down with stay-at-home orders, the available inventory had increased from 5.0 months of inventory in January to 6.8 months of inventory in April.
So while this new data on both residential construction and new home sales is encouraging, we have to watch and see what impact the COVID-19 resurgence may have on future month's readings.