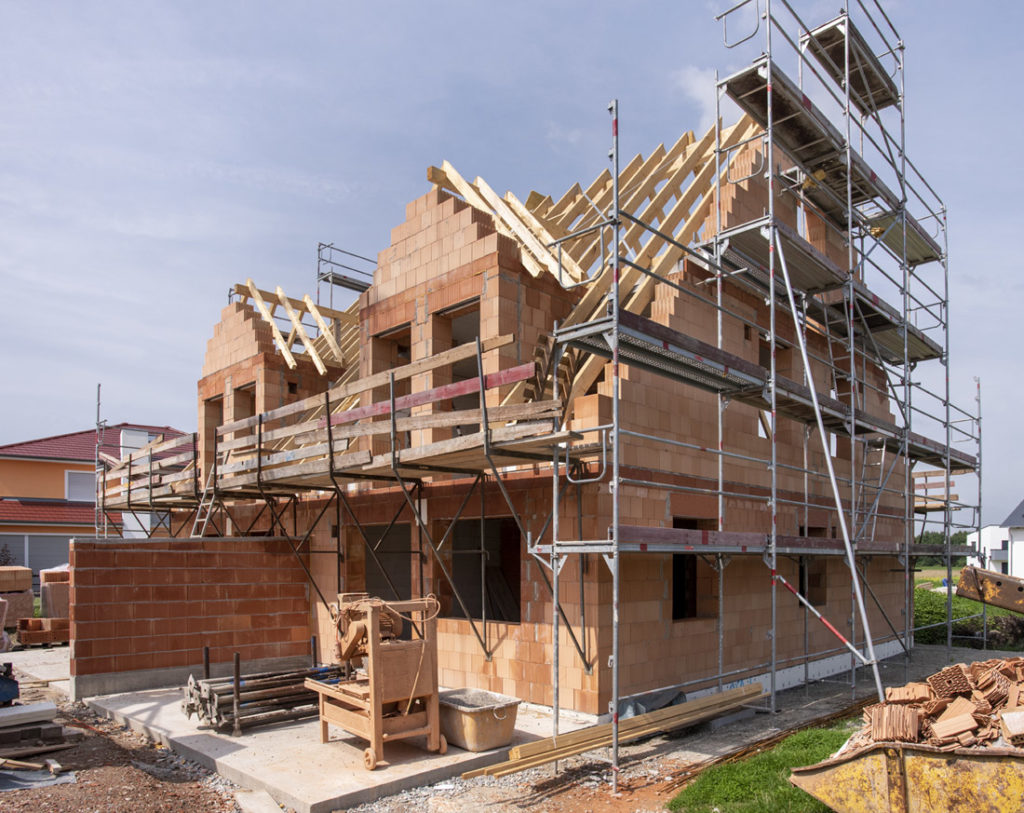 It has been quite the roller coaster ride for housing – first dropping a COVID-driven, eye-popping 30.2% in April to just a 934,000 unit seasonally adjusted annual rate. Then gradually rebounding in May and June…leading to a record 22.6% increase in July.
Now we see a bit of a pause in August, with overall housing starts declining 5.1% to a rate of 1,416,000 units, down from the revised rate of 1,492,000 in July.
Get the latest housing construction & sales data
Although the August overall starts result was down over 5% as compared to July, it was still 2.8% higher than the 1,377,000 rate in August 2019. Still, after three months of strong gains in housing construction, this result was a bit of a surprise.
According to a survey of economists by CNBC, a rate of 1,478,000 units started was expected – so this actual result was well off that rate. The Associated Press called the decline "surprising." Still, there is a lot of mojo supporting housing market growth, with construction starts still 50+% above the rate in April. Most notably, that mojo includes low mortgage rates and high home builder confidence through September.
Single Family Starts Have a Stronger Showing
It is also worthwhile to note that while the overall starts figures are disappointing, the results for single-family homes is more positive. According to the Commerce Department data, single-family housing starts came in at a rate of 1,021,000 – this is 4.1% above the revised July rate of 981,000. And the August single-family result is 12.1% higher than the 911,000 unit rate of August 2019.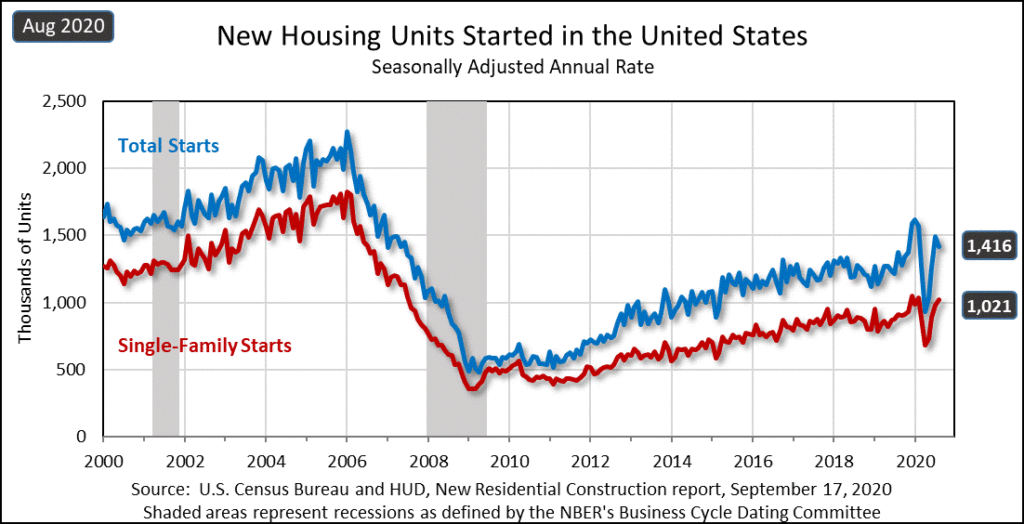 The reason for the divergence between the overall starts number, which includes multi-family homes, and the single-family figure is due to the fact that the lower socio-economic classes are being hit harder by an uneven economic recovery. Unemployment figures are still high, and this hits the folks that typically reside in apartments or other multi-family dwelling.
Regional Results Vary Dramatically
Strong demand and a soaring level of home builder confidence will continue to support housing starts in the second half of 2020, though lingering coronavirus uncertainty and the economy's slower pace of recovery may limit the upside."

Nancy Vanden Houten, Lead U.S. economist at Oxford Economics
The regional results were split as well, with both the Northeast and the South showing double-digit declines in overall starts (-33.1% and -17.7%, respectively), while the Midwest and the West showed double-digit increases (28.4% and 19.5%, respectively). The declines in the Northeast region were particularly heavy both for overall starts (-33.1%) and single-family starts (-21.9%).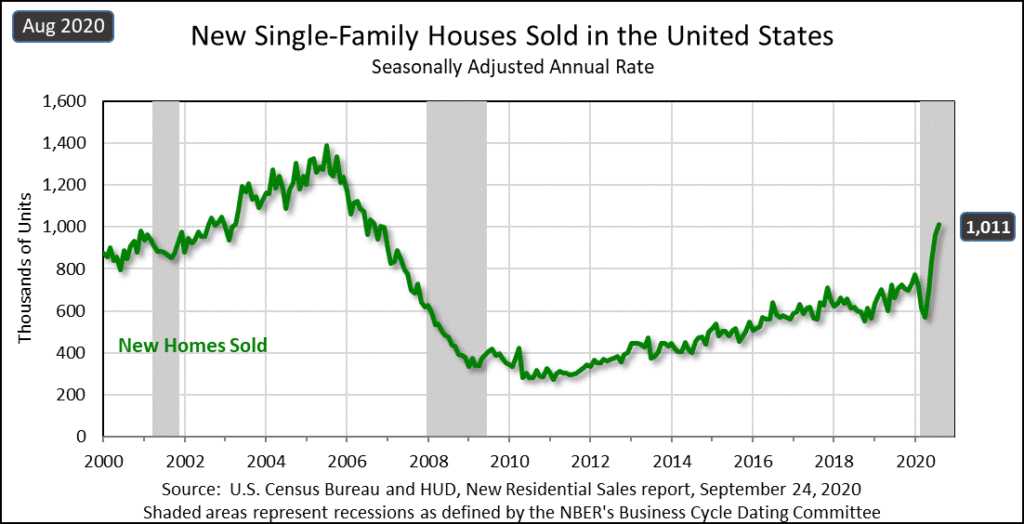 Data Suggests Continued Sluggishness in Construction Near-Term; However, New Home Sales Show Strength
Looking down the road, building permits suggest the slowdown in housing construction may continue to remain modest near-term. Building permits are a leading indicator for future construction, so economists keep a close eye on this figure as well. According to the Commerce Department, building permits issued in August came in at a seasonally adjusted annual rate of 1,470,000 or 0.9% below the revised rate reported in July of 1,483,000. It is also 0.1% below the rate of 1,471,000 booked in August 2019.
However, in a separate report, the Commerce Department reported that the sales of newly constructed homes increased to a robust 1,011,000 units on a seasonally adjusted annual rate. This rate is 4.8% above the revised July rate of 965,000 units and is 43.2% above the rate of 706,000 units booked in August 2019.
This is the fourth straight month in a row that new home sales increased.