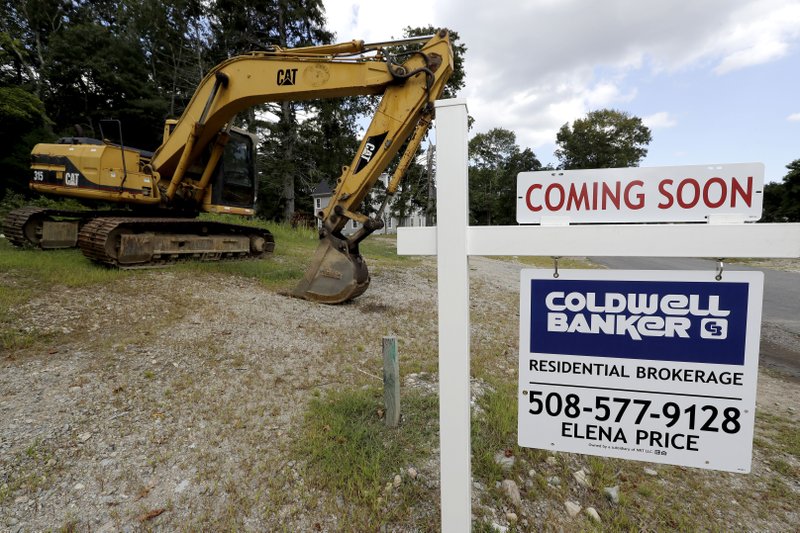 By almost any measure, the housing market is in a major rebound, with the U.S. Commerce Department reporting on Tuesday that residential construction starts jumped an impressive 22.6% in July. This is the largest jump in housing starts in almost four years, according to a report by Reuters.
Learn more on the rebound of housing starts…
In this age of COVID-19, not every business is seeing a rebound – think restaurants, travel, night clubs, etc. But residential construction, a major component of the economy's GDP, is seeing a strong rebound…well up from the depths of our Spring coronavirus lockdowns.
As we learned on Tuesday, that rebound seems to be only getting stronger as housing starts soared upward to a seasonally adjusted annual rate of 1.496 million units in July. This is 22.6% higher than the revised June rate of 1.220 million and 23.4% over the rate of 1.212 million in July 2019.
Largest One Month Gain Since 2016
This is the biggest one month gain in housing starts since October 2016. The government even revised its reading for June, which was initially estimated at a rate of 1.186 million units but was reset to a 1.22 million unit rate. This might indicate further growth momentum in housing construction for the near-term future.
Construction starts of single-family homes, generally a better indicator for the custom integration industry, saw results that were good, if not quite as impressive as the overall figure. July single-family starts came in at 940,000 units, or 8.2% above the revised rate of 869,000 units in June. This was also 7.43% higher than the 875,000 rate in July 2019. Considering the continuing pandemic, an economic recession, and a presidential election year, this 8.2% figure is still a solid gain.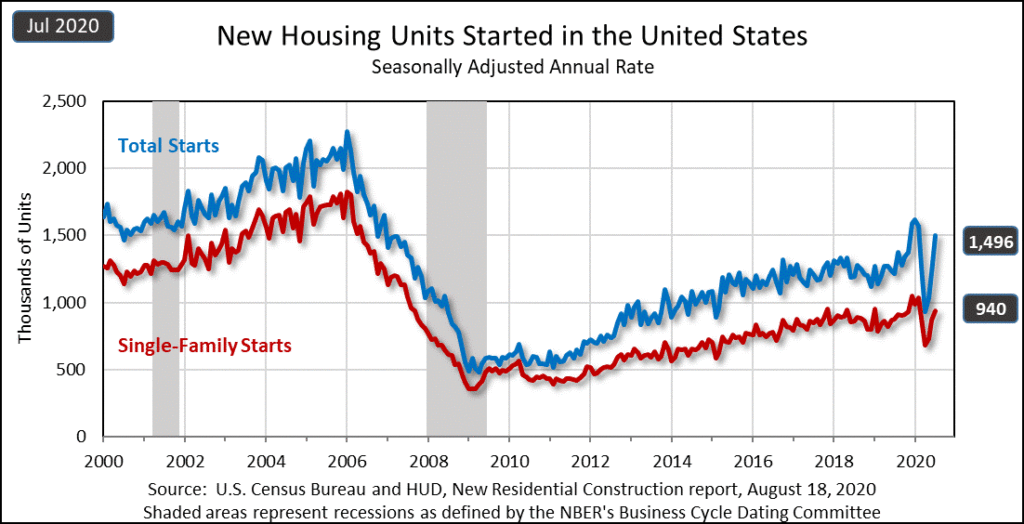 Economists polled by Reuters had estimated that starts would show an increase to 1.24 million units in July. So the forecast of 1.496 million units surpasses the economists' estimate handily.
Big Regional and Category Differences
Looking at how this increase in starts played out on a regional basis, we see an interesting dichotomy. You can see this clearly in the table shown below:
| | | |
| --- | --- | --- |
| | Overall Starts (incls. Multi-Family) | Single-Family Starts |
| Northeast | 35.3% | -2.6% |
| Midwest | 5.8% | -0.8% |
| South | 33.2% | 13.3% |
| West | 5.8% | 6.2% |
Housing starts data broken down by region for both overall and single-family results in July. The Northeast had the biggest gain in overall starts (+35%), while the South had the biggest gains in single-family starts.
It's interesting to note that the Northeast was the overall big winner with a 35.3% jump in July in overall starts. But its single-family starts actually declined -2.6% in the same month. Single-family starts also declined in the Midwest, although overall starts jumped 5.8%. The South was the big winner in single-family starts with 13.3% growth in the category.
Some of this is due to a big jump in multi-family construction projects, which drove the higher overall numbers for the every region. This category – multi-family projects of 5 or more units – saw a jump of an impressive 56.7% in July for the U.S.
Factors Driving the Dramatic Growth
So what's driving these dizzying gains in home construction? Most analysts point to several factors. First, Spring and Summer are the normal high season for new home shopping. Some analysts feel there is pent up demand from the COVID-19 quarantine period in the Spring where there was little to no shopping for a couple of months.
Other factors point to historically low mortgage rates, with some shoppers coming to the realization that these rates could disappear quickly as the economy continues to recover. But also, some real estate analysts see an anti-metro trend – people fleeing urban and metro areas for the suburbs. Why? Because if remote working is here to stay, the thinking is that people want nicer, larger space for their dollars. If you're going to work and play and rest all in at the same address, you need more space than can typically be afforded in a metro setting.
However, metro areas are showing growth as well. Vacancy rates are increasing in most Metro markets, driving down the cost and making these spaces more affordable than is typically the case.
Good News for the Tech Industry, Especially CI
Whatever the reasons, this is good news for our industry – custom integration projects abound as people build, buy, and remodel their spaces. And all indicators are, at least for the near term, this trend will continue.
You only have to look at the data on permits issued to see a bright future. Permits issued are a leading indicator of future construction projects. In July, permits jumped 18.8% to a 1.495 million unit rate – well over the revised June rate of 1.258 million units. This rate is also 9.4% higher than the 1.368 million unit rate in July 2019.
The Construction Future Looks Bright
Permits for single-family construction jumped as well, coming in at a rate of 983,000 units or 17.0% higher than the 840,000 revised rate in June. I also noted that the rate of growth was solid, relatively even, and positive in every region of the country for both overall and single-family permits issued.
However, as good as this all sounds, the National Association of Home Builders issued a cautionary note. According to the construction trade association, materials pricing increases are jeopardizing further growth. Just since mid-April, lumber, for example, has seen its price jump more than 110%. This adds an additional $14,000 to the cost of the average new home.
NAHB Warns of Risk Factors That Could Kill the Recovery
"Without increased domestic production and reductions in Canadian tariffs on softwood lumber, these higher input prices will slow the market," the Association said in a recent analysis.
The NAHB is also calling attention to the "macro risk factor' of the health of the labor force. If a recent surge in coronavirus continues, forcing states to issue new stay-at-home orders, then this recovery could fizzle.
The day before the Commerce Department released this data, the National Association of Home Builders released the results of their ongoing monthly Builder Confidence survey. The results? The New York Times reported that "…confidence among housing construction firms surged this month to match a record high."
"Strong demand and a record level of homebuilder confidence will support housing starts in the second half of 2020, but the still-widespread coronavirus and an economy struggling to recover without fiscal support may limit the upside," Oxford Economics economists wrote in a note after the housing starts release.