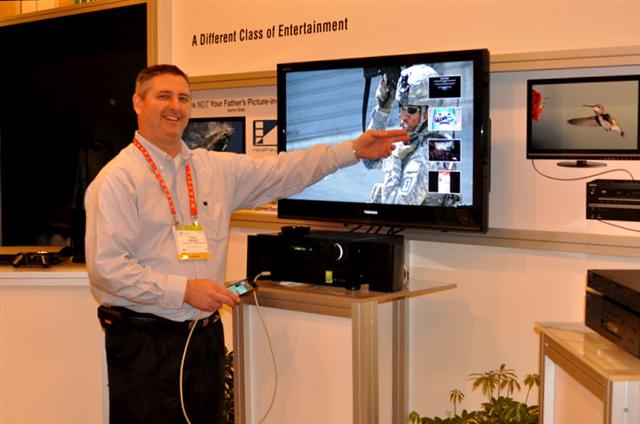 <January 25, 2012> Onkyo Corporation had a very busy CES, not just because of the recent news of their strategic partnership with Gibson Guitar (and subsequent to CES, a partnership with Teac), but because the company was showing and demonstrating new technologies recently announced that will enhance their soon-to-be-released receiver line up. Paul Wasek, Onkyo National Marketing and Product Planning Manager, took the ALERT around the Onkyo booth to show and demonstrate these technologies.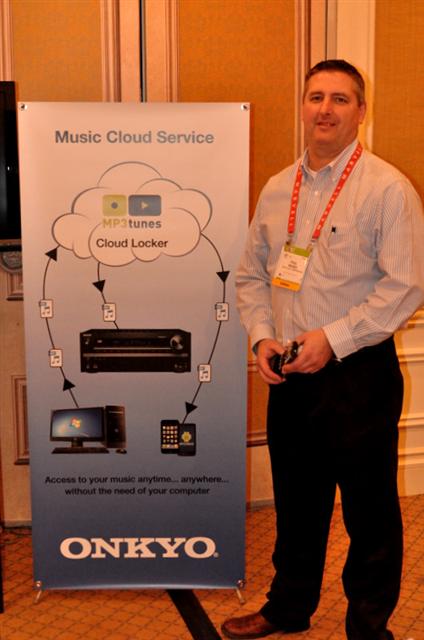 First up was their recently announced inclusion of MP3tunes.com "cloud locker" service in an upcoming line of network-capable A/V receivers. According to Onkyo, theirs will be the first A/V receivers on the market to offer access to this online music storage service.
With this feature, MP3tunes Locker users will be able to access their music – stored in the cloud on MP3tunes.com servers – to enjoy playback through their Onkyo A/V receivers…as well as their other devices such as a computer or smartphone. Onkyo receivers that will offer this access are expected to be available sometime during the first quarter of 2012.
Also being demonstrated in the Onkyo booth was the recently announced Silicon Image InstaPrevue and MHL technologies…also to be included in the soon to be release receiver line. InstaPrevue offers a live on-screen picture-in-picture image showing content available on each HDMI input. The user simply points and clicks at the content he or she wants to switch to. [See image at top of page.]
With SI's MHL (Mobile High Definition) technology, Onkyo customers can easily incorporate content on their mobile device to be viewed through MHL-enabled A/V receivers like the new Onkyo line coming this Spring.
Onkyo continues to aggressively incorporate leading edge digital technologies on their systems, both hardware-based, and cloud/Internet based.
"Onkyo was the first to offer Spotify, Pandora, and Slacker," Wasek told us.
For more information, visit www.onkyousa.com.