<February 15, 2012> The NPD Group, a Port Washington, New York-based market research company said on Monday that total consumer electronics sales including both hardware and consumables, fell .5% to come in at a total of almost $144 billion. NPD's data represents retail sales that the organization collects from retailers and totals.
The top five product categories, representing fully 60% of the total industry sales are 1) Personal computers (PCs) both desktop and laptop; 2) TVs; 3) Tablets/eReaders; 4) Mobile Phones; and 5) Video Game Hardware.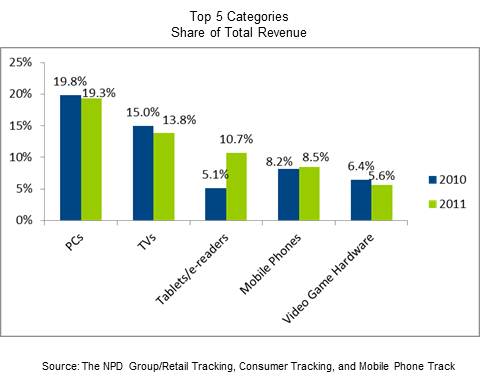 Of the $144 billion total, personal computers came in at $28 billion representing 19.3% share. This was actually down from 19.8% last year for the category. In fact three of the top five product categories actually had share declines.
The biggest winner in terms of sales increase was the tablet/eReader category which NPD says almost doubled to $15 billion in sales and a share jump from 5.1% in 2010 to 10.7% in 2011.
The top five consumer electronics brands and their sales growth in 2011 were:
| | |
| --- | --- |
|  BRAND | SALES GROWTH/DECLINE |
| Apple | 36% |
| Hewlett-Packard | -3% |
| Samsung | -6% |
| Sony | -21% |
| Dell | -17% |
"U.S. hardware sales growth is becoming harder and harder to achieve at the broad industry level," Stephen Baker, vice president of industry analysis at NPD said in a prepared statement. "Sales outside of the top five categories fell by 8 percent in 2011 as consumers shifted spending from older technologies to a narrow range of products."
Shifts in industry sales trends were also visible in NPD's list of top five retailers: 1) Best Buy; 2) Wal-Mart; 3) Apple; 4) Staples tied with 4) Amazon.com.
Sales of consumer electronics through online, direct mail, and TV shopping channels increased 7 percent in 2011 and accounted for 24% of sales. This result was an increase of 2% over 2010…and NPD noted that the share of these "non-retail" channels increased further to 25% of the total in the fourth quarter of 2011.
"While in-store sales fell about 2.5% in 2011, the growth in online volume for retailers meant that retail name plates still accounted for well over four of every five dollars spent on CE hardware in the US," said Baker. "Despite their sales strength, retail stores still face serious challenges in 2012 as volumes in the traditional CE categories, which once carried these stores, continue to slide. It shouldn't be forgotten, however, that a large majority of mobile phones and tablets/eReaders (the two fastest growing CE categories) have mostly been driven through in-store experiences."
For more information, see: www.npd.com.