*See update note below…*



On Wednesday, Lenbrook America, the exclusive distributor of NAD in the U.S., held a press presentation in a suite at the upscale Andaz 5th Avenue Hotel in Manhattan. It was a cool but gray and curiously humid day…still able to create enhanced perspiration for those rushing to the event from assorted train/subway/bus stops. But those members of the press who chose to attend were well rewarded for their efforts, as NAD launched a significant update to their Masters Series line – an update designed to further target a new customer that the company calls "Audiophile 2.0."
See more on this update, including more specifics on what NAD calls a new emerging market…
Upon our arrival at the Andaz, company officials led those journalists that had collected in the main lobby to NAD's 12th floor suite, a suite with floor-to-ceiling windows featuring stunning views of mid-town Manhattan and directly across the street from the stately and architecturally beautiful New York City Public Library. As is typically their style, NAD's John Banks and Greg Stidsen spoke to the reporters in a largely off-the-cuff, relaxed, interactive, and almost-conversational manner.
John Banks, Chief Brand Officer for Lenbrook brands, led off the presentation that included a series of PowerPoint slides, with a discussion of the current state of affairs of the industry's "high-end" audio community. Pointing to a slide showing photos of a variety of high-end equipment from brands such as Conrad Johnson, Mark Levinson and others, Banks said flat-out about all of the high-end audio brands: "They all sound really, really good."
High-end trends…
But if all of the high-end brands sound good – what factors drive their success? The high-end, Banks posited, has become about being exclusive…about exotic materials…about prestige…and about aesthetics – "The whole mystique that surrounds any premium, or luxury product," Banks suggested.
These are not, he emphasized, core principles of NAD. "We're a pretty practical company," Banks told reporters. "We believe in building stuff that's sensible, logical – the sensible shoes of the audio industry…if you will."
A new Masters…
With that set-up, Banks introduced the new Masters Series…"In many ways it is indeed an evolution of the Masters Series…and in many ways it's really, we feel, an entirely new product – almost an entirely new category of product."
NAD announced a total of four new models in their Masters Series:
M12 Direct Digital Preamplifier DAC, $3,499 MSRP
M22 Hybrid Digital Power Amplifier, $2,999 MSRP
M17 Surround Sound AV Preamp Processor, $5,499 MSRP
M27 7-Channel Power Amplifier, $3,999 MSRP
We'll go into more detail on these models below. But first, let's learn who NAD is targeting these products for.
A new customer profile…
This new Masters Series, Banks told us, is targeted towards what they believe is a new type of emerging customer profile. This new customer is differentiated from the typical audiophile, they believe – he's younger, smarter, focused, more connected…above all, a "digital native."
This customer, Banks emphasized, skews younger…and that's a significant component of why they believe he/she will be attracted to their new Masters Series components.
Making the case for more than a year now…
NAD, and its Bluesound division, have identified this market evolution before. We first wrote about it last year in May in our post NAD – Pulling High Performance Digital Away from the MP3 Muck where Greg Stidsen, Director of Technology and Product Planning, spoke of how "everything has changed in our industry" and "we're going to create products that address that younger demographic that basically we're mostly missing."
Then later in the year, at the launch of the new Bluesound brand, the company raised the issue again in our post, Lenbrook Hopes This Line Will Make You Blue. In that post, Lenbrook made it clear that easy-to-use, convenient wireless digital sound systems do not have to be low-fi…they can also be audiophile grade in terms of performance.
Above and beyond…
But in this presentation on Wednesday this week, the company went well above and beyond previous presentations to really try to define this new, emerging market. This is a difficult task however, given that NAD's marketers only have intuitive and anecdotal evidence to support its existence. They do not have any real quantitative data to back up their assertions…or at least not that they presented to the press.
Still, we give NAD high marks for effort. There is, in our estimation, a dearth of real innovation in our increasingly me-too industry. Lenbrook/NAD/Bluesound are really sticking their necks out to define and drive this new kind of AV specialty channel.
So just exactly who is the Audiophile 2.0?…
"This Audiophile 2.0 does not necessarily resonate with traditional high-end equipment," Banks said. "They may say, 'That kind of looks like my Dad's hi-fi system' and – not that they have anything against it. But it just doesn't do it for them…they're slightly more practical, slightly more use oriented. Things need to work in a certain way and flash is not part of the equation for them. They've grown up in a digital era…"
NAD says this Audiophile 2.0 is typically in their late 30s/early 40s and are "music lovers first and foremost."
Also important, given the design of these new NAD models, these digital natives or Audiophile 2.0's, "Seek only what the future holds, they're not interested in any technology that is not future-forward or the latest…or very cool…or does what they want it to do," Banks said.
The new Masters…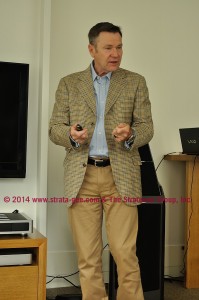 So NAD set out to create a new type of component for this Audiophile 2.0 with the new Masters Series. These are, Banks insists, true high-end models…they can compete with the best. But this new Masters Series design and concept is more in tune with this new type of consumer. At the same time, NAD believes that even traditional audiophiles will be attracted to it as well.
The new Masters Series components are completely modern in their functionality, Banks told the journalists. For example, if a consumer wants to access the system via his smartphone, he can do so – streaming via Bluetooth AptX. Maybe this is not the highest of high-end resolution, but it is easy and convenient and – depending on the situation – may be the perfect solution for the consumer at that moment.
Super flexible, interfaces with today's content systems…
No matter what the content is, or where it's stored, "It's just all here…all done," Banks said. Whether streaming cloud services, Hi-rez audio, accessing music stored on the consumer's computer…the new Master Series can accommodate it all. Including, by the way, full multi-room functionality.
The new Masters Series can also interface with Lenbrook's Bluesound brand…allowing consumers to create room by room systems optimized for each environment, but fully operable from one interface as both are controllable with an app based on the BlueOS operating system.
Future-proofed via NAD's Modular Design Construction…
Masters Series customers are completely future-proofed courtesy of NAD's Modular Design Construction (MDC) which uses plug-in boards to add certain features and technologies that can be updated at a later time. If, down the road, these technologies change or features are upgraded – it's a simple matter of unplugging one board and plugging in the new one.
Based on the profile identified by NAD, this could be a really significant capability that protects the customer's investment. Not only will MDC help in smoothing the way for their initial investment into this series, it will also serve to keep them in the NAD family for many years to come.
Good for Audiophiles 1.0 as well…
After seeking to convince us that there is a new kind of audiophile customer for the Masters Series, Banks confused the group slightly when he suggested that NAD's in-house testing also showed that current audiophiles will want this new line of products as well.
This traditional audiophile "who is a little bit older, and who is in the high-end space, but when we show them the functionality [of the new Masters Series products] they go, 'You know I want all that functionality. I don't want to have to get up to go to my CD collection."
On this, we're skeptical…
On this point, we are a little skeptical. In our experience, the typical high-end audiophile loves the mystique…and the storied history…and the specific design sensibilities and conventions of their favorite high-end line. While we are open-minded to the concept of a new kind of audiophile, it is hard to see where the dramatically new and different design concept of this Masters Series – devoid of the many esoteric trappings of traditional high-end lines – is going to appeal to the traditional high-end aficionado as well.
Certainly – if this assertion were to be true, effectively doubling their intended market – it would be a boon for NAD. But that part of the Masters Series picture is a little fuzzy to us.
Summing up his presentation on the target market for this new Masters Series, Banks used an automotive analogy, saying the new Masters Series is not a Lamborghini but a Tesla. Both high-performance, but both very different.
"We are hoping that this product will be a bridge to a new cult of visionary audio enthusiasts…our Audiophile 2.0s," Banks concluded.
Product presentation begins with M12…
At this point in the presentation, Banks turned over the presentation to Stidsen who told the group that NAD is launching four new components representing a 2-channel system and a 7-channel system (with A/V switching). First up for deeper discussion was the M12 DirectDigital Preamp/DAC.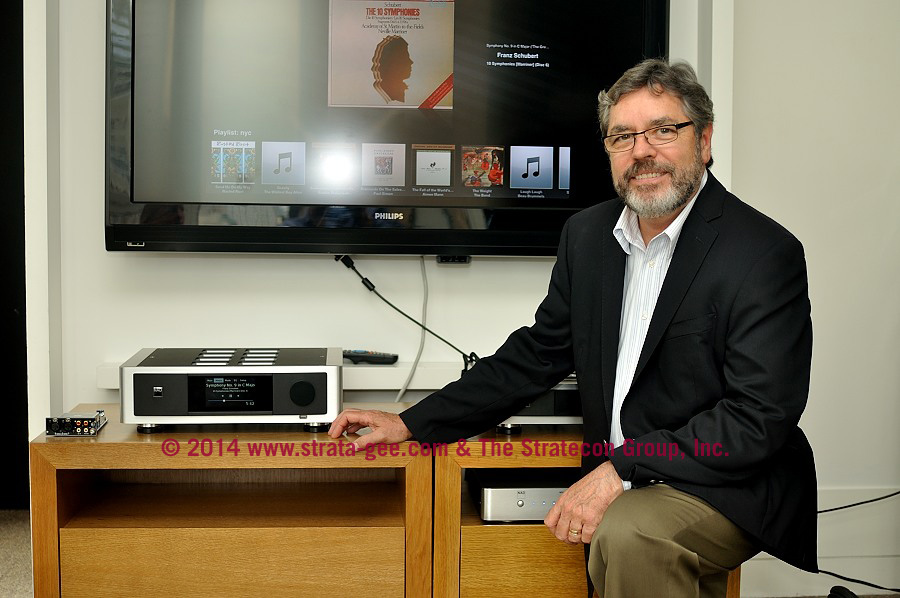 Thanks to the flexibility built into the M12, Stidsen said that consumers will find uncompromised connectivity: "If you want to stream high-resolution audio, we can do that…If you want to connect to Wi-Fi and Ethernet and the Internet, we can do that…If you want to plug in your computer and stream in high-resolution via USB, we can do that," Stidsen said enthusiastically.
Also, the M12 offers:
Traditional S/PDIF inputs for CD transports and players, flat panel TVs
Balanced analog inputs for high-end CD player or tuner
HDMI (optional) for I²S music streamed directly from a Blu-ray player
MM/MC phono preamplifier for those still into vinyl (or newly into vinyl)
AptX Bluetooth streaming
Balanced outputs
Subwoofer output
All processing done in the digital domain
Interfaces with popular control platforms such as Savant or Crestron
NAD's DirectDigital technology which uses a PCM to PWM conversion, 35-bit data path, 108MHz master clock. Stidsen called it state-of-the-art in digital technology.
Utilizes NAD Modular Design Construction – All inputs are on modules. When you add in a module, it just pops up on the display automatically.
The M22 Hybrid Digital Power Amplifier…
Next up was the new M22 hybrid power amplifier – that Stidsen says is "the switching amplifier perfected." The 2 x 250 watts amplifier is a Class D switching amplifier, as is becoming increasingly popular these days. But Stidsen says the M22 is unique thanks to the inclusion of nCore technology that NAD has licensed from the Dutch company Hypex.
Although Stidsen didn't go into detail, he did say that Hypex's nCore technology is the next generation in switching design that is higher performance than existing topologies. The M22 offers, true to NAD's philosophy, very high dynamic power performance, very low distortion (regardless of load impedance), very neutral sound quality, a very high damping factor, incredible signal-to-noise ratio, and more.
The M22 will sell for $2,999 MSRP.
M17 Surround Sound AV Preamplifier…
Wanting to assure videophiles they haven't been forgotten, Stidsen noted that the M17 offers "bit perfect video processing." What is that, you ask? Bit perfect means that the M17 does not do any scaling or processing or changing of the video format – whatever comes in is what goes out.
"Our philosophy is 'Do no harm,'" Stidsen said. "If you want to do video processing, there's outboard ways of doing it and companies that specialize in doing that."
The M17 will also take advantage of MDC. Stidsen specifically mentioned a forthcoming BlueOS module – basically a Bluesound processor that can be put in the box. Thanks to this module, the M17 (and other MDC models) can be included in a more flexible wireless system configuration.
The M17 will sell for $5,499 MSRP. And here's good news for M17 buyers – NAD will give purchasers a free upgrade when a new 4K video board the company is working on is completed.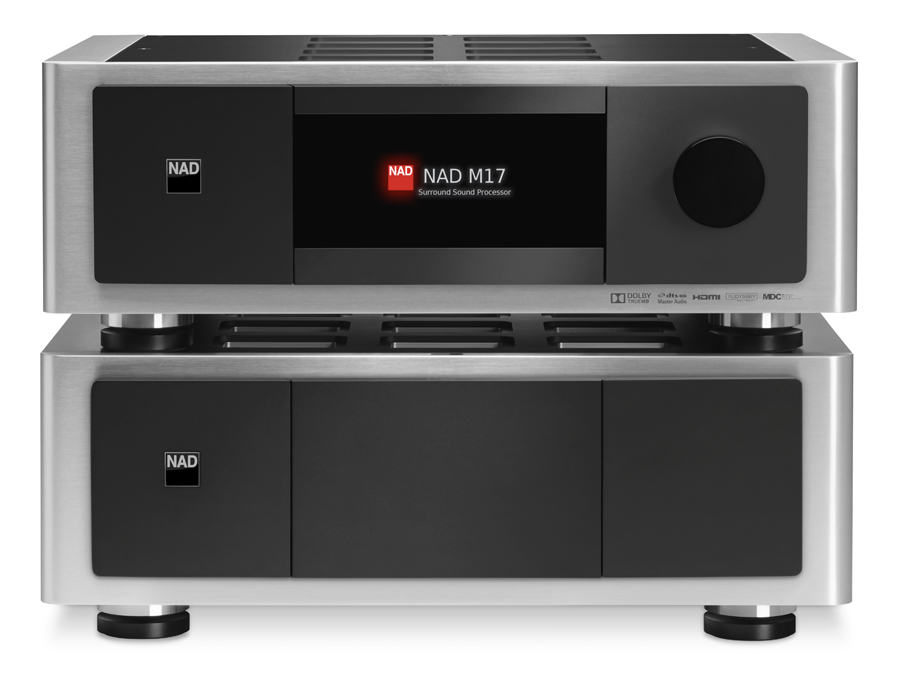 M27 7-Channel Power Amplifier…
The M27 is basically a 7-channel version of the M22 power amplifier – although because of the increased channel count it has a larger power supply and larger chassis. The M27 replaces the previous M25 which Stidsen calls "a monster, literally" because of its large physical size and weight (95-pounds).
More compact than the M25, this newer amp matches the rest of the series perfectly. And here we see that NAD really put some thought into the design – all models in the new Masters Series are the exact same depth, so they stack together nicely.
The M27 will sell for $3,999 MSRP.
Both amplifiers have balanced inputs, so for those who prefer this configuration – the new Masters Series can accommodate you.
All of the new Masters Series models will be available September 1, 2014. There is also a BlueOS app available for both iOS and Android at no charge.
For more information on NAD, see: www.nadelectronics.com.



**6/13/14, 6:01PM – *UPDATE NOTE*
After this story was originally published, we received a request from Lenbrook to delete some of the slides we had reproduced from their presentation. As these slides were not important to the thrust of our story, we agreed to remove certain, but not all, of these slides.