Intros 'Carbon Collection' of Home Décor Items
Monoprice, the company most successful at pursuing a low-price, cut-rate strategy in regards to cables, adapters, and accessories, and the bane of many upscale cable companies in the consumer electronics space, has continued to grow and expand, now adding housewares and home goods to their growing assortment.
See more on what Monoprice has been up to recently…
Many times over the years I've heard executives associated with various cable companies utter many expletives when discussing Monoprice, a determined and successful seller of inexpensive cables. Popular with the IT (information technology) crowd who generally believe a cable is a cable…if it passes a signal, it's good – Monoprice also gained a solid foothold with consumers.
Some of those consumers became advocates for Monoprice, when the industry suggested their cables were inferior…yet seemed to work fine for the consumer. The company likes to say it has a "cult" following.
Monoprice as Online Department Store
Now Monoprice has expanded into a full service retailer of a wide range of goods. Their online store contains not only an impressive array of  technology products, but now the company has branched into a wide assortment of home goods and housewares…even furniture.

In a recent visit to the Monoprice online store, we first saw the requisite assortment of technology. While this was not to be unexpected, the breadth of their assortment was surprising. Notably, Monoprice has added upscale categories such as home theater A/V receivers…AND…they have added brand name products in many of these new categories. Computers, flat-panel TVs, AV receivers with brand names like Lenovo, Dell, Sharp, Samsung, Denon, Onkyo, Pioneer, Yamaha, and many more.
Is the Monoprice Pricing Still Hot? Or Not?
At first, the pricing on these products did not seem particularly compelling. For example, we saw a Dell computer with Intel i3 processor, 4GB memory, and a 500GB hard drive listed for $570…not surprisingly good for a computer of this configuration. Until, that is, when you realize that this is in Dell's professional OptiPlex line of industrial grade computers – only then do you realize that this is a pretty good deal.
Monoprice's assortment is breathtakingly wide – for example, in the Audio/Video Home Theater area, there are no fewer than ten separate product categories: Monolith Series, Televisions, Amplifiers & Receivers, Audio & Video Components, Speakers, Portable Audio, Audio & Video Accessories, Projectors & Screens, Commercial AV, and finally, Commercial Displays & Solutions. Each of these categories have subcategories, for what has to be thousands of products for sale.
No Fewer Than 11 Major Categories, Dozens of Sub-Categories
Keep in mind that there are no fewer than eleven major or top line Product Segments addressed on this website. Beyond their first base of cables, adapters, switchers and splitters, the company has grown to include Networking, Smart Home, Security, Mounts & Stands, 3D Printing & Hobbies, Computers & Hardware, Gaming, Electronics, Pro Audio & Musical Instruments, the aforementioned Audio Video & Home Theater…and now, Home and Outdoor.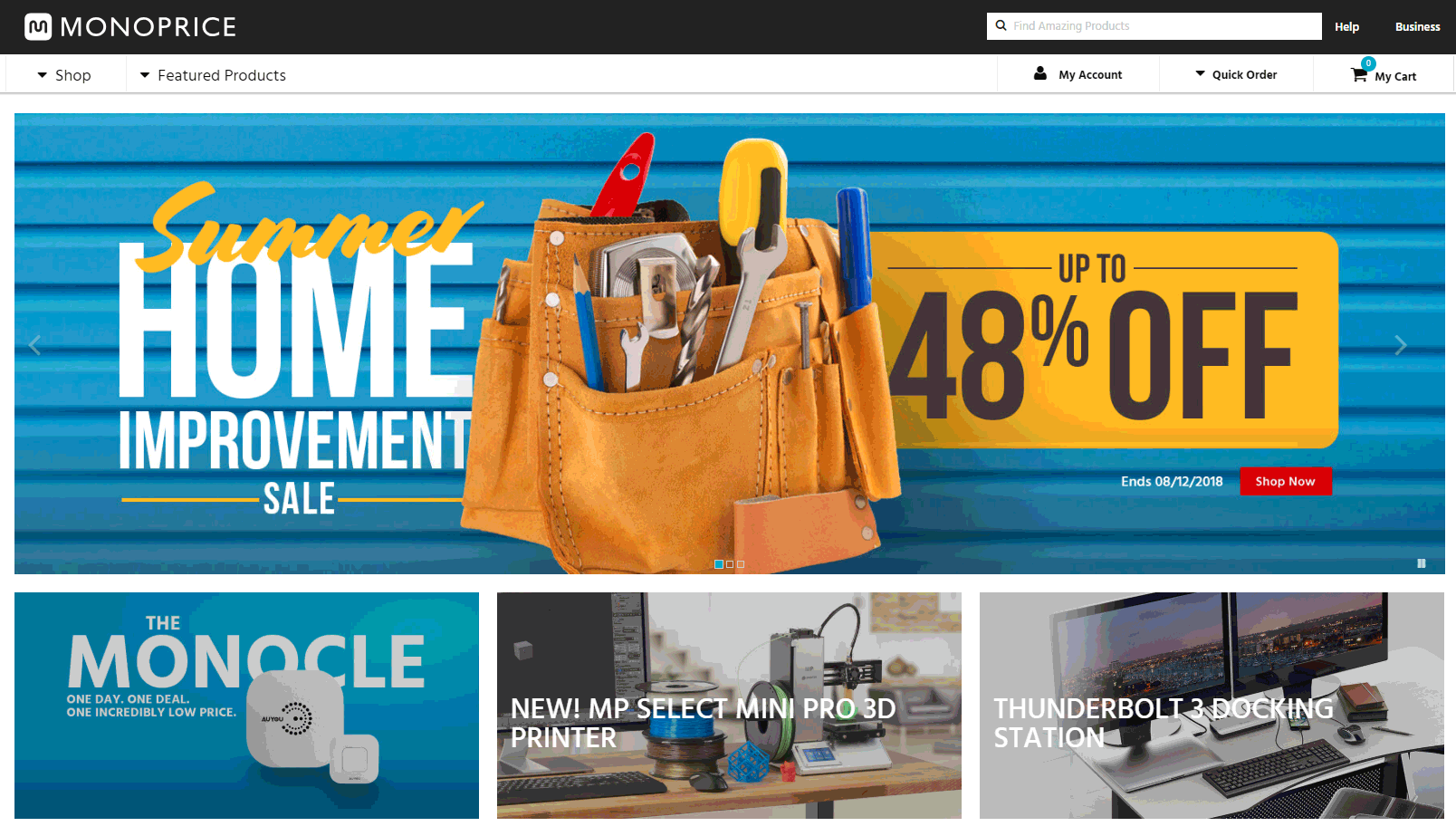 On the homepage, you see an announcement about their new Carbon Collection home décor items. Clicking on that opens you up to multiple new categories for them, including: Barware, Furniture, and Home Decor. Listed as "Coming Soon" are: Storage, Throw Blankets, Kitchenware, and Artwork. Clearly, Monoprice doesn't do anything, unless they do it big.
Embracing Their Role as a 'Category Disruptor'
You also see their brand promise, with large graphic boxes promising: affordable, quality, and support.
Clearly positioning themselves as a "category disruptor," in their official announcement of this move, Monoprice noted that the online market for furniture and home goods is expected to hit $50 billion in 2018. They intend, according to their prepared statement, "to challenge high-price markup and cost margins found in category lifestyle leaders… Furthermore, the line specifically targets an audience often overlooked by category competitors: males."
Are Men Interested in Home Décor?
Males? Males interested in home décor? Really???
"Over the last few years, we realized that our customers – and particularly males – have an appetite for creating a living space that's both tech-forward and aesthetically pleasing. To fulfill that desire, we designed a home goods line that is contemporary, refined and, most importantly, affordable," said Bernard Luthi, CEO at Monoprice. "This category expansion gives our customers – from first-time home owners and apartment renters to interior designers – the items they need to make their house a home without having to sacrifice style."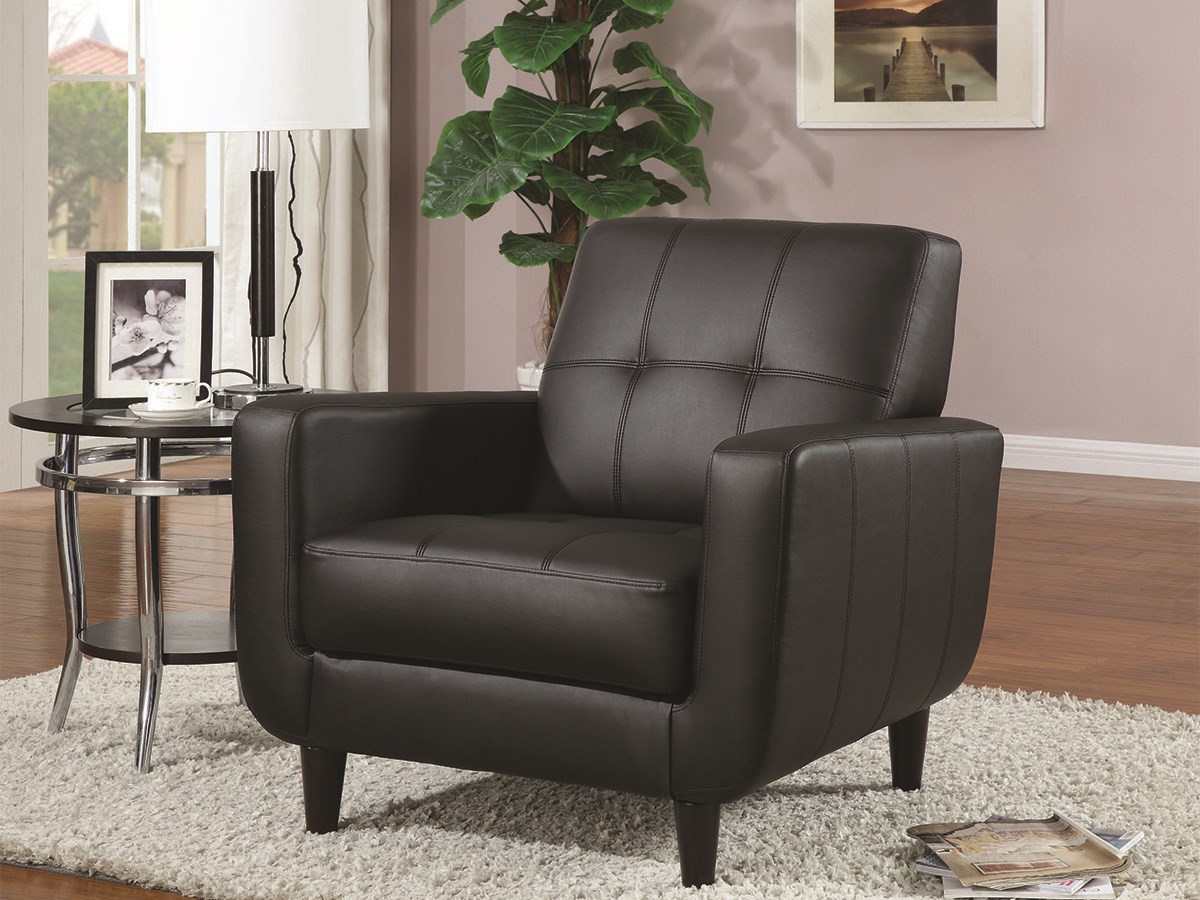 Targeting Males: Bars and Furniture with Colored LED Lights
Perusing the new collection, we saw a surprising variety of items, more than 41 separate pieces of furniture, like the La Jolla easy chair shown here. This can be in your home for only $399…with free shipping included.
Perhaps because they are targeting males, a surprising number of items are bar items, such as tables, chairs, etc. Some of these items, such as tables with colored LED lights in them, are clearly what the company means by "tech forward designs." Time will tell if Monoprice is able to get traction with items that are not sold by comparative specifications and lower price points…but rather, because of appeal to the consumer. Fashion is in the eye of the beholder and is particularly difficult to forecast.
See more of what Monoprice is up to by visiting: www.monoprice.com.