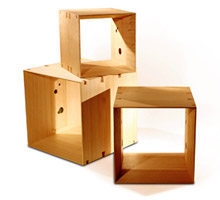 JVC Kenwood Corp. said that next spring it will begin selling a system designed to deliver the soothing sounds of the forest streamed over the Internet in real time. The company will be involved in all aspects of the system from setting up source equipment to collect the sounds of various forests, to coordinating the delivery of the forest content across the Internet, to delivering unique speaker systems in the homes of end users with technology to receive and play the environmental sounds.
How does it work?…
The heart of the system is a speaker system constructed of natural woods such as oak or Japanese cyprus. JVC Kenwood is working with a company called Oak Village Co., a furniture manufacturer, who will manufacture the boxes in such a manner that they will offer consumers a natural wood fragrance and feel.
Wireless technology built-in….
Bluetooth technology is built into the speaker system in order to wirelessly receive the streamed signal from the consumers Internet connected network. The signal will originate from a recording setup that JVC Kenwood will set-up in conjunction with various local authorities' forestry areas.
According to a report by the Nikkei, JVC Kenwood is targeting the system at consumers, schools, and hospitals. Those wishing to experience the soothing environmental sounds of the forest will be able to purchase the systems in furniture stores or home interior stores – a new distribution network for the company. The system is expected to sell for around ¥100,000 (about $1,270) and there may be a small additional charge for the "forest content."
A wide selection of forests…
Initially, JVC Kenwood has partnered with the village of Morotsuka (Miyazaki Prefecture) to set up a recording system in their local forest. Eventually, the company plans to be teaming up with other municipal governments, colleges, and other non-profit organizations to expand content collection from other forests around the country.
There is no word if the company intends to offer the systems in export markets such as the United States.