Who Will Run the Company with Lee Incarcerated?
On Monday, Samsung Electronics Vice Chairman Lee Jae-yong – also known as JY Lee, J. Y. Lee or Jay Y. Lee – was sentenced to 2½ years in prison for his role in a bribery and embezzlement scheme to influence the President of South Korea in order to increase his share and power in the company. This development is big news in Korea. Samsung Electronics, part of the Samsung family of companies that is the largest conglomerate in South Korea, by itself represents almost 20% of the entire value of all exports from Korea.
See this sensational Samsung…ah…stuff!
Strata-gee first told you about this story back in 2017 as it was first evolving. It started in mid-January of 2017 when prosecutors in Korea announced that they were investigating the Samsung vice chairman in conjunction with a wide-reaching "political probe." It seemed to be a bit of an unusual announcement at the time, but it appears that prosecutors were laying the groundwork for what they knew was coming soon – the official filing of charges.
The issue was an allegation that Samsung had bribed then-President of South Korea Park Geun-hye with 8.9 billion won ($8.1 million) in exchange for a favorable decision by an important government agency to support a merger of Cheil Industries and Samsung C&T. This merger would help solidify Lee's power and allow him to take over the role of his ailing father to achieve full control of the whole company.
Initially Convicted and Sentenced to 5 Years in Prison
Just about one week after that initial announcement, prosecutors and Lee were court for a closed-door session with the judge. Prosecutors presented some of their evidence and made their case for the matter to proceed with a full trial. Ultimately, the judge agreed and the matter went to a full trial.
At the end of the day, Lee was convicted and the Seoul Central District Court judge sentenced him to 5 years in prison (prosecutors asked for 12 years of hard time). But after just a year in prison, Lee was released when an appeals court halved the sentence and then suspended the jail term. The court further cut the determination of the amount of the bribery and embezzlement to 3.6 billion won.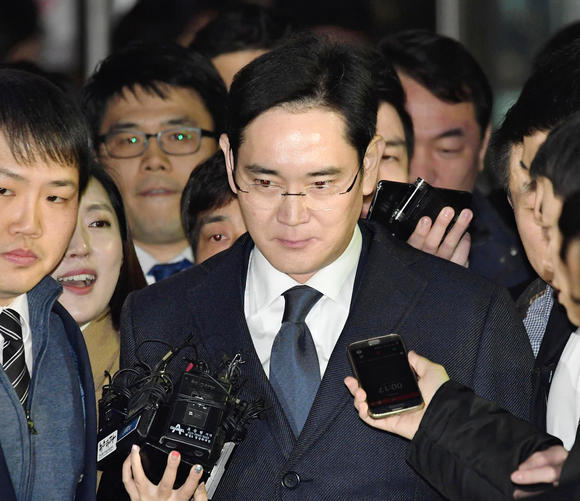 Supreme Court Reverses Appeal & Orders New Trial
But then the Supreme Court stepped in and reversed the appeals court ruling in 2019. That set the stage for Lee to be tried again – a retrial that ended with this decision for Lee to serve a term of 30 months or 2½ years in prison. Lee was immediately put into restraints and marched out of court upon the judge announcing his ruling.
It is very regrettable that Samsung, our country's largest and globally innovative company, is engaged in crimes whenever political powers change. This case is part of the [former president's] corruption scandal, but it is also a bribery and embezzlement case in which Samsung's top management also got involved."

Judge Jeong Joon-young, Seoul High Court
South Korean President Park Must Serve 22 Years in Prison
A report by the Nikkei noted the irony of this decision coming just days after South Korea's Supreme Court affirmed the sentence of President Park to 22-years in prison "for taking bribes from Samsung and other conglomerates." Taking part in the scheme was a friend of the President, Choi Soon-sil, a well-known mystic in Korea who is said to be close with President Park.
This case sparked massive protests in South Korea, as citizens had become fed up with corporate and political corruption in the country. In South Korea, there are a handful of huge conglomerates, known as chaebol, which are family run, massively huge businesses that are so powerful that the government tends stays out of their way (or get too cozy with). These chaebol employ most of the country's population and are economically significant as they collectively represent the bulk of the total GDP.
South Korean Citizens Demand Longer Sentences as a Stronger Deterrent to Corruption
However, corruption scandals have run rampant. Lee's father himself had been prosecuted on two separate occasions for bribery and other corruption. But thanks to a wink-nod partnership with powerful politicians, he never served any serious time in jail.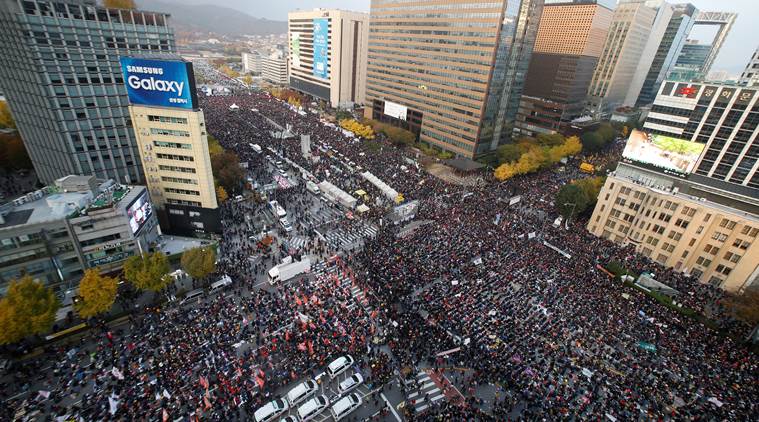 But for Jay Y. Lee, the world has changed. Huge demonstrations, some said to be as large as a million strong, had citizens loudly demanding justice and an end to the corruption. It was an impressive spectacle and has likely influenced the judicial community to stop being so lenient, and issue stronger sentences to act as a deterrent to further wrongdoing.
Prospects for an Effective Appeal Look Slim
It is for this reason that the Nikkei notes that Lee is certainly within his rights to appeal this latest ruling. But the given the past ruling of the Supreme Court that the appeals court was being too lenient – he is unlikely to find relief. However, Lee's attorneys say they will make that decision after reviewing the judge's decision.
It is likely that the courts will give Lee credit for the year in jail he has already served, so he will only face another year-and-a-half incarcerated. Still, jail is a far cry from the usual luxurious life in which Lee is accustomed to living.
Oh-Oh: Prosecutors File New Charges Against Lee
But wait…there's more in store for Lee. Prosecutors have filed additional charges against Jay Y. Lee in a new case indirectly related to this one. In this new matter, he has been charged with stock manipulation and accounting fraud. That case involves two company divisions – Samsung Biologics and Samsung C&T.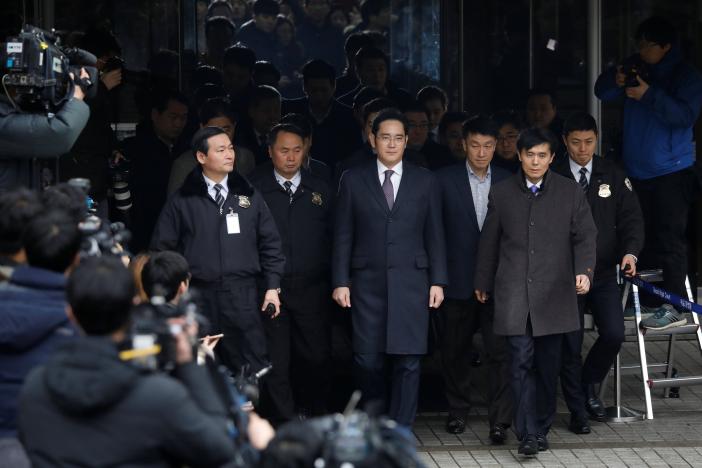 According to the report, that trial has only just started and is expected to take months to complete. There is a risk that this case will bring him additional time in prison. And, of course, he is free to appeal those findings, which will add further time in court…and potentially…in jail.
What Happens to the Company if Their Leader is in Prison?
However, what you may be wondering is, what happens to the company when its top executive is incarcerated? How will it be run?
During Lee's first one-year stint in jail, authorities tended to look the other way when top company executives regularly arrived to "visit" Lee during normal prison visiting hours. It is clear that business was conducted there, which shouldn't have been the case, but authorities turned a blind eye.
A Deep Bench of Capable Executives
Why did they turn a blind eye to this obvious ploy? Most likely, this was due to his fame and power. But also, he was going through the appeals process and was possibly a short-timer anyway. Many of the prison officials likely assumed he would use his connections to get released anyway.
Now, the situation has changed and I suspect that this practice of conducting official Samsung business in jail will be stopped. However, Samsung has a deep bench of very capable executives who are fully competent to move the company forward for the next few years…if that's all it will take. There is no need to be concerned about the company's prospects during Lee's incarceration.
Learn more about Samsung and its products by visiting: samsung.com.