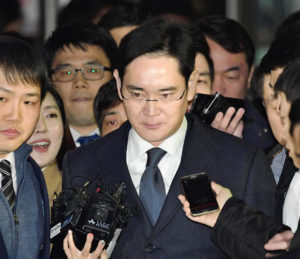 South Korea is buzzing at the news that prosecutors have demanded no less than a 12-year prison term for Samsung's billionaire heir, Jay Y. Lee. Lee is accused of attempting to solidify his total control of the massive company through a sketchy scheme that included bribing the South Korean President, Park Geun-hye.
See more on these shocking revelations that may lead to problems for Samsung…
Considered a significant flight risk, 49-year old Lee has been held in detention by authorities since February. He is the highest profile business figure drawn into a scandal that has already resulted in the South Korean president being forced out of office, according to a report from Bloomberg News.
The matter at hand is a convoluted tale, as we have previously reported, that involved Samsung paying tens of millions of dollars to a close personal friend of President Park Geun-hye, at a time it was seeking government approval for a merger it wanted to make. After the payments were made, the government signed off on the acquisition.
Lee Denies the Charges; Prosecutors Appear Confident
Lee has denied all charges and claims he did not know the identity of the "confidante" until afterwards. prosecutors appear confident in their case.
"We have an opportunity to establish the rule of law," special prosecutor Park Young-soo said. "The defendants have colluded with power to seek personal interests, turning their backs on people's wish to shed light on the truth behind the scandal."
The Lee family has controlled Samsung through multiple generations. Jay Y. Lee was thrust into an earlier-than-expected succession when his father, Lee Kun-hee suffered a heart attack in 2014. In 2015, the company was pushing through a merger that would have generated new shares, giving Jay Y. Lee controlling interest in the company.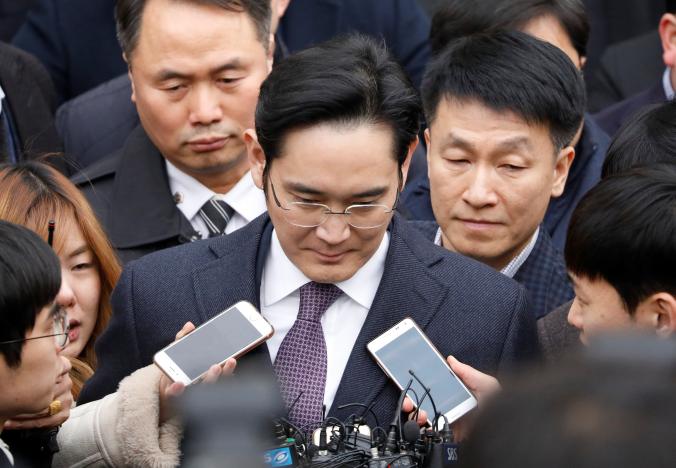 A Critical Merger Giving Lee Control of Samsung Needs Government Approval
That deal was opposed by investor Paul Elliott Singer; however, Samsung succeeded in gaining the needed approval from the National Pension Service. Prosecutors say Lee won the government's approval through this scheme that involved the payment of $36.7 million to Choi Soon-sil, a personal friend of the President.
Lee testified in court that executives under him were the ones who pushed for the merger – and, he added, it had nothing to do with his attempting to gain control of the company through a stock transaction. As prosecutors pointed out, were Lee to wait and gain control by inheriting the shares from his father – the normal path most heirs take – he would be liable for billions of dollars in inheritance tax. Through this scheme, he sidesteps that tax.
President Park – Under Arrest – Won't Testify
Former President Park, herself under arrest for corruption and abuse of power, has also denied seeking a bribe to approve the merger that would give Lee control of Samsung. Park refused to testify at Lee's trial…as did her friend, Choi.
The trial, which is being heard by a panel of three judges with no jury, is expected to wrap up sometime near the end of this month. If Lee is found not guilty, he would be immediately released. The system of justice required prosecutors to demand a sentence, before a verdict is rendered. The sentence will ultimately be determined by the panel of judges.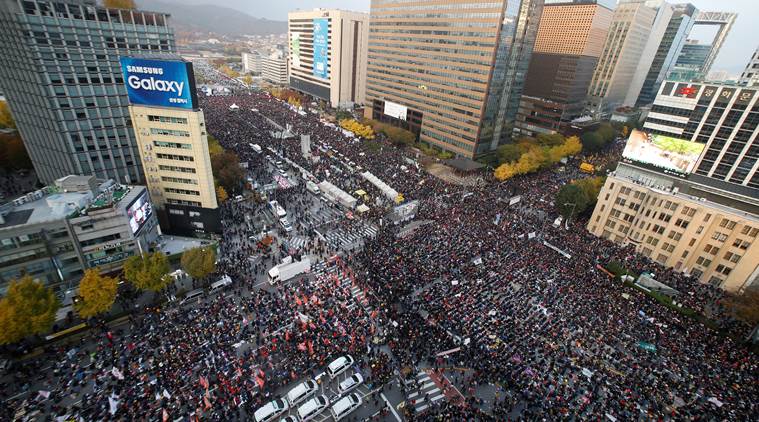 Angry Protests, Some With Millions of Participants, Demand Justice
This matter has drawn intense scrutiny by South Korean citizens. The company has experienced a series of protests, some drawing crowds of angry citizens of a million or more in number. There has been a long history of government/business scandals and citizens are said to have had enough.
Samsung's business has not been adversely affected by the legal troubles to this point.