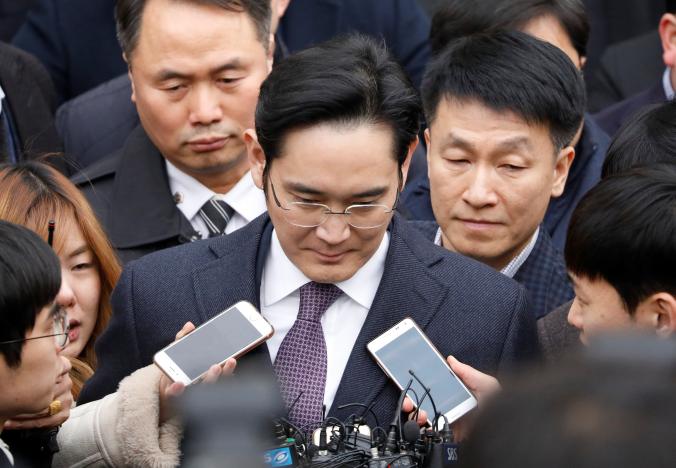 Judge Questions Jay Y. Lee in Arrest Warrant Hearing
In a case that has been percolating for weeks but has now come to a boil, special prosecutors in South Korea have gone before a judge to obtain a warrant for the arrest of Samsung Group leader, Jay Y, Lee. Summoned by the court to testify, Lee answered questions in a closed-door session at the court, held today. Lee denied he or his company participated in any wrongdoing.
The judge's decision is expected very soon.
See more on the legal troubles that Samsung now finds themselves in…
We first told you last week about this case, which stems from a probe into political corruption that has resulted in the impeachment of the President of South Korea, Park Geun-hye. At issue is an investigation that found that Samsung had made payments totalling $36.7 million to Choi Soon-sil, a mystic and religious leader who was a close personal friend of President Park. These payments took place at a time when Samsung was seeking government approval for an acquisition.
After those payments were made, the government-controlled organization reviewing the matter – the National Pension Service (NPS) – approved the merger. The chairman of the NPS, Moon Hyung-pyo acknowledged ordering the organization to support the merger. Moon was arrested in December for his role in the matter.
A Succession Interrupted
This merger was part of an internal Samsung plan to pass on the company and the substantial family wealth of former chairman (and Jay Y. Lee's father) Lee Kun-Hee. The elder Lee's health is failing, and Jay Y. Lee is the heir apparent to the company that was founded by his grandfather as a trucking company in 1938.
Prosecutors are seeking a warrant for Lee's arrest, charging him with bribery, embezzlement, and perjury. The court held a closed-door session today to hear the prosecutors evidence, and to also hear from Lee and his defense team. Lee arrived at court wearing a dark suit and purple tie, surrounded by no fewer than five attorneys, according to a report by Reuters.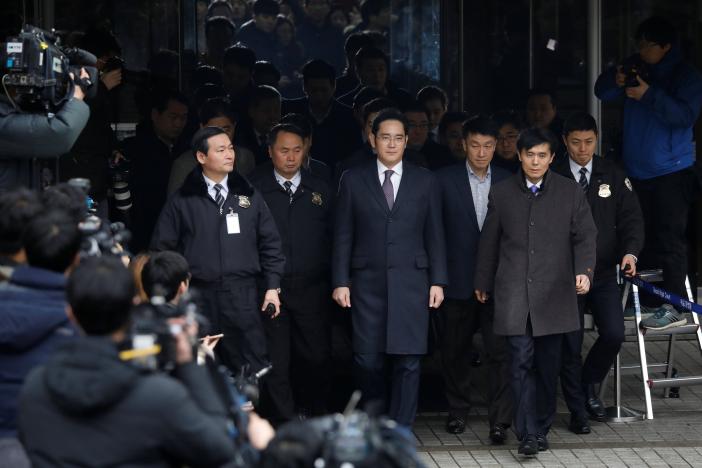 Global Interest in the Problems of a Global Company
Lee has continually asserted his and the company's innocence. Lee exited the court to a massive scrum of reporters who have come from around the world, refusing to answer any of their questions shouted at him as he left.
South Korea has a long history of political corruption, so this is nothing new. And in fact, Lee's father has been convicted twice – once in 1996 (for setting up a slush fund and bribery) and in 2008 (embezzlement and tax evasion while setting up a slush fund) and served time for both convictions. But as another sign of the cozy relationship between big business and government, Lee's 1996 conviction eventually was pardoned by then President Kim Young-sam, and his 2008 conviction was first suspended and then pardoned by President Lee Myung-Bak.
Millions of People Have Taken to the Streets, Sick of Corruption
South Korea has a handful of several large business conglomerates – called chaebol – that control a huge percentage of the country's gross national product. Samsung alone, is said to be 17% of the country's gross national product.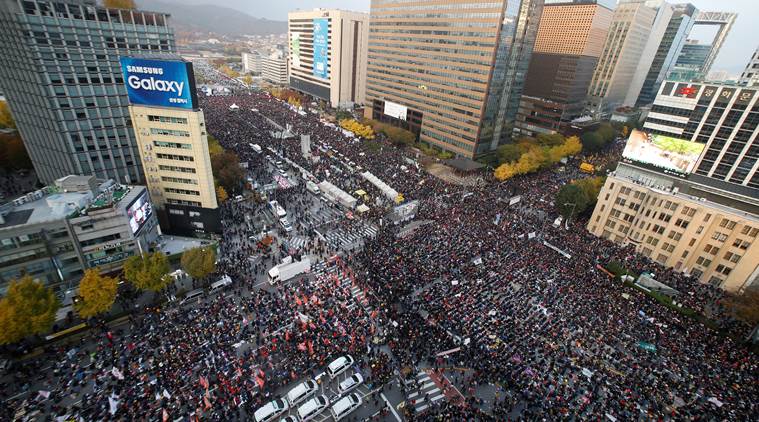 The news of this scandal has resulted in huge demonstrations of hundreds of thousands of people – riots almost – as South Korean citizens are said to be sick and tired of the constant string of criminality as a result of the intersection of the chaebols and government and corruption. For this reason, Lee faces a justice system looking to make an example out of him.
Prosecutors Want to Make an Example of Lee
For the first time in decades, one of the Samsung family could be seriously facing hard prison time. However, given the influence of Samsung on South Korea's economy, even the prosecutors have said they will not pursue the three other top Samsung executives that its investigation has identified as participating in the bribes. Prosecutors want to punish Samsung hard this time…but they don't want to cripple the company.
It has too much influence on the South Korean economy.