After a tough 2016, Samsung was likely looking for a little relief in 2017. They'll have to keep looking because, as the old saying goes, "When it rains, it pours." Reuters is reporting that prosecutors in South Korea have summoned Samsung Group leader Jay Y. Lee for questioning in a probe into an influence peddling scheme that may topple the president of the country and offer criminal indictments for some of the players.
Lee has been named as a suspect in the matter.
See more on this widening scandal and the risk to Samsung…
After a great run for several years, rapidly growing to become one of the largest electronics companies in the world, Samsung has hit a rough patch lately. Recent issues, like the exploding Galaxy Note 7 battery pack debacle, the defective consumer washing machines matter, and losing Sharp as a LCD panel supplier, have contributed to make life difficult for them.
Now word comes out of South Korea that the company, through its leader Jay Y. Lee, is potentially at risk through involvment in a huge political scandal that goes all the way to the office of President Park Geun-hye – and may result in her impeachment…which is now before a court. The special prosecutors office has summoned Lee for questioning in the matter, and Lee has been named a suspect by the prosecutor.
Payments to Close Friend of S. Korea's President
The scandal is centered around a high-level religious figure in South Korea named Choi Soon-sil, who is a close personal friend of the President. Prosecutors have discovered payments by Samsung totalling about $25 million to various foundations and businesses associated with Choi Soon-sil. What prosecutors are seeking to determine is if there was some type of quid-pro-quo arrangement via these payments connected to a large national pension fund's decision to back a controversial merger of Samsung C&T and Cheil Industries Inc.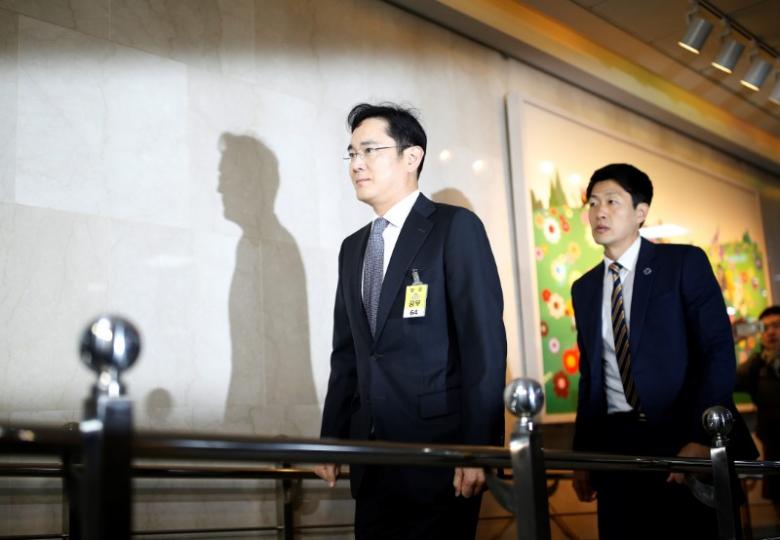 News of the scandal has sparked mass protests in South Korea, and ultimately resulted in the Korean Parliament impeaching President Park. The matter is now before a Constitutional Court which must decide whether to uphold the impeachment, or overturn it.
'Suspicions of Bribery'
In the meantime, the investigation continues. The prosecutor's office told the media that Lee has been summoned for questioning "over suspicions of bribery." The prosecutor's spokesperson would not rule out the possibility that an arrest warrant for Lee could be issued.
Reuters noted that the prosecutor's ability to prove a quid-pro-quo arrangement between Samsung and Choi-related parties "are critical  to bolster its case against President Park and show that she, or a surrogate such as Choi, collected bribes in exchange for favors."
'Contributions,' Not Payments
Samsung has admitted making the payments in question, but they characterize them as contributions to two different foundations, as well as to a consulting firm connected to Choi. The company has steadfastly denied that there was any quid-pro-quo or "lobbying" related to its controversial merger.
Lee testified at a hearing before the Parliment and personally denied that there was any lobbying by Samsung to get the merger approved. It is this testimony that the prosecutor is investigating. There is a strong suspicion by the prosecutor that Lee gave false testimony.
What's Not Clear
What is not clear at this point is the degree of impact on Samsung, a huge conglomerate, of an indictment of its leader. For that, we'll just have to watch as the events continue to unfold.