Years ago, the step-up component audio world was dominated by the big three: Yamaha, Onkyo, and Denon. Having joined Onkyo in 1985, I got to participate in what some people called the "meat of the market." These brands hit the optimal "sweet spot" of volume and profitability and literally could be the difference between life-and-death for dealers.
And we knew it. Those were heady times, and often we let our egos run wild – turning our noses up at mass market brands such as Sony, Kenwood, and Pioneer. Well, I'm older and wiser now – the big three aren't what they used to be – and I recognize smart and savvy moves when I see them…and Pioneer is impressing me.
On our radar screen…
Pioneer's car division has been on our radar screen for a couple of years now. Their innovative AppRadio was a dramatic…and in some quarters, a controversial…new concept in product design. A mobile interface for the end-user's Apple iOS smartphone (and now Android), the AppRadio is in essence a hollow shell that uses the processing power and content from the smartphone…and simply modifies the interface in meaningful ways to make it safer and easier-to-operate in the car. I've got to tell you…it's pretty smart.
>>

See a slide show of images from Pioneer's CEA Line Show Booth
and Press Conference here…

<<
At the CEA Line Show last week, Pioneer's car division offered live demonstrations of their new AppRadio2, now with support for Android smartphones. And, sure to please Pioneer customers, they also announced the launch of a new portal for developers at www.appradiodev.com which will facilitate, and hopefully speed up, the development of Apps specifically designed for the mobile environment.


Home division gets game…
Not to be outdone, Pioneer's home electronics is drawing our attention as well. Although the Pioneer Car division has been displaying at CEA Line Shows for a couple of years now, this is the first year that the Home Division joined them, taking a separate booth space to display a mix of their home products.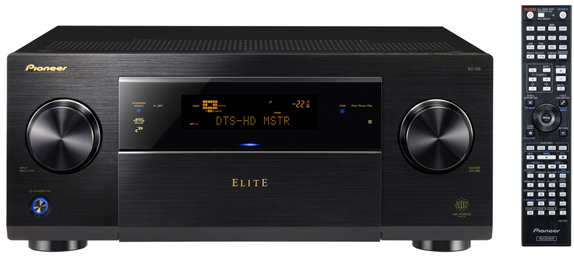 We took a look at the latest Elite SC A/V receiver line-up and were quite impressed with what we saw. The right features, the right design, the right capabilities for a more sophisticated audience…and the company tells me that custom integrators are taking to it like fish to water.
Hot technologies put Pioneer in contention…
And why wouldn't they? With the latest line featuring AirPlay, DLNA, Bluetooth, Windows 7, Internet radio, PC-assisted set-up, MCACC auto-calibration, multiple HDMI inputs, and even proprietary apps – including their iControl AV2012…this is a very flexible AVR line.
At the CEA Line Show, Pioneer announced a new partnership with HTC and will be one of the first companies to offer HTC Connect. HTC Connect enables users to stream content from their HTC Android phones to their Pioneer A/V receivers, as well as a new line of wireless powered speakers.
Connecting with HTC Connect…
In a demonstration at the Line Show, HTC Connect was an absolutely idiot-proof, seamless experience, effortlessly streaming the music to the Pioneer receiver with the artist, album, song metadata and album art clearly showing on the AVRs on-screen GUI. Even I could do it…even though my smartphone is Apple.
Being OS-agnostic is a smart move for Pioneer and helps dealers feel secure that Pioneer offers them the latest and greatest wireless technology regardless of which smartphone world the customer lives in. And it appears that HTC did their homework with HTC Connect…it is very intuitive, like iOS. Pioneer reps were also extolling the fact that there is zero latency in operation…impressive. HTC Connect will be available on fifteen different products including all networking A/V receivers and the wireless speakers.
Wireless speakers designed to sound good…
As happy as integrators may be with the new Pioneer receiver line-up, I suspect Pioneer's push into wireless speakers will be less attractive to them. As I mentioned in the CEA Line Show overview, wireless speakers and systems were everywhere. Some of them looked pretty rough – just off the boat from China.
However, in Pioneer's case, the product had a pretty good fit-and-finish…if not particularly exciting design-wise. Still, the company had done a good job developing speakers that look good, sound great, and work well…all very customer-friendly features.
Wireless in any flavor you want…
Pioneer national trainer John Bass (I think its pronounced like the fish – if it were my name I'd pronounce it like the low-frequency designation) used an iPad to demonstrate Pioneer's new XW-SMA1, XW-SMA3, and XW-SMA4. Compatible with both Apple AirPlay and the new HTC Connect, the new wireless speakers work in either an Apple or Android household. They also feature Wi-Fi capability which just about guarantees they'll work in any home in America.
Pioneer, in their booth and during their press conference, made a big deal about the fact that these speakers were "tuned" by Andrew Jones – a "renowned Pioneer sound engineer." The fact is, this may have actually made a difference. I listened to a lot of wireless speakers at the Line Show, and these were one of the top two or three in terms of sound quality.
Now it was a noisy environment, so I certainly couldn't engage in any serious critical listening. But on a casual basis, the Pioneer's were much better sounding than most of the speakers I heard at the show.
Features and pricing are as follows:
XW-SMA1 – Dual 3-inch speakers, 3/4-inch soft dome tweeter, tuned bass reflex port for enhanced bass. MSRP $299
XW-SMA3 – Same speakers components as above, rechargeable Lithium Ion battery and reinforced exterior for portability. Plays 4-hours at full volume, 6-hours at 50% volume. MSRP $399
XW-SMA4 – Dual 3-inch speakers, dual 3/4-inch tweeters, dedicated 4-inch subwoofer. MSRP $399
All three models are available in August.
For more information on Pioneer, see: www.pioneerelectronics.com.
>>See a slide show of images from Pioneer's CEA Line Show Booth
and Press Conference here…<<