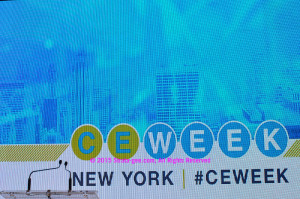 New York City in June sees temperatures rise in response to the onset of summer and also, hopefully, in response to the launch of the hottest new technologies being shown at CE Week at the Metropolitan Pavilion and Altman Building exposition spaces in Manhattan. We awaited this year's edition with great anticipation as it occurs in the wake of a major change in the show's backers – and is the follow-up to the surprisingly meaningful show last year.
What were the changes, and how did the show go? You'll have to read on…
You never know what you're going to get, weather-wise, in June in New York City. But typically, it can be hot and humid, just as we described last year. This year, CE Week attendees were greeted with a very pleasant surprise, the weather was absolutely gorgeous with moderate low-to-mid 80s temperatures and unusually low humidity. This nice weather may have been a factor in helping show attendance, as the show floor seemed as busy as last year…and perhaps even a little busier.
An executive associated with the show's promoter told us that advance registrations were up significantly this year. We couldn't verify that, but we couldn't strongly argue with it either.
One trend over the years for this show does concern us. Last year we mentioned that CE Week only offered five press conferences over the two-day run of the show. Given that this show was positioned as a way for companies to get in front of the press, and in years past the stage was running almost constantly with companies making important announcements, it seemed a troubling indicator that something was wrong. This year? Only two formal press conferences took place over the two days of the show. To make up the difference, the show's promoter ran a heavy schedule of roundtables and panels on a variety of topics.
First CE Week with No CEA Backing
The seemingly robust attendance had to be a great relief to the show's primary promoter, NAPCO – the people who bring you Dealerscope, Technology Integrator, Technology Tell and others. The reason for this is because this is the first CE Week they produced without the backing of the Consumer Electronics Association (CEA).
That's right, earlier this year the CEA sent a letter to members informing them that, contrary to published information about the CEA's involvement in CE Week in Dealerscope and Technology Integrator, "CEA is no longer associated with or affiliated with the production of CE Week, which in 2015 is being produced solely by NAPCO Media & MPA." The news caused quite a buzz, although a bit of a quiet one, as it was not widely reported by the media.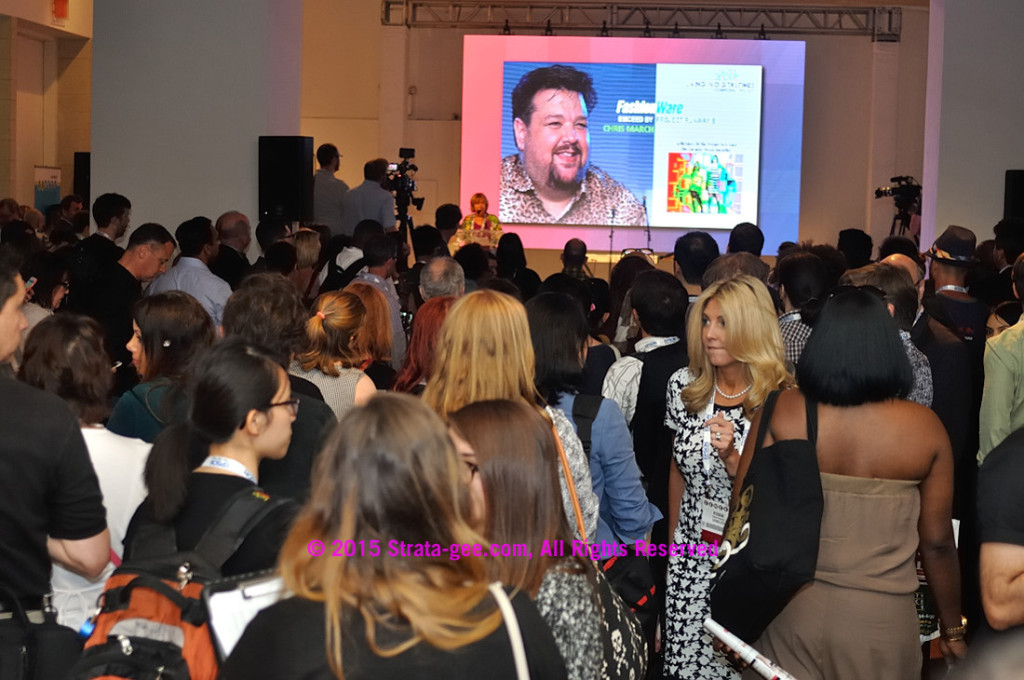 Not many attendees appeared to be aware of the fact that the CEA pulled out of CE Week. However, word spread around the floor. This growing awareness could possibly be a factor in the attendance at future shows. Perhaps. Or perhaps, trade attendees don't really care that much about who is actually behind the shows.
Consistently Busy
In any event, it seemed as though the floor was pretty consistently busy this year – not packed, but fairly busy. We asked several exhibitors about the traffic level and for the most part they agreed with this assessment. One exhibitor, who also showed last year, told us that traffic was surprisingly consistent – although he wouldn't characterize it as "busy." Still, last year, he said, traffic was a blotchy "feast-or-famine" situation. The busy times were busier than this year, but there were stretches of dead periods. He clearly preferred the more consistent traffic this year.
Last year, we identified two significant themes at this show, which pleased us, as this event at times feels more like an industry "gathering" than a trade show. Last year, the two themes that emerged were the launch of Dolby Atmos surround sound and Hi-Res Audio. Two companies, Onkyo and Pioneer, both showed and demonstrated Atmos systems and talked a lot about the technology. And a well-attended discussion panel mused on the many issues surrounding Hi-Res Audio.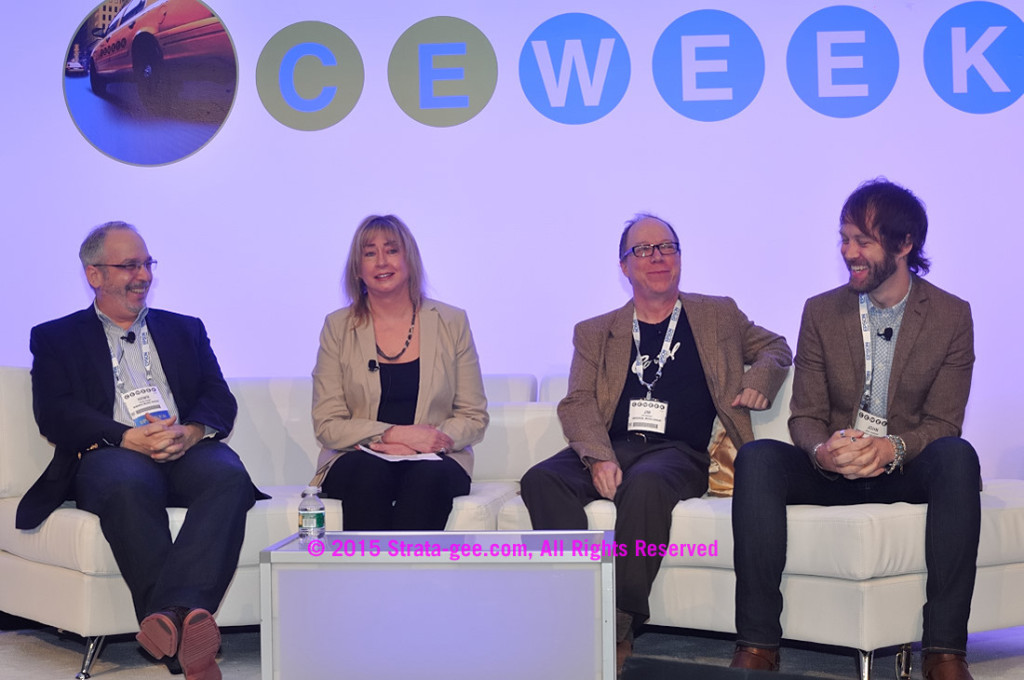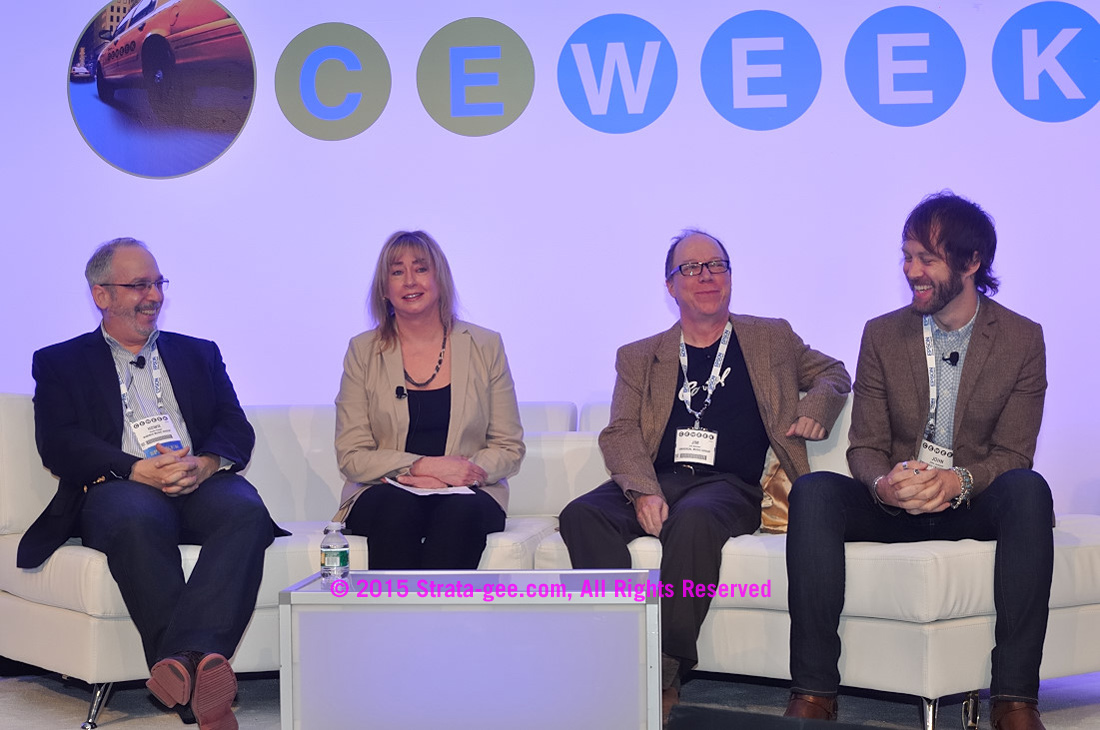 A Little Less Energy
This year? Well, the event seems to be a redo of last year – only with a little less energy. Pioneer's home audio division – now part of Onkyo – did not show this year (although Pioneer Car, an independent company not associated with Onkyo, did); and Onkyo did demonstrate Atmos again this year, but mostly the company was focused on introducing a new series of RZ top-of-the-line A/V receivers. Atmos was a part of their pitch, but not necessarily the key element of their presentation.
Likewise, the Digital Entertainment Group (DEG) held another panel discussion – with the same panelists as last year (sans two brand executive panelists) – on Hi-Res Audio. There was some updated information on progress in rolling out more hi-res audio content and an announcement of the creation of production guidelines for Hi-Res Music – but mostly what we heard was a rehash of the themes from last year's panel discussion.
Changing Face of the Show
We also noticed a significant change in the face of the show. For example, in years past it was hard to miss the big booths from the major display manufacturers, such as Sharp, LG and others. This year, Sony, Samsung, LG, and Panasonic televisions were at CE Week, but only in a special presentation in the basement of the facility called the "Flat Panel Shootout." These brands did not have large booths up on the show floor.
Not only that, but brands that in the past had significant booths, this year had scaled down presentations. For example, we first discovered House of Marley at CE Week 2011 with a reasonably large (for a start-up) custom booth presenting a wide range of products shown in unique displays. House of Marley was there again this year, but instead of a large booth in the Metropolitan Pavilion, they were in the Altman building center where most of the displays – including theirs – were on draped tables in a 10-foot space.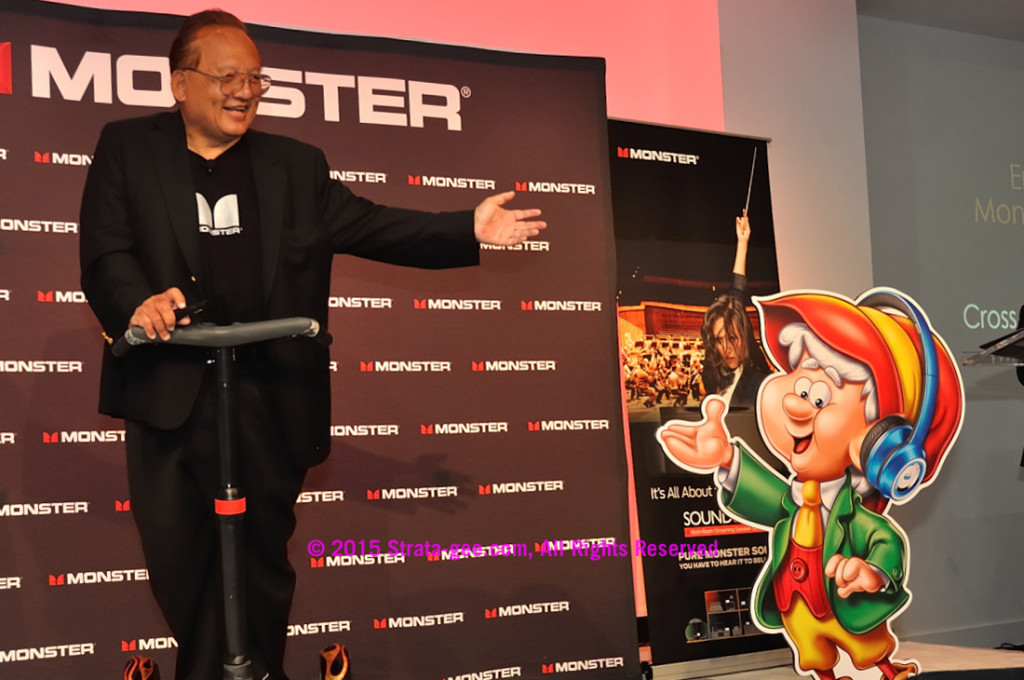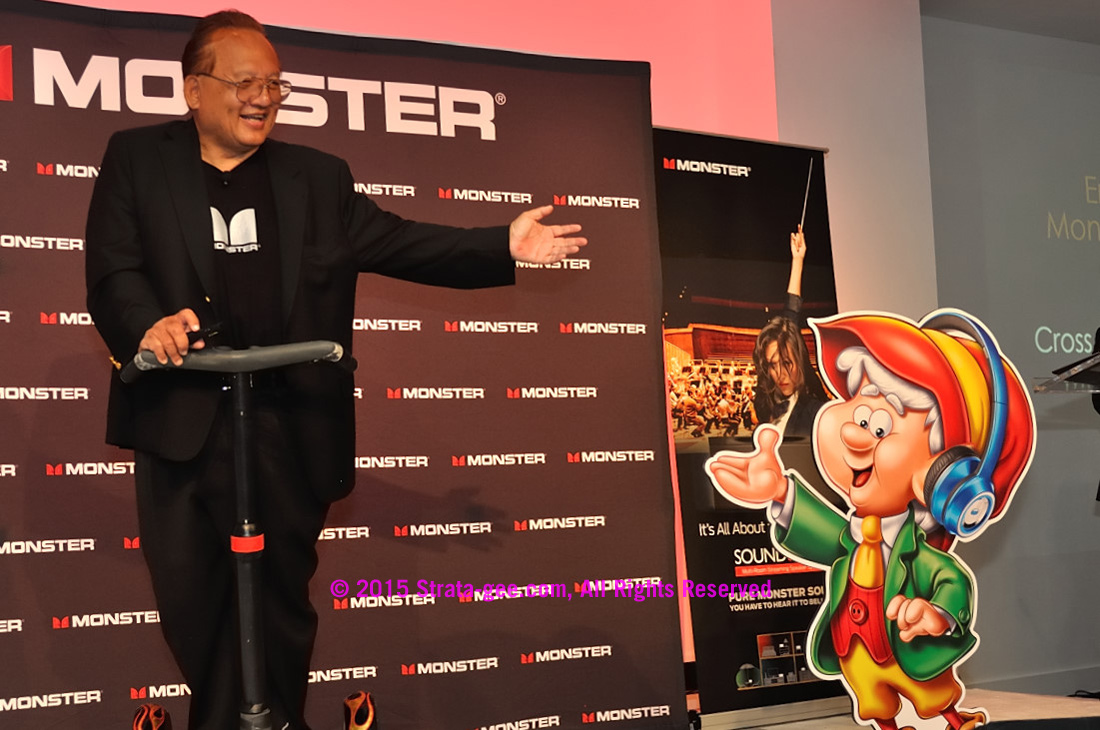 Finally, we couldn't help but notice that there were several major brands that had participated in previous CE Week events that were no-shows this year. One in particular we were hoping to see is HEOS by Denon. Not only has HEOS been introducing some new interesting models, but we have been following their litigation with Sonos and would hope to glean a comment or two from them about that. HEOS by Denon had a pretty good sized booth last year…nowhere to be seen this year.
We didn't get out our measuring tape, but we believe the largest booth was Pioneer. The Onkyo "booth" (really a separate demo room) and the Epson demo room were both fairly large display areas, but outside of these three brands, the rest of the exhibitors were all in varying smaller setups.
Doggedly Pursuing Interesting Products
But fear not dear reader, once again we doggedly pursued interesting companies and products and were able to uncover a few things we found interesting. We should note that, despite our best efforts in one very long day, it was not possible to get a meaningful discussion and presentation in every booth on every product. But we did find some fun and interesting items that – though they may not set the world on fire – could turn into nice sized businesses.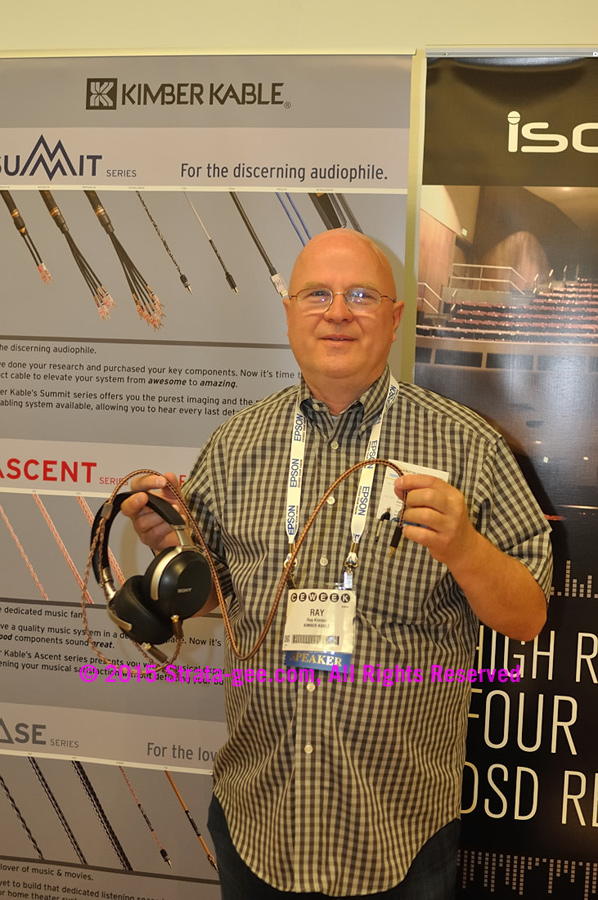 Below is a snapshot of some of our finds. We'll pull out some of the more important ones and report on them in more detail over the next week or so – so watch for our continuing CE Week coverage.
Auro 3D – We were able to get a demo of yet another surround sound technology out of Europe that looks to be gaining some steam – Auro 3D. Like both Dolby Atmos and DTS:X, Auro adds a couple of height layers that creates a more immersive or 3D experience. What we heard sounded promising, although the environment at a show has such a high level of ambient noise that it was hard to do any critical listening. But sonically, it compared favorably with what we've heard from Dolby, so we'll keep an eye on them.
Zeiss VR One – My kids tell me VR is the next big thing. One of my sons actually owns an Oculus Rift SDK (software development kit). I have tried it and it is pretty fascinating stuff (aside from the fact that it made me miserably ill). Zeiss is a world famous optics company known for, among other things, top-notch camera lenses. Zeiss says to have the best VR experience, you need the best optics – which they include in their clever VR One product that turns your smartphone into a full-fledged VR system.
Cleer – Yeah, I know, we need another line of headphones like we need another hole in our head. But I was impressed with these good looking, solid feeling (they assure me they don't use metal weights like Beats), and good sounding line of headphones. I have requested samples for more controlled listening – but I like what I've seen, and heard, so far.
HEARNOTES – Wireless earbuds with a sales pitch close to my heart – higher quality, better performance. By using Kleer technology instead of Bluetooth, HEARNOTES says they are able to deliver uncompressed CD-quality sound right in your ear. With lower battery drain giving you longer life, and Kleer technology offering you a range of up to 50-feet – the stats sound good on these babies. HOWEVER, I did not get to listen to them so we'll reserve final judgement until I get a set to test.
Kimber Cable – Ray Kimber shared with me in great, above-my-head detail, how his new line of headphone cables are the best in the business. Using a 16-element braided cable that splits to two 8-element channel braids, they look and feel incredibly impressive. And they better be impressive…they carry an impressive $1,000 MSRP.
Monster SoundStage – Monster has upped the ante in wireless with an all-new wireless music system. While we need a lot more details to ascertain just how serious a contender SoundStage is, given Monster's penchant for performance – we're prepared to give him the benefit of the doubt while we learn more. Oh and by the way – Monster's new deal with Kellogg's sounds very interesting to us as well – a potentially creative way to reach an entirely new audience.
Onkyo RZ series AVRs – OK, I admit it, I'm a metal head and Onkyo's new RZ series offers huge torroidal transformers and large metal heat sinks. Onkyo appears to be pushing the performance envelope with this line – but will this blur the line between their Onkyo line and the Integra line?
EyeSight's SingleCue – It wasn't perfect, but when it worked it was pretty magical. SingleCue uses cameras and motion tracking algorithms to convert simple hand movements into system control commands to, at this show, operate a television. Navigating a menu, making a selection, is easy…all accomplished with just with a wave of your hand and a pinch of your fingers. At first we thought it sounded stupid – then they made me try it, after a 5-second training session. It worked!
4SeTV – This is my dark horse candidate. I was attracted to it for a very specific use case that exists in my very household. But 4SeTV is a successful Kickstarter project that has not yet turned into a real company. It could ultimately fly high…or crash and burn. Their product is a settop box that hooks up to your TV, network router, and antenna and allows you to turn your TV into an in-home sports bar with four different channels served up at the same time. My boys are big hockey fans and they would love to be able to track all the games taking place at once. The quality is good – HD quality – but the convenience is even better.
ALSO OF NOTE
Epson – who showed a stunning 4K laser projector; Panamax – with a unique twist on a consumer grade power strip; and finally, dCS – with stunningly beautiful digital products and systems I only hope to be able to afford some day.