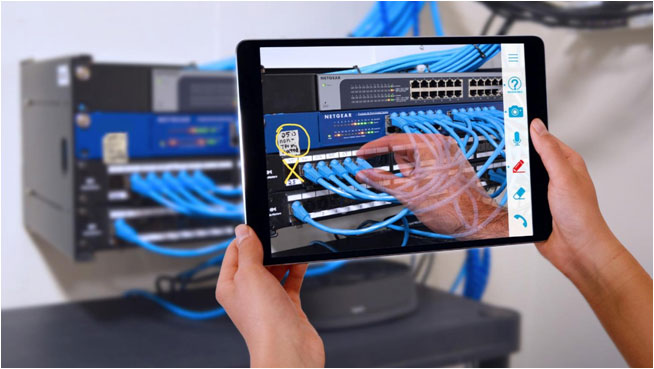 Help Lightning, a new support solution the company likes to call "virtual expertise," not only offers a new potential benefit for integrators to increase the amount of safe in-home support for their clients in these COVID-19 times – they also offer CEDIA members a free 60-day try-before-you-buy experience to test it out in your market with your clients. And in the middle of the pandemic, there has never been a better time to look at offering clients a new support solution that adheres to strict safety standards by limiting person-to-person exposure.
Learn more about Help Lighting's free trial
Strata-gee first told you about Help Lightning back in March, before the COVID crisis really got crazy. The solution offers what I called back then a merged reality experience that allows integrators to have high-level top techs offer support virtually from your headquarters to your fleet of level 1 techs at the client's home. The goal is to be able to offer one-truck-roll solutions no matter how challenging the issue.
Now with the new complications of supporting clients during a time of COVID, Help Lightning can make even more sense by helping limit the number of people needed in the client's home. With a very cool interface, your higher level tech stationed in your HQ (or elsewhere in the field) can seem to literally reach through the screen of the tablet or laptop of your field tech to literally show her or him the solution.
A Free 60-Day Trial for CEDIA Members
Now, Help Lightning has teamed up with CEDIA to offer its members a totally free 60-day try-before-you-buy opportunity. This gives integrators the opportunity to try out the service in their market area before they commit to invest in the service.
We think that offering it free for 60 days is a good way to kick start your way toward the COVID-19 recovery by differentiating yourself to your customers now, when they need you the most. Reasonable customers may understand if you can't deliver during the current epidemic; but they'll be disappointed. On the other hand, if you've made the effort to figure out how to safely provide contactless virtual expertise to help them, they'll be surprised and delighted. You'll almost certainly make them promoters of your company – and customers for life."

Mike Giffin, Help Lightning's Vice President of Business Development
Easy to Deploy and Use
The good news is that Help Lightning is incredibly easy to deploy with no need to invest in hardware or digital content creation. It can work on any iOS or Android device, or via a browser on your laptop.

We're delighted to bring our members this great and timely offer from Help Lightning. CEDIA's ethos is about high standards and professionalism. This software enables companies to give the quality assurance of a level of work being done, by enabling business owners and team leaders to remotely check work and save valuable time and resources travelling to each job site."

Wendy Griffiths, CEDIA's Vice President of Engagement & Global Development
For More Details
Learn more about Help Lightning and their 60-day free trial offer for CEDIA members by visiting: http://go.helplightning.com/cedia-2020.