Nationwide Marketing Group (Nationwide) continues to hit the accelerator pedal as it seeks to build upon its plans to expand the custom integration segment for the group, first indicated when it acquired another CI-centric group, Azioned Unlimited, back in October of 2021. Now Nationwide is announcing that Andy Orozco, a former top (and long-time) executive with ProSource, has joined the organization as its Senior Vice President of Custom Integration.
See more on Orozco joining Nationwide Marketing Group
Orozco is a respected long-time industry executive who had held a key role as Vice President of Business Development at ProSource, another buying group. Orozco had a solid eight-year career at ProSource and was well known to the group's integration members.
Prior to his time with ProSource, Orozco had spent a little over eight years with Home Entertainment Source (HES), another buying organization that ultimately merged into Pro Group to create ProSource. In essence, he had worked for the organization in one form or another for nearly 17 years.
ProSource Announcement Caused Consternation in Some
Recently, ProSource President Jim Pearse circulated a notice to ProSource members notifying them of Orozco's departure from the organization, and thanking him for his service. This notice caused some consternation among some of the ProSource members I spoke with.
Throughout his long and distinguished career, Andy has proven to be an influential leader and advocate for the custom electronics and installation channel. As we continue to expand our CI offering – both for our existing members and those integrators who need additional support for their businesses – Andy's tenacity and expertise will help solidify our position as the nation's premier group for the custom integration channel.

Tom Hickman, Nationwide Marketing Group President and Chief Member Advocate
A Career that Started at Hitachi
Orozco's career in the industry started back in the 1990's with Hitachi, a company that he worked at for over eleven years. At Hitachi, he started as a Retail Product Sales Trainer, eventually advancing to become a National Account Manager. He left Hitachi to become a Regional Sales Manager for HES.
I have always admired the work of Nationwide Marketing Group, Azione Unlimited and Home Technology Specialists Nationwide (HTSN) and look forward to working with the team to explore new opportunities for the integrator channel. As we look at the CI landscape, there are so many CI dealers who can benefit from the digital, marketing and distribution support that Nationwide Marketing Group offers. I'm excited to start further developing and growing this division and helping all those unserved dealers thrive on their own terms.

Andy Orozco, Nationwide Marketing Group Senior Vice President of Custom Integration
Nationwide, One of the Industry's Largest Buying Groups
Nationwide is one of the largest buying groups in our industry. The organization says it has "more than 5,000 members" in multiple retail segments. These members are resident in something like 14,000 storefronts that encompasses multiple types of stores, including appliance, furniture, bedding, electronics, specialty electronics, custom installation, and rent-to-own businesses.
Some years ago, the organization created a division called Home Technology Specialists Nationwide focused on their smaller, more specialty stores. Then in October last year, Nationwide acquired Azione Unlimited, a custom integration focused group with around 300 members.
A Bigger Piece of the Custom Integration Pie
Early on, HTSN was not really a major force in the custom installation business and it was a relatively small part of the Nationwide organization. However, I am told it has consistently grown. With the addition of Azione Unlimited, it appeared that Nationwide was truly serious about dramatically expanding its share of the custom integration pie.
Now, with this move of adding Andy Orozco, a respected buying group executive with strong custom integration experience, it appears to be yet another example of Nationwide's growing commitment to turbo-charging the growth of the segment.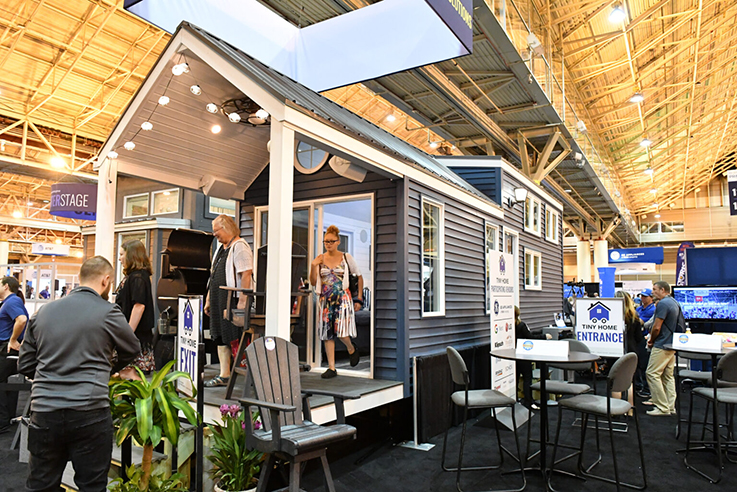 See Nationwide at CEDIA Expo 2022
Nationwide Marketing Group, now with Andy Orozco on board, will be exhibiting at next week's CEDIA Expo 2022 in Dallas. See the Nationwide tiny home (fully decked out and integrated) and say hello to Andy at Booth #31117. Integrators who stop by can take the opportunity to learn more about Nationwide and enter a drawing to win an all-expenses paid cruise through the Gulf of Mexico (a $3,500 value).
Learn more about Nationwide at nationwidegroup.org.