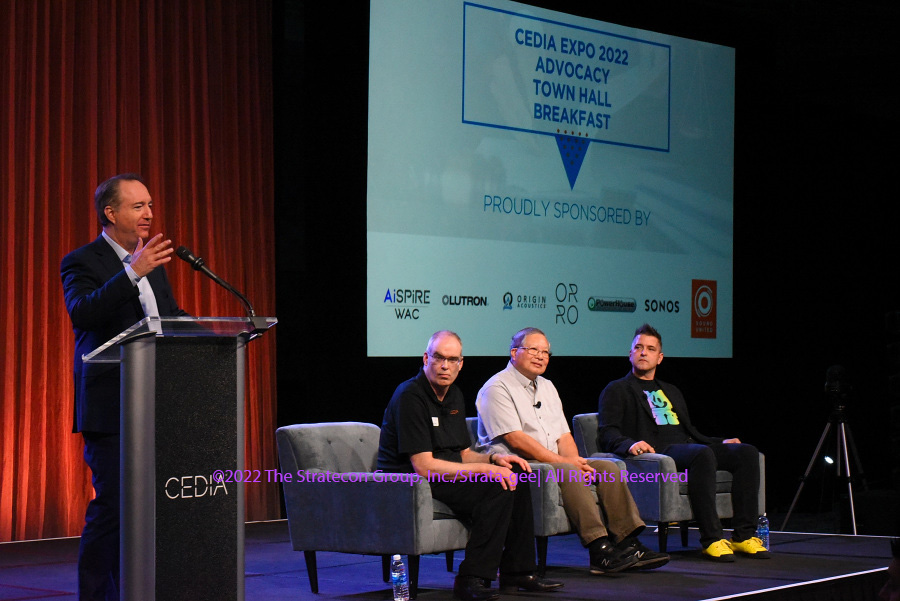 Spotlight on CEDIA Expo
Perhaps one of the more surprising events at CEDIA Expo 2022 – at least in my mind – was an event that took place early in the morning on the first official day of the show floor opening. This event, the CEDIA Advocacy Town Hall in which the organization intended to discuss the extent of their political advocacy conducted on behalf of the membership, seemed to me like something unlikely to draw much attention…or attendance.
Boy…was I wrong!
Learn more about the CEDIA Advocacy Town Hall
I'll admit it…I actually thought it was possible that the CEDIA Advocacy Town Hall presentation might be a disaster. The topic seemed pretty dry and with everyone in town for a show, I found it highly unlikely that a discussion of government advocacy efforts would be a big draw. But I was wrong – the event, at which I arrived at 7:30 am – drew a solid crowd.
According to CEDIA's Global President and CEO Daryl Friedman, there were somewhere north of 300 people in attendance. OK…the fact that breakfast was being served might have been a bit of a draw. But still, I have to admit, it was an impressive show of interest.
Members Showed Up and Were Engaged
And there was something else I noticed as I snapped photos during the presentation – the crowd seemed to be actively interested in what they were hearing. Yes, here and there throughout the crowd there was a person or two looking at their smartphones – but overall, eyes were on the stage and folks were listening to how CEDIA can help you fight City Hall…or your state legislature for that matter.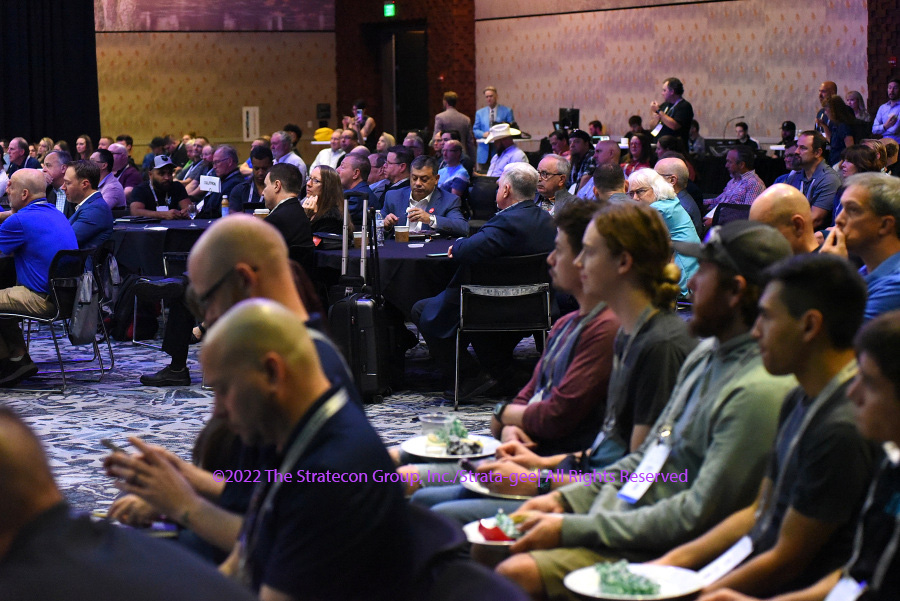 While CEO Daryl Friedman opened the event and acted as sort of a master of ceremony, the real star of the show was Darren Reaman, CEDIA's Director of Government Affairs. Reaman wasted no time in making sure that all attendees understood what CEDIA's advocacy initiatives were all about.
CEDIA's advocacy program is your voice for your business in your industry. Among the many benefits – CEDIA tracks, lobbies, and monitors legislation on a daily basis to make sure you can do what you guys do so well and making sure that we're protecting you from over-burdensome regulations. For example, monitoring electrical licensing regulations, low-voltage licensing legislation, and making sure there's a proper scope of work for the work we do – not only today, but for the next five- or ten-years.

Darren Reaman, CEDIA Director of Government Affairs
CEDIA Government Affairs Office Started in 1999
Reaman also noted that while most of what they do is at the state and local level, they are also "looking for ways to continue to elevate the industry at the Federal level, as well," Reaman told the crowd.
Both Reaman and Friedman credited Mitch Klein with getting CEDIA involved in government advocacy back in 1999, when as CEDIA Chairman he oversaw the creation of the Government Affairs office at the organization. And while the association has had successes in the past, Reaman encouraged members to get involved in government affairs for the sake of their business and the industry.
"In truth, we need you guys to be able to be a vital part of that process – to step up and be a part of the conversation," Reaman said. "Take time out of your businesses to attend committee hearings, contact your legislators, and there are ways we can make that easier for you to do."
A Panel of Members Who Needed Help Tell Their Story
Reaman introduced two CEDIA members who were part of a panel to discuss how CEDIA government affairs assisted them with issues each of them faced. On stage was Leon SooHoo, President and CEO of Paradyme (Sacramento, CA) who faced onerous energy efficiency standards for televisions in the State of California. These standards would have prohibited many of the products sold by Paradigm from being sold in the state. Reaman noted that SooHoo was actively involved over an 18-month period fighting to get regulations modified to more reasonable level.
Also on the panel was Will Breaux of Iconic Systems (Houston, TX) who faced off in 2021 against the City of Houston public works and the City Council which had adopted a new city electrical code that required that integrators must be licensed electrical contractors to pull a permit or to do that work that they do. CEDIA government affairs got involved and coordinated with other integrators in the Houston area to have them step up and get involved. As a result, integrators "had a full presence…and our voice was heard." However, that battle continues to this day.
As Panel Participants Told Their Stories, the Central Importance of Gov. Affairs Became Clear
The panel discussion went into some detail on each of these stories, both to clearly outline the risks they represented and the danger to their businesses. The commentary helped show how important it was to have CEDIA government affairs – with its knowledge of how government works – assist them to reach a better outcome with their issues.
The members attending the town hall seemed to drink it all in. We live in challenging times and it helps to have a knowledgeable friend on your side. As Will Breaux said:
CEDIA had a lot of inside information [that was helpful]. You arranged a meeting with a city council person, so you and I and the city council person were all on a Zoom call. I couldn't have arranged that on my own. But she [the city council person] was there to learn and to understand and she's now one of the biggest advocates we have for keeping the exemptions [we need] in place or even for redefining it to be even better. You did that."

Will Breaux, Iconic Systems in Houston, Texas
A Benefit That You Don't Know How Bad You Need It…Until You Need It
The panel discussion helped to make the concept of government affairs seem less theoretical and more pragmatically real. Clearly, this is a benefit that – while many members don't even think about it – could someday become critical to the survival of your business…if Darren Reaman has anything to say about it.
Learn more about CEDIA and its many benefits at cedia.net.
---
CORRECTIONS
November 11, 2002 – Corrected spelling of participant Will Breaux's name