In new data released on Wednesday by the National Association of Realtors, existing home sales launched into 2017 with a 3.3% overall gain to a seasonally adjusted annual rate of 5.69 million units in January – their highest level in ten years. The organization says this result "signals resilience among consumers even in a rising interest rate environment."
See what existing home sales means for the economy…
In addition to growing 3.3% over December's rate of 5.51 million units, January's result was 3.8% over the 5.48 million unit rate of one year ago. Not only that, but it surpasses the November 2016 rate of 5.60 million units to be the highest rate of sales since February 2007 (5.79 million).
Home prices also increased with the median price at $228,900, 7.1% higher than January's rate of $213,700. January marks the 59th consecutive month with year-over-year housing price gains.
A True and Positive Indicator
"Much of the country saw robust sales activity last month as strong hiring and improved consumer confidence at the end of last year appear to have sparked considerable interest in buying a home," said Lawrence Yun, chief economist of the National Association of Realtors in a prepared statement. "Market challenges remain, but the housing market is off to a prosperous start as homebuyers staved off inventory levels that are far from adequate and deteriorating affordability conditions."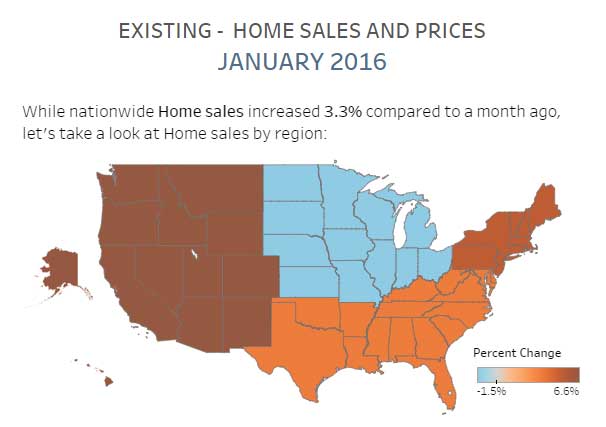 Many in the business press are hailing this result as a true and positive indicator of economic health. Reuters, for example, noted that this result signaled "rising confidence in the economy and bolstering expectation of a pickup in growth in the first quarter."
A Couple of Sobering Points
Pretty much all of the data points in the NAR results were positive. For example, homes for sale were typically on the market for 50 days in January. This rate was down from the 52 days in December…and way down from the 64 days reported in January one year ago.
Still, there were a couple of sobering points. One vexing issue is that while total housing inventory rose 2.4% in January to 1.69 million existing homes for sale, it was still 7.1% lower than the 1.82 million homes in January 2016. Constriction of the number of homes available for sale is a prime driver of sales declines and something that the NAR watches carefully.
Except the Midwest
Sales of existing homes grew in all markets except the Midwest. Here, existing home sales actually dropped 1.5% below the January 2017 level and 0.8% below the level of one year ago. The median home price increased 6.5% to $174,900. Constricting supply is a contributing factor to prices increasing on available inventory.
But overall, the report was quite positive and seems to suggest a financially healthy consumer who is confident about the future. If that characterization is correct, then it bodes well for all businesses.