Kingswood Capital Management, LLC, a private equity company that describes itself as "an operationally-focused lower-middle market" PE company – and the current owner of AVAD – announced today that it has purchased Houston, TX-based custom integration distributor WAVE Electronics, Inc. and plans to merge it with AVAD to create one total entity. Their announcement says that with this move they "will create the single largest value-added distributor of high-end audio, video, security, and home automation solutions in the consumer electronics industry."
Many thought they already were the largest distributor.
See more on this surprising news…
The official announcement from Kingswood did not reveal the terms of the deal, so there is much that we do not know. But one thing we do know, is that it appears that WAVE's management will be in the driver's seat after this deal closes.
Why do we say that? Kingswood's announcement says that Mark Fukuda, currently the chief operating officer of WAVE, will be the new chief executive officer of the combined group. Fukuda's brother, Ainslie Fukuda will be the combined group's new vice president of purchasing, a role he currently holds for WAVE. Bryan Stewart, currently vice president of sales for WAVE, will become the vice president of sales for the newly combined group.
WAVE Executives are Driving the Bus

Jon Zabel, currently with AVAD, will remain as vice president of vendor management. We do not know the background of Bill Steckel, who was brought in to serve as the chief financial officer for the new organization. However, it is easy to see that the WAVE executives appear to be in the driver's seat.
This new organization will stay focused on the "residential and commercial custom installation markets in North America," according to the announcement. But, interestingly, will now be headquartered in Houston, TX, the current home of WAVE.
Comparative Footprints
This is a very interesting development. Currently, AVAD has a total of 20 locations dotted throughout North America, including two locations in Canada. AVAD's largest presence is in California, where they have four warehouse locations. This was the company's original home territory – its first headquarters was in Southern California. Eventually, their headquarters moved to Arizona, and the company's management is now spread at multiple locations throughout the country.
WAVE, on the other hand, has a total of only 12 locations, mostly centered in the southwestern part of the country. In the case of WAVE, their largest presence is in Texas, where they have four warehouse locations. Here too, Texas was and is the home base for WAVE, which is based in Houston where two of their four Texas warehouses are located.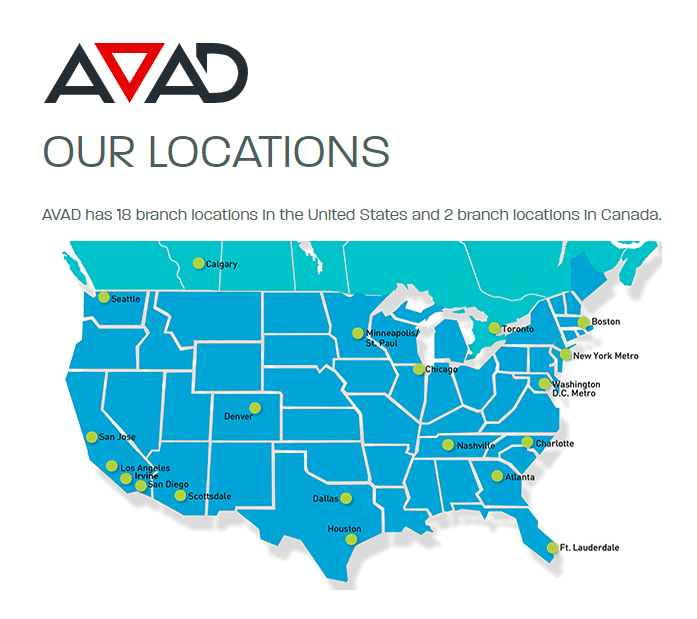 AVAD Appears Bigger, But Looks Can Be Deceiving
On the face of it, AVAD appears to be the bigger, more successful player. However, the real story could be more complicated than that – looks can be deceiving. Outside of both company's home base, their other locations are spread wide and thin. In most cases they have just one location. For example, both of them cover the New York Metro market with just one warehouse.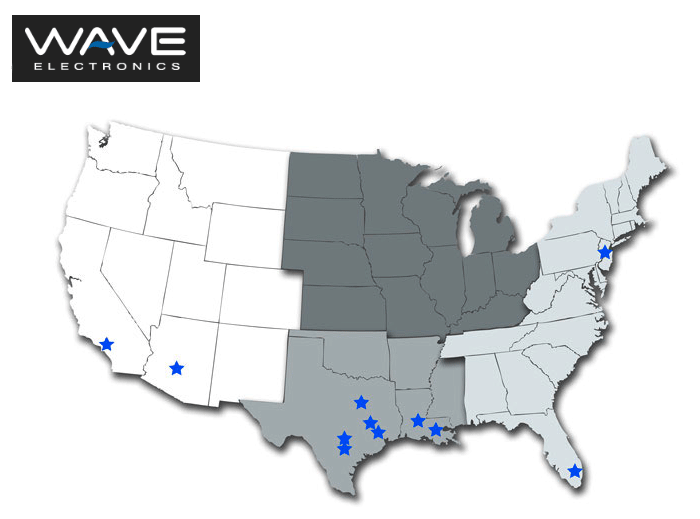 In the case of WAVE, they have just one location in New York, Florida, Arizona, and California. Similarly with AVAD, the company maintains a single location in Washington (state), Colorado, Minnesota, Illinois, Tennessee, Georgia, North Carolina, Florida, Washington D.C., New York, and Massachusetts. Neither really dominate these one-warehouse markets.
Locations Will Likely See Some Consolidation
By combining these two companies, they will in effect double up their presence in some of these markets, although warehouse moves may be required to really cover the market better than the positioning of their existing locations, which in some cases will be too close. (For example, do they really need 3 warehouses in Houston?)
"Both AVAD and WAVE have spent years perfecting the just-in-time distribution model and this rapidly accelerates our ability to bring our award-winning service and product solutions to dealers throughout the United States and Canada," said Mark Fukuda, new CEO of AVAD/WAVE. "AVAD has built a strong presence in the pro A/V channel, WAVE has done the same in the residential security space, combining that with our collective strength in the residential A/V markets and our new larger North American footprint is a sinning combination."
What's the Name?
Interestingly, the announcement does not explicitly state just what the new name of the organization will be. We reached out to company-connected sources who confirmed to us that the name of the new organization has not yet been decided.
Perhaps WAVAD? What do you suggest? Leave your suggestions in the Comments section below this story.
See more on AVAD at www.avad.com and more on WAVE at www.wave-electronics.com.