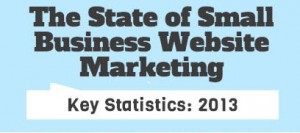 By now, most of us in the TECH industry have launched websites to represent our businesses online. However, it can be hard to know just how your website measures up as compared to other small business websites – all vying for attention of the web "surfers."
Now, a new and pretty comprehensive study of more than 6,000 small business websites has been released – and the results provide a benchmark against which you can see how your web marketing efforts measure up.
See an interesting infographic & how your website stacks up vs. the average small business…
This new study was conducted by a web marketing company called BoostSuite and has provided some interesting context on just what constitutes 'performance' from the average small business website. The results seem particularly compelling considering the study covers such a significant quantity of businesses…more than 6,000 small businesses. This is – as market researchers like to say – a statistically significant sample size.
The infographic shown below has all of the data, but there are a couple of significant findings we'd like to highlight. But one thing is for sure – the data clearly shows that small business is successfully wielding their greatest weapon, their websites, in the battle for leads and customers.
What it's all about…
To do so, the average small business has turned to content marketing to generate leads. Content marketing is a marketing activity where businesses publish valuable content on their websites to draw potential customers to their website. And apparently, they are doing so with gusto as the study shows that the average small business website has no less than 140 pages full of valuable content.
Not only that…but small businesses on average are adding fully 15 new pages of content every month. This should send a chill through the medium- and large-size business community who has historically generated the greatest growth in web content. Small businesses have learned how to play the game.
At the end of the day, it's all about generating leads, filling your sales funnel, attracting customers, and getting more sales. As small businesses learn how to play the game, the playing field is clearly being leveled.
See the infographic below for more data from the study (click to enlarge)…

For more information on BoostSuite, see: www.boostsuite.com.